Moving Company Social Media
#1 Marketing Platform® for
Moving Companies
Build local trust and awareness with social marketing for
moving companies
Get more customers by building local trust and awareness with our social media marketing program for movers — stand out in your community.
Why moving companies need social media management
Social media platforms, like Facebook and Instagram, are where most people are spending the majority of their time online these days. And, many social media users are using these platforms to search for new products, brands and local businesses.
Every moving company needs an effective social media management strategy. This involves creating and posting content, monitoring and responding to comments and messages, engaging with potential customers and establishing a consistent brand voice for your moving company.
Social media management has become a must-have marketing channel for modern moving companies. The right social media strategy can help you build brand awareness, connect with leads in your community, drive traffic to your moving company website and more.
7 benefits of social media management for movers
1. Increase brand recognition
Ideally, when someone in your area needs to move, your moving company will be the first one that comes to mind. In order to become the go-to mover in your area, you need to build brand recognition. Creating an active social media presence can help you get in front of more people in your area and build a more recognizable brand.
2. Build community connections
For a local business, like a moving company, the right community connections can skyrocket growth and expand your customer base. With social media platforms, like LinkedIn and Facebook, moving companies can network with other local businesses in their communities and form valuable partnerships.
3. Showcase your expertise
From art to instruments, many things can be tricky to move and pack, and people need to know that you're the right moving company for the job. By posting the right kind of social media content on a regular basis, you can showcase your experience and expertise, building trust and winning leads.
4. Humanize your business
People respond to and connect with other people, not logos or taglines. Part of what makes social media such a valuable tool for moving companies is that it allows you to show the human side of your business. By posting employee highlights, photos of your team and other behind-the-scenes social posts, you can create a more human, memorable brand.
Drive traffic to your moving company website
Even the best moving company website won't do you any good if no one visits it. And, one of the best ways to drive traffic to your website is through social media. Make sure to include links to your website in your moving company social media profiles, as well as in any relevant social media posts and ads.
6. Get to know your customer base
Fully understanding who you're marketing to is the first step toward creating an effective moving company marketing strategy. Social media gives you a powerful way to get to know your customer base. You can get feedback about your business straight from your customers, send out surveys, ask questions, post polls and so much more.
7. Win leads and customers
Everything you do on social media, from building an eye-catching social media profile for your moving company to posting regularly, is ultimately about driving leads and customers. With an effective social media management strategy, you can grow brand awareness, build trust, drive website traffic, and win high-quality moving company leads and customers.
The best social media platforms for moving companies
Google Business Profile
Most of the time, when someone needs moving services, their search for a local mover starts on Google. When someone in your area searches "moving company near me," you want to show up at the top of the Google Maps results. Having an optimized Google Business Profile listing, posting regular updates and responding to questions and reviews can help.
Facebook
As the most popular social media platform, Facebook is a must for local businesses, like moving companies. Posting regularly on your profile, responding to reviews, comments and messages, and targeting the right people through Facebook ads can help you reach new leads and customers in your community and grow your moving company.
LinkedIn
For commercial moving companies, LinkedIn is a must-have B2B marketing channel for growing brand awareness, building trust and generating leads. In addition to attracting commercial moving company leads to your business, LinkedIn can also help you network with other local businesses and create valuable partnerships in your community.
Instagram
Instagram is an image-based social media platform that's popular with younger audiences. An effective Instagram marketing strategy can help you build a more memorable, recognizable brand, get in front of new moving company leads and grow your business. Make sure to use the right hashtags to ensure your content gets found by the right people.
YouTube
YouTube isn't just a popular social media and video streaming platform, but it's also the second-largest search engine behind Google. That makes YouTube marketing a valuable tool for moving companies. Create a YouTube channel for your moving company, and create branded videos for your channel.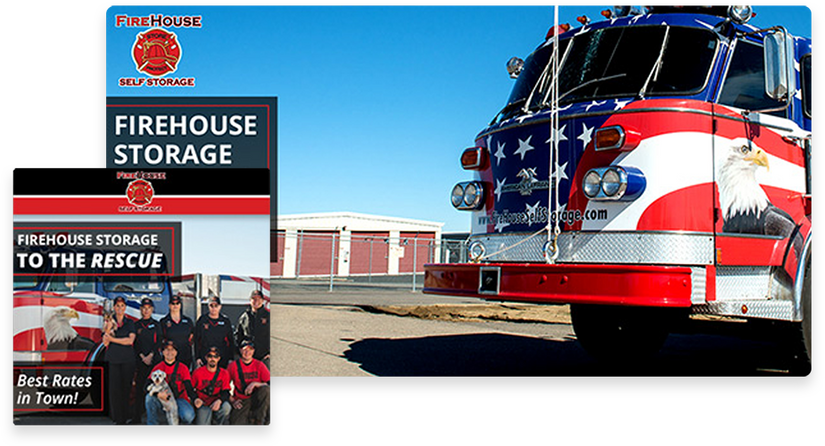 How to make your moving company's social media profiles stand out
Choose the right profile picture
When someone comes to your moving company's profile page, the first thing they're going to see is the profile picture. It's important to get it right. Choose a profile picture that's immediately recognizable as yours, like your logo, a picture of your team or your branded moving van. Make sure to choose a professional, high-quality image.
Write an engaging bio
Your social media bio is your chance to introduce your moving company to social media users. Make sure to give a clear, concise description of your moving company and a brief overview of your moving services. Keep it short and sweet, and ensure that your bio is professionally written and easy to read.
Ensure brand consistency
Regardless of whether someone visits your moving company on Instagram, YouTube or Facebook, they should immediately be able to tell that it belongs to your business. To do that, you need to create brand consistency across all of your social media profiles by always using the same colors, logos and tone of voice.
Use relevant keywords
People often use social media to find new brands and local businesses. When someone is looking for a moving company on Google or Facebook, you want to ensure that you get found. In order to do that, you need to make sure that you use relevant keywords in your social media bios and content.
Establish a voice for your business
Establishing a voice for your moving company is an important step toward effective social media management. This will help you create a more consistent brand across all of your social media profiles, as well as tell social media users what to expect from your content should they decide to follow you.
Post high-quality content
If you want more social media followers, you need to give people a reason to follow you. No one wants to follow a moving company that only posts promotional content. Instead, create social media content that educates and informs, entertains or otherwise provides value to your followers.
Engage with your audience
Part of what makes social media such a great moving company marketing channel is that it's a two-way street. In order to make the most of social media management for your business, you need to respond to comments, reviews, questions and direct messages. The more you engage with users on social media, the better the results will be.
Use social media management software
Creating and optimizing your social media profiles is just the first step toward success on social media. You also need to be active, which means posting content regularly. Social media management software, like the Marketing 360® Social app, helps you stay active and save time by allowing you to schedule content in advance for multiple profiles — all from one place.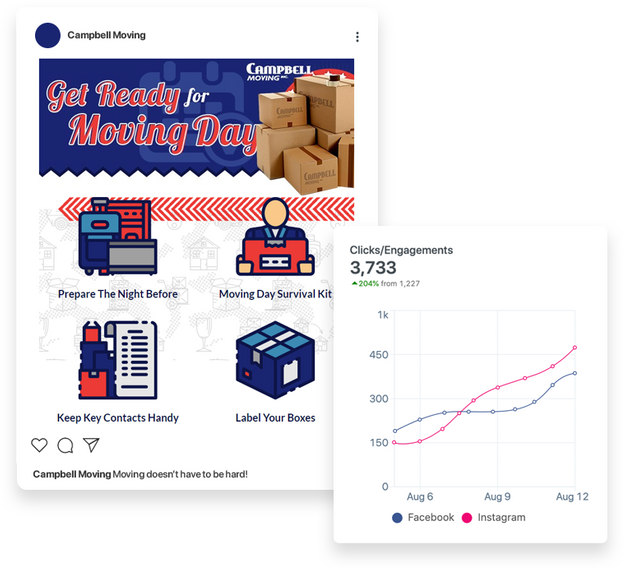 What to post on social media for moving companies
Moving company updates
Your social media followers want to know what's going on with your moving company. So, whether you've recently hired a new mover for your team, expanded your moving services or won a Top Rated Local® award for being the highest-rated mover in your state, make it a point to post about it on social media.
Educational content
As a professional mover, you have a lot of knowledge and experience to share with your followers. From safety tips for moving heavy objects to information about planning a long-distance move, there are lots of topics you can talk about on social media. This will help you provide value to your followers while demonstrating your expertise.
Promotions
Have you recently launched a new referral program for your moving company? Are you running an upcoming special to drum up more business during the slow season? While you shouldn't only post promotional social media content, social media is a great place to get the word out about moving company promotions and offers.
Answers to FAQs
From how to find the right moving insurance to how moving estimates are measured, you probably hear the same questions over and over again from moving leads and customers. Your social media profiles are great places to answer these commonly asked questions, allowing you to educate and inform your followers about what they want to know.
Customer feedback and reviews
People need to be able to trust you before they'll commit to working with your moving company. And, since people place more value on what your customers say about you than what you say about yourself, posting your best reviews and customer feedback can go a long way toward attracting new moving company leads to your business.
Relevant news stories
From new laws being passed in your city or state to weather events, there are many things that may impact the moving industry. When relevant news stories come up, make it a point to post about them on social media. This shows that you're up to date about what's going on and allows you to share your professional opinion.
Moving company memes and humor
Whether you can make your followers laugh or cry, connecting on an emotional level can help you build a more recognizable, memorable brand. By sharing memes and other humorous social media content relevant to moving, you can entertain your followers and give them a reason to keep following you.
Social media management FAQs for moving companies
Why is social media management important for movers?
Moving companies can benefit from social media management in many different ways. For one, social media management can help you build a recognizable brand, so when someone in your area needs a mover, they think of you first. It can also help you build trust, drive website traffic and convert moving company leads.
How do you create an effective moving company social media strategy?
An effective moving company social media strategy starts with creating and optimizing your social media profile. From there, post social media content constantly, respond to questions, comments and reviews, re-post user-generated content, use the right hashtags, invest in targeted social media ads, monitor your performance and consider working with a dedicated Social Media Manager.
What are the rules moving companies need to follow on social media?
There are a few social media rules that movers should keep in mind. First, only post relevant and interesting content. Don't spam your followers with sales pitches or irrelevant posts. Second, be active on social media. Respond to comments, like and share other people's content, and post new content on a regular basis. Last, don't post personal photos or anything that could be considered unprofessional.
How often should a business post on social media?
How often you should post on social media depends on many factors, including which social media platforms you're using, what your goals are and who your audience is. However, every moving company can benefit from posting regularly on every social media platform you're using — at least once a day.
Get everything you need to
manage and grow

your business.