#1 Marketing Platform® for
Lawn Care Companies
Success starts with a better
lawn care website
Turn more visitors into leads with a modern lawn care website that looks great on all devices — you deserve a lawn care website that drives results.
Why having a convertible lawn care website is important
Whether someone is looking for help with lawn mowing or seasonal clean-up, their search usually starts online. Having a lawn care website won't guarantee that you'll get in front of these high-quality leads, but it's a critical first step.
Your lawn care website is your business's home online. It's where prospective lawn care leads and customers will go to learn about your services and team, and what makes you the right choice for their lawn care needs.
But, not all lawn care websites are made equal. In order to win in today's competitive market, you need a convertible lawn care website that will work as a lead-generation machine for your business.
Must-have lawn care website features
A clean, simple aesthetic
For many leads and customers, your website will be the first introduction to your lawn care website. If your lawn care website looks cluttered and busy, it's not going to paint a flattering picture of your business. On the other hand, a clean, simple lawn care web design will give the impression of a professional company they can trust.
Easy-to-use website navigation
Most people who visit your lawn care website have a specific purpose in mind. Whether they want to learn about your lawn care services, schedule an appointment or read your blog on the benefits of lawn fertilization, it's important to make it easy for them to do so. Make sure that you use a simple, easy-to-use website navigation system.
A mobile-friendly design
Did you know that most online traffic now comes from smartphones and other mobile devices? Provide all of your website visitors with the best possible experience with a mobile-first lawn care website. That starts with a responsive web design that will configure itself for the device being used, ensuring a consistent UX (user experience) and look across devices.
Fast page speed
People have short attention spans online, and if your lawn care website takes too long to load, you're going to start losing visitors. Not only does page speed impact your website's UX, but it's also an important ranking factor for Google and other search engines. For modern lawn care companies, fast page speed is essential to success.
Professional photos and videos
The visual elements, like photos and videos, are the first thing people see on your website. To make the right impression and entice your visitors to stick around, you need to make sure that your photos and videos are high-quality and professional. Also, don't rely too heavily on stock photos and footage. Use photos and videos of your real team and work.
Trust indicators
As a lawn care professional, you know just how highly people value their lawns. No home or business owner wants to entrust their lawn to just anyone. Adding key trust indicators, like lawn care reviews, trust badges and the Top Rated Local® reviews widget, builds trust and tells visitors that you're the right lawn care company for the job.
Contact forms
Did you know that most people prefer to fill out a contact form rather than calling to schedule an appointment? When a website visitor is ready to convert into a lawn care lead, make it as easy as possible for them to do so, and part of that is accommodating them. In addition to having clear, easy-to-find contact information, make sure to include contact forms on your website.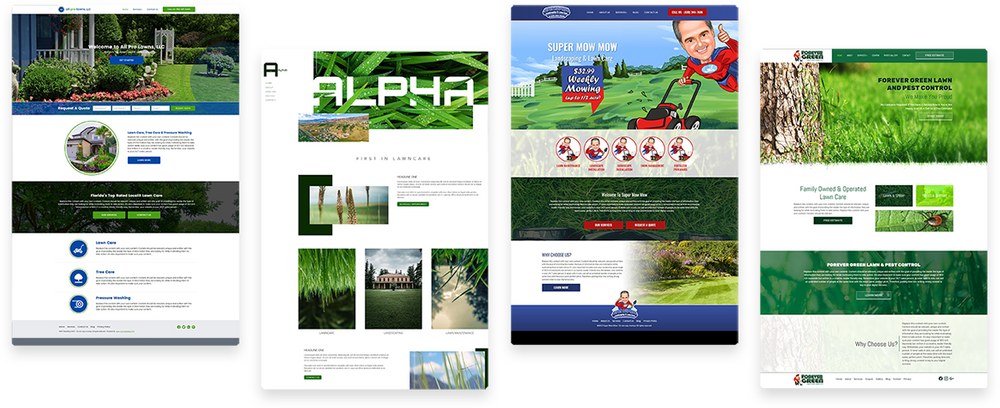 Web pages to include in your lawn care website
Homepage
The homepage of your website is the first place most of your website visitors will land, and it's important to get it right. Make your homepage count with a simple web design that makes smart use of white space, high-quality website content — including eye-catching visuals — and key trust indicators, like lawn care reviews and trust badges.
About Us
People who visit your lawn care website want to know about your company. Your About Us page is the perfect page on your website to share your story. By sharing how you got started, what your mission is and why you do what you do, you can build trust in your lawn care company and humanize your brand.
Lawn Care Services
Many of your visitors will be looking to see what lawn care services you offer. Your Lawn Care Services page is the ideal place to provide information about your services. In addition to a Lawn Care Services page, consider creating individual pages for each of your lawn care services, which will let you go into more detail about each service and help with lawn care SEO.
Lawn Care Reviews
Before a website visitor becomes a lawn care lead for your business, they need to be able to trust you. And, there's no better way to build trust on your website than by harnessing the power of social proof with a Lawn Care Reviews page. This will allow you to display your best lawn care reviews and make your website more convertible.
FAQs
If you hear the same questions again and again from your lawn care leads and customers, consider creating an FAQs page. Not only will this help you educate your leads and customers, but it will also allow you to demonstrate your expertise and clearly explain company policies and programs.
Contact
When a website visitor is ready to sign up for a free estimate or schedule a lawn care service, make it as easy as possible for them to get in touch with you. In addition to listing your contact information on the header or footer of every page, you should also have a dedicated Contact page. This page should have your contact information and a contact form.
Blog
Get your lawn care website in front of people actively searching for the services you offer on Google and Bing with a blog. By keeping your website up to date with regular blog posts, you can increase your organic visibility and keyword rankings, educate your visitors about lawn care, build trust and convert more lawn care leads.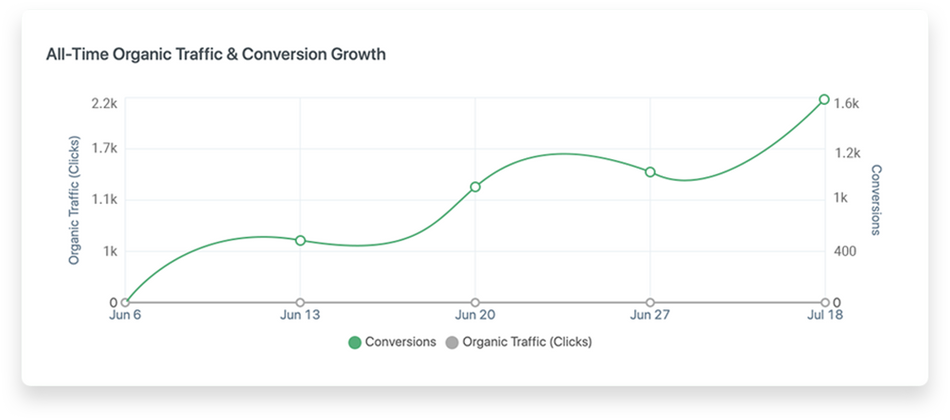 6 ways to drive traffic to your business website
1. Content marketing
The key to getting low-cost, high-quality organic website traffic is a combination of lawn care SEO (search engine optimization) and content marketing. This means optimizing your lawn care website for relevant keywords, and creating content for your website, blog, social media profiles and beyond on a regular basis.
2. Multi-channel advertising
From Google to Facebook, there are so many places to connect with lawn care leads. Multi-channel advertising helps you establish a visible presence on the most popular channels with your customer base. The right multi-channel advertising can help you get found, capture market share and drive lawn care traffic and leads to your website.
3. Social media management
Social media platforms, like Facebook and Instagram, are some of the most popular online destinations for modern users. By building a strong social media presence for your lawn care business, you can connect with leads and customers where they're already spending their time online. This means more high-quality leads and website traffic.
4. Email marketing
Not all of your website traffic has to come from new visitors. In fact, repeat visitors are valuable because they're highly likely to convert. Email marketing is a fantastic way to drive repeat visitors to your website and increase the quality of your traffic. Best of all, automation allows you to save time while harnessing the power of email marketing.
5. Reputation management
People place a lot of value on their lawns, and they want to know that your lawn care company is the right option for the job. A big part of their research process will revolve around your lawn care reviews. Building a strong reputation by getting lots of five-star reviews can help you get found, build trust and drive leads and traffic to your website.
6. Listings management
From Top Rated Local® to Yelp, Facebook and Google, there are many places where people go to find local lawn care services. Listings management ensures that your business's listings are up to date and accurate across every local website, app and directory. It also helps you make your listings stand out and get noticed.
Lawn care website design FAQs
Why do you need a lawn care website?
Your lawn care website is your company's home online. It's where potential lawn care leads and customers can learn about your team and services, sign up for an estimate or schedule an appointment. With an effective lawn care web design, your website can be a lead-generation powerhouse for your business.
How do you build a business website?
There are two main options available to you when it comes to your lawn care website. You can work with the professional design team at Marketing 360® to have your website built for you. Or, you can use the Marketing 360® Websites app to build your own website. All you have to do is choose a lawn care web design template, customize it for your business and publish.
What should a lawn care website have?
There are many features an effective, modern lawn care website should have. These include a responsive, mobile-friendly design, professional, keyword-rich website content, high-quality images and videos, lawn care reviews and other trust indicators, simple contact forms and clear CTAs (calls to action).
How do you increase lawn care website conversions?
The right lawn care web design can help you increase the conversion rate of your website. To develop a convertible lawn care website, you should make sure that your website is fast, user-friendly, mobile-friendly and highlights your unique value proposition (the thing that sets you apart from other lawn care companies).
Get everything you need to
manage and grow

your business.