#1 Marketing Platform® for
Lawn Care Companies
Build local trust and awareness with social marketing for
lawn care companies
Get more customers by building local trust and awareness with our social media marketing program for lawn care companies — stand out in your community.
Why lawn care companies need social media management
Facebook, Instagram, LinkedIn and other social media platforms are where many people are spending their time online these days. And, many social media users are using these platforms to not only foster personal relationships but also to find new brands and local businesses.
The right lawn care social media management strategy can help you increase brand awareness and visibility, build strong community connections and, ultimately, drive lawn care leads and sales for your business.
Effective social media management for lawn care companies involves creating and sharing social media content, monitoring and responding to comments and messages, analyzing your social media performance and more. It can be time-consuming, but it's well worth the effort.
7 benefits of social media management for lawn care companies
1. Increase brand recognition
Your potential customers need to be able to trust you to invite you to their home or business. The foundation of that trust is brand recognition. An effective social media management strategy can be a powerhouse for brand recognition. When you post regularly and build an active social media presence, you make your brand familiar and recognizable.
2. Build community connections
Ideally, when someone in your area is looking for lawn care services, your business will be the first thing they think of. In order to become the go-to lawn care company in your community, you need to build strong community connections with potential lawn care leads, other businesses, nonprofits and more.
3. Showcase your expertise
People take a lot of pride in their yards, and they want to know that you're the right lawn care professional for the job. From before and after photos to customer testimonials, you can share many things on your social media profile that showcases your expertise, setting you apart from the competition and helping you win lawn care leads.
4. Humanize your business
Your potential lawn care leads are much more likely to remember your business if you can show them your human side. That's because people connect with other people, not brands. Social media is the perfect platform to show the human side of your lawn care business. Share employee bios, behind-the-scenes photos and more.
5. Drive traffic to your child care website
Even the best lawn care website won't do you much good if no one visits it. Luckily, one of the best places to generate website traffic is social media. By adding a link to your website on your social media profiles, as well as in relevant posts and social media ads, you can turn your social media followers into website visitors and lawn care leads.
6. Get to know your customer base
Having a good understanding of your customer base is a key part of effective lawn care marketing, and social media management can help. On social media, you can ask your followers key questions, send out polls and surveys, request reviews and feedback, use hashtags and social mentions to learn what people are saying about your brand, and more.
7. Win leads and customers
Social media management can drive lawn care leads and customers for your business in many different ways. For one, it builds brand awareness and trust, helping you become the first lawn care company people in your area think of when they need lawn care services. You can also use social media ads to drive direct leads and sales.
The best social media platforms for lawn care companies
Google Business Profile
Google is often the first place people in your community go to look for local lawn care services. By optimizing your Google Business Profile listing, and keeping it active by posting regularly and getting reviews, you can help to improve your visibility in these local searches. That means more organic lawn care leads actively looking for your services.
Facebook
As the most popular social media platform with people of all ages — as well as a popular local business directory and review site — Facebook is a must-have marketing channel for lawn care companies. For the best Facebook marketing results, back up your organic social media strategy with targeted lawn care Facebook ads.
LinkedIn
For commercial lawn care companies, LinkedIn is a critical B2B marketing channel that can help you increase your visibility and brand awareness, build trust and connect with high-quality commercial lawn care leads. Residential lawn care companies can also use LinkedIn to network with other local businesses and forge valuable partnerships.
Instagram
Instagram is a visual social media platform that's popular with a younger audience. Lawn care companies can use Instagram to get in front of leads and make an impact with high-quality photos and videos of their work and team. On Instagram, make sure that you're using the right hashtags in order to get your content in front of a larger audience.
YouTube
YouTube is the second largest search engine behind Google, and one of the most popular social media platforms among people of all ages. By creating a channel for your lawn care business and publishing brand videos, you can make your lawn care business stand out on YouTube. Best of all, YouTube videos can be used on your website, ads and beyond.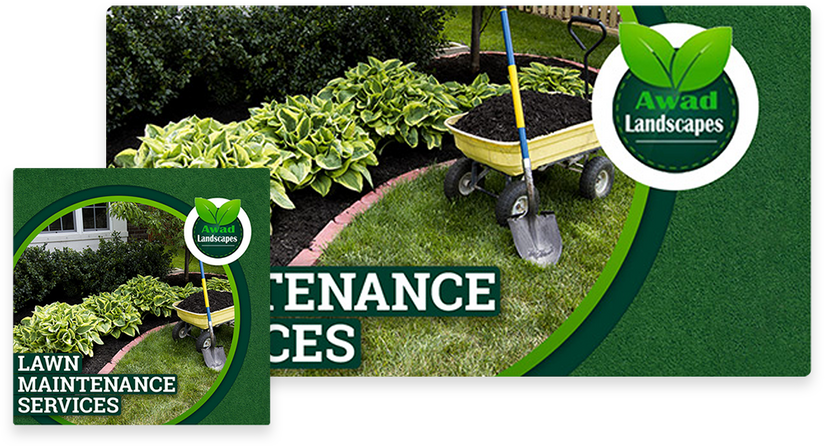 How to make your lawn care company's social media profiles stand out
Choose the right profile picture
Most of the time, your profile picture is the first thing someone is going to see when they come across one of your social media posts or visit your profile. That's why it's important to get it right. Choose a profile picture that represents your lawn care business, like your company logo, branded service vehicle or team.
Write an engaging bio
The bio on your social media profile is your chance to tell users who you are and what you do. Make sure that your social media bio is professionally written and gives an accurate representation of your lawn care company. If possible, try to use relevant keywords to help social media users find your profile.
Ensure brand consistency
Regardless of whether someone is visiting your Facebook page, Google Business Profile listing or YouTube channel, there should be no confusion that it belongs to your lawn care company. Keep your branding consistent across all of your social media profiles, including your tone of voice, logo, colors and more.
Use relevant keywords
Social media has become a popular place to look for new brands and local businesses, and if you want your lawn care company to get found, you need to use the right keywords and hashtags. This can help you get in front of a wider audience and attract more lawn care leads to your business.
Establish a voice for your business
It's important to establish brand consistency across all of your social media profiles, and a big part of that is the tone of voice you use in your social media posts. This helps you create a more memorable brand presence and tells social media users what kind of content to expect if they follow you.
Post high-quality content
Most people are inundated with ads and marketing messages everywhere we look. Part of what makes social media so powerful is that it allows you to connect with your customer base on a different level. Don't make the mistake of only posting promotional social media content. Give social media users a reason to follow your lawn care company by posting high-quality content.
Engage with your audience
Social media is not a one-way street. In fact, that's part of what makes it unique and special. With social media, you're not just talking at prospective lawn care leads and customers. You're building connections with them. That requires engagement on both sides. That means responding to questions, comments and more.
Use social media management software
If you wait for a free moment in your schedule to post on social media, you won't end up posting very often. With social media management software, like the Marketing 360® Social app, you can schedule out social posts on multiple social profiles at once for the day, week or even month. This means more consistency without clogging up your schedule.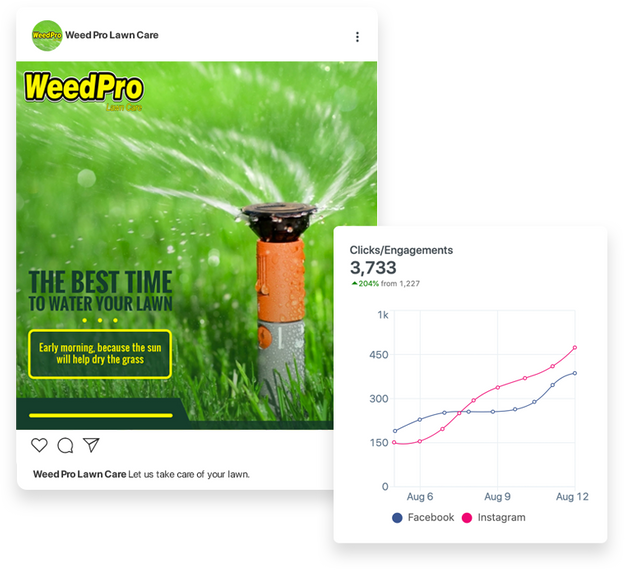 What to post on social media for lawn care companies
Lawn care company updates
Have you recently expanded your lawn care services, hired a new lawn care technician for your team or won a Top Rated Local® award? Social media is the perfect place to share the latest updates about your lawn care company. These updates keep leads and customers in the know about your business.
Educational content
As a lawn care professional, you have a lot of knowledge about lawn maintenance that most people don't. By sharing your knowledge on social media in the form of tips and other educational content, you can provide valuable information to your followers, build trust and demonstrate your expertise.
Promotions
While all of your social media content shouldn't be promotional, social media can be a great place to promote your business. Whether you're offering discounts, running a referral program or promoting other special offers for your business, social media is a fantastic place to get the word out.
Answers to FAQs
Do you hear the same questions over and over again from your lawn care leads and customers? If so, consider addressing each of your most common questions one by one in your social media posts. This is a great way to provide valuable information to your followers, as well as educate leads and customers.
Customer feedback and reviews
Most lawn care companies claim to be the best at what they do, so much so that the message often falls flat. But, when your actual customers say that you're the best, people are much more likely to pay attention. When you get five-star reviews or positive customer feedback, share it on social media to harness the power of social proof.
Relevant news stories
Has a recent drought or changes to local water regulations impacted lawn irrigation in your area? Did a local HOA set grass height too low for optimal lawn height? There are lots of new stories in your area that may be relevant to lawn care, and sharing your take on the latest news shows you're up to date and engaged.
Lawn care memes and humor
In order to make the biggest impact on social media, you need to connect with social media users on an emotional level. If you can make someone laugh or pull at their heartstrings, they're much more likely to remember you. One great way to do that is by sharing memes and other humorous social media content related to lawn care.
Social media management FAQs for lawn care companies
Why is social media management important for lawn care companies?
Social media is where most people are spending the majority of their time online. And, people aren't just using social media to socialize with friends and family anymore, either. They're using social media to find local businesses and new brands. Social media has become a key lawn care marketing channel for increasing visibility, brand awareness, trust and more.
How do you create an effective lawn care social media strategy?
There's no such thing as a one-size-fits-all social media strategy for lawn care companies. However, all effective social media strategies start in the same place — identifying your target audience and goals. From there, you can determine which platforms to focus on, hashtags to use, when to post and more.
What are the rules lawn care companies need to follow on social media?
When posting on social media for your lawn care company, make sure that you always keep it professional, even if you're posting something humorous or informal. Avoid using profanity, making offensive comments or sharing confidential information about your customers.
How often should a lawn care company post on social media?
There are no hard-and-fast rules as to how often you should post on social media. The exact number will depend on which platforms you're using and what your goals are. However, you should aim to publish social media content regularly on all of your social media profiles — at least once a day.
Get everything you need to
manage and grow

your business.