#1 Marketing Platform® for
Landscapers
Boost organic leads with content marketing and
landscaping SEO
Build an organic lead machine with our landscaping SEO content marketing program — rank higher on Google, post more on social and stay top of mind on email.
Why landscapers need content marketing
More often than not, people looking for landscaping services in their area start their search on a search engine, like Google or Bing. Most people won't look past the first few search results. And, if you want to win these high-quality landscaping leads, you need to get to the top of page one of the search results.
Landscaping SEO (search engine optimization) and content marketing can help you build a visible organic presence and score low-cost, high-quality landscaping leads. The best part is that every organic click is free.
In addition to increasing your organic visibility, content marketing can help you build trust with prospective landscaping leads and customers, educate your audience and become the go-to landscaper in your area.
6 benefits of content marketing for landscapers
1. Get found on search engines
When someone searches for your landscaping services on a search engine, like Google or Bing, you want to be found. By harnessing the power of landscaping SEO and content marketing for your landscaping business, you can increase your rankings for relevant keywords and get found on search engines.
2. Drive low-cost, high-quality leads
Not all landscaping leads are made equal. There's no better lead for a landscaper than someone in your area who is actively searching for your landscaping services on Google or Bing. Get in front of them at the top of the first page of search results with an effective content marketing strategy.
3. Become a thought leader
Landscaping plays a huge role in curb appeal, and no one wants to hire just any landscaper. They want to choose someone who is on the cutting edge of the industry — someone who can bring their vision to life. Content marketing can help you become a thought leader in your industry and the premier landscaper in your area.
4. Build trust and credibility
People need to be able to trust you before they'll book a landscaping service or even schedule an estimate. One of the best ways to build trust and credibility with your leads and customers is content marketing. By creating content that's valuable for your audience, you demonstrate your own value and build trust and credibility.
5. Educate and inform your client base
Some people may think they know about landscaping, but you're the expert for a reason. You can use your blog, social media posts and other content to educate and inform your customers about landscaping. This can help to reinforce the need for your landscaping services, while also letting your audience know that you're the right landscaper for the job.
6. Control the conversation
The fact that you can't control what other people say about your landscaping company can be frustrating. But, part of the beauty of content marketing is that it allows you to control the conversation about your business. By creating content that is relevant and helpful, you can shape the way potential customers see you and influence their decision.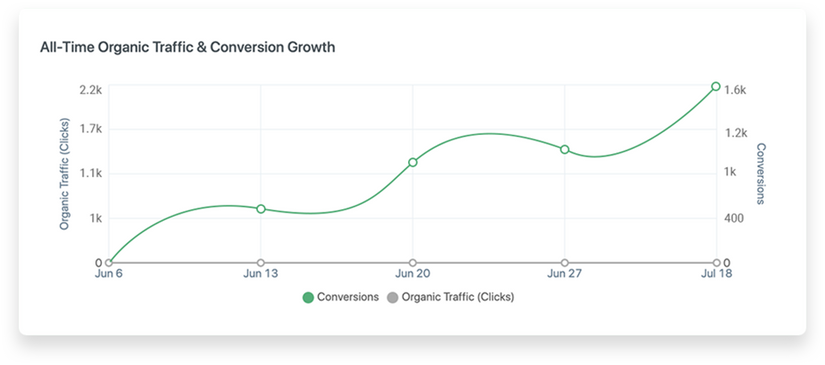 How to find the right keywords for your landscaper
The success of every aspect of your content marketing strategy, from your blog posts to your monthly newsletter, comes down to one thing — your keyword research. It's the foundation of effective content marketing and landscaping SEO.
Not sure how to find the right keywords for your landscaping company's content marketing strategy? Start by putting yourself in your customers' shoes and thinking about the search terms you would use to find your landscaping company or services online.
Once you've identified a few potential keywords, it's time to start creating content around those keywords and using them to optimize your landscaping website.
Best content marketing types for landscapers
Blog articles and website content
Your landscaping content marketing and SEO strategy should start right on your website with effective website content and blogs. Try to fit your best keywords into your website content and blog articles as naturally as possible, and make sure your content is clear, easy to read and professionally written.
Social media posts
Every landscaping company needs a strong social media presence, and a big part of that is being active by posting on a regular basis. By using the right keywords and hashtags in your social media posts, you can make sure they are found by the right people. It's also important to make sure your social media posts are valuable and interesting rather than just promotional.
Email campaigns
Email marketing is a wonderful way to nurture your landscaping leads throughout every step of the sales funnel, while also helping you stay top of mind with existing customers. Make sure to include a call to action (CTA) at the end of every email to direct readers where they can learn more or take advantage of your offer.
Videos
When most landscapers think of content, they think of text, but the truth is that content can be so much more than just text. Videos are a powerful form of content because they're incredibly engaging and shareable. Best of all, they offer a lot of versatility — you can use videos on your website, blogs, social media posts and even landscaping ads.
Infographics
When you have a complex topic to explain, one of the best ways to break it down into easy-to-digest chunks is to create an infographic. Infographics are wonderful because they allow you to explain things in a more visual way, which makes your topic more interesting and engaging for your audience.
Press releases
Have something newsworthy to share about your business? A press release can help you generate media coverage for your landscaping company, while also creating valuable backlinks to your website. When writing a press release, be sure to include relevant keywords and links to your landscaping website to help improve your landscaping SEO.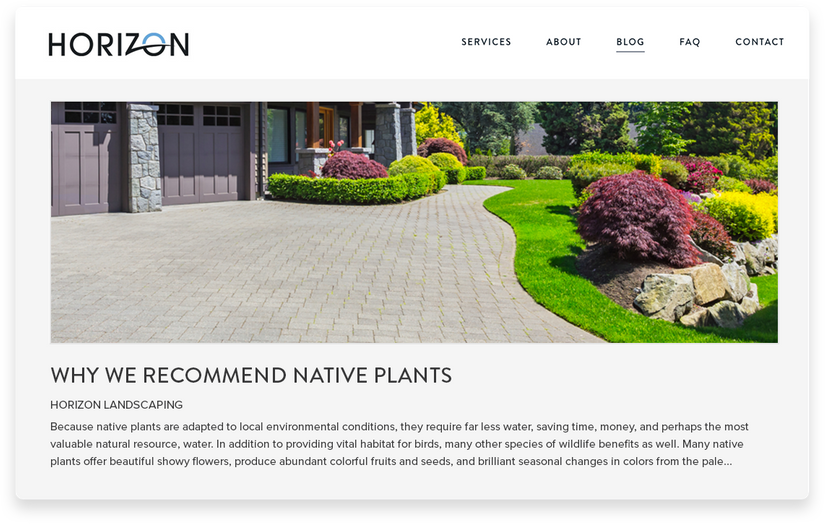 How to write blogs for your landscaper website
Pick a catchy headline
The headline is one of the most important parts of a blog article. After all, it's the first thing most of your readers will see, and if it's a flop, they're not going to keep reading. Pick a catchy headline that's short, sweet and to the point — a headline that entices your readers to stick around and keep reading.
Use short, easy-to-digest sentences
It's important to remember that most of the people who are reading your blog posts are using a mobile device. What looks like a perfectly reasonable paragraph on a desktop computer can look like a wall of text on a smartphone. Use short, easy-to-digest sentences, and limit your paragraphs to a few sentences.
Include images, videos or infographics
While your blog posts should absolutely have text, it should also include eye-catching visual elements, like images, videos or infographics. By using professional, high-quality visuals that are relevant to the topic you're writing about, you help to make your blogs posts more interesting and engaging for your audience.
Use keyword-rich phrases
One of the biggest reasons landscapers invest in content marketing is to increase their organic visibility and keyword rankings. But, that won't happen if you don't use your keywords in your blogs. Make sure to use keyword-rich phrases throughout your blog naturally and without forcing them in.
End with a call-to-action (CTA)
Every blog you write, whether it's about the benefits of professional landscaping or an introduction to a new technician on your team, needs to end with a CTA that tells your readers what to do next. This will help to make your blog posts more convertible and effective, and it directs your readers to go where they can learn more.
Blog topic ideas for landscapers
Answers to FAQs
It's a good idea to have a dedicated FAQs page on your landscaping website, but you should also consider giving more in-depth answers to your most common questions in your blog. This is a great way to educate and inform your readers about the questions they're most likely to ask. Plus, it helps to demonstrate your industry knowledge.
Case studies and client testimonials
Landscaping can transform an outdoor space like nothing else. Highlight the difference your landscaping services can make by showcasing real testimonials from happy customers, as well as case studies of your work. This can help you harness the power of social proof on your blog and convert more of your readers into customers.
How-to guides
As a landscaper, you have a lot of knowledge you can share with your readers, and how-to guides are a wonderful way to do so. Publishing how-to guides on your blog shows your readers that you care about providing value and improving their lives, and that you have a lot of knowledge to share.
Commentary on landscaping news
Has a new invasive bush species recently become restricted in your area? Have supply chain issues increased the price of stone pavers? When newsworthy things happen that impact the landscaping business, give your take on it in your blog. This will show that you're staying up with the times, and help to educate your readers about what's going on and how it impacts them.
Team highlights and updates
Whether you've recently hired a new Landscape Designer, you're celebrating your latest employee of the month or your team has recently won an award, your blog is a great place to share the news. Blogging about your team highlights and updates keeps your readers in the know about your business, while also giving you an opportunity to recognize your team.
Your landscaping company's story
People love a good origin story. Stories connect people and put people on shared ground. Create a blog post about your landscaping company's story — who you are, why you got started, what your mission is, how you got where you are today, etc. This can help you make an impact while also building trust in your business.
Content marketing FAQs for landscapers
Why is content marketing important for landscapers?
There are so many reasons to invest in content marketing for landscapers. First, it can help you rank organically in searches related to your landscaping services. Second, it can help you build trust with prospective leads and customers. Finally, it can help you attract low-cost, high-quality landscaping leads to your business.
How often should you be blogging?
How often you should be blogging depends on many different factors, like what your content marketing goals are; however, it's important to blog on a regular basis. Aim to publish a new blog once or twice a week, or as often as you can.
How do you optimize your landscaping website for search engines?
After you've done keyword research to identify the right keywords to optimize your landscaping website for, you need to use them throughout your website. This includes page titles, website content, alt image tags, title tags and meta descriptions. Always make sure that you're using keywords naturally and never stuffing them into your content.
How do you monitor your content marketing performance?
There are several different KPIs (key performance indicators) you can track in order to monitor the performance of your landscaping SEO and content marketing strategy. These include keyword rankings, organic impressions, clicks, conversions, website traffic and more. By monitoring your performance, you can make necessary adjustments and maximize your success.
Get everything you need to
manage and grow

your business.