Landscaping Website Design
#1 Marketing Platform® for
Landscapers
Success starts with a better
landscaping website
Turn more visitors into leads with a modern landscaping website that looks great on all devices — you deserve a landscaping website that drives results.
Why having a convertible landscaping website is important
Every landscaping company needs a website. Whether someone hears about your landscaping company from a friend or on Facebook, more often than not, they'll visit your website before booking an appointment or scheduling an estimate.
Your landscaping website can also be a powerful lead generation tool for your business. The right web design for landscapers can help you rank higher on search engines, make the right first impression on visitors, build trust and convert leads.
But, it's important to remember that not all landscaping web designs are made equal. For you to win in the market today, you need a highly convertible roofing website that will make you stand apart from your competitors.
Must-have business website features
A clean, simple aesthetic
Make the right first impression on your website visitors with a clean, simple website design for landscaping companies. By focusing on one design element at a time, using plenty of white space and keeping your website free of clutter, you'll develop a landscaping website that's more attractive, modern and professional.
Easy-to-use website navigation
Not only should your landscaping website look great, but it should also be easy for your visitors to use. Whether they want to learn about a specific landscaping service you offer, look at before and after photos of your products, or schedule an estimate, it's important to make it easy for them to do so. Choose a simple, easy-to-use website navigation center.
A mobile-friendly design
Most internet traffic these days comes from mobile devices, and if your website isn't designed with mobile users in mind, you're going to lose valuable landscaping leads. Make sure that you choose a responsive web design for landscapers, which will ensure a consistent look and user experience across devices.
Fast page speed
People aren't used to waiting around for a web page to load, and if your web pages load too slowly, many of your visitors won't stick around. In addition to negatively impacting the user experience on your landscaping website, slow page speed can also impact your organic visibility. Make sure your website is optimized for speed.
Professional photos and videos
Although having great website content is important, the first thing people will see when they come to your landscaping website are your visual elements, like photos and videos. Instead of relying too heavily on stock photos, use professional, high-quality photos and videos of your actual team and work.
Trust indicators
Landscaping is a big deal. People need to know that you're the right landscaper for the job before they'll work with you, or even schedule an estimate. Adding trust indicators to your landscaping website, like reviews, testimonials and accreditations, can help to build trust with website visitors and make them more likely to convert into landscaping leads.
Contact forms
Not everyone wants to have to pick up the phone to schedule an appointment or estimate. In fact, most people prefer to fill out a contact form instead. Having contact forms on your Contact page and in key places throughout your website gives your visitors a quick and easy way to convert without ever having to pick up the phone.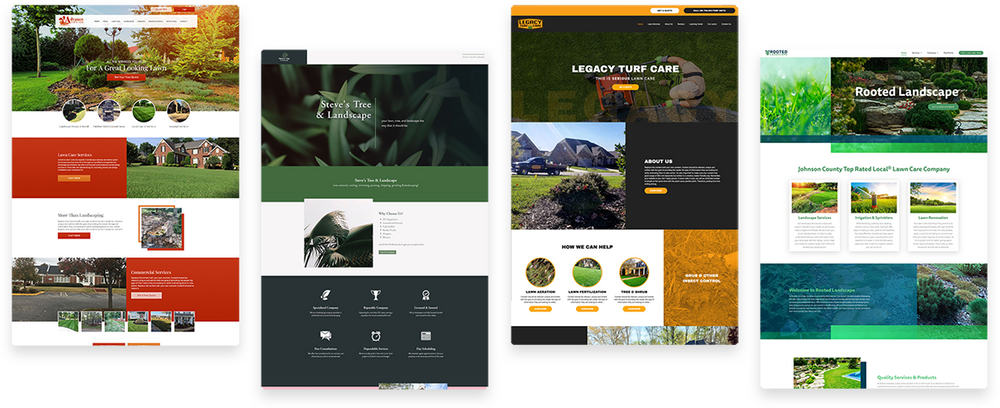 Web pages to include in your landscaping website
Homepage
Your homepage is the first page many of your website visitors will visit, making it the most important page of your landscaping website. It should give a brief introduction to your landscaping company and services, highlight your unique value proposition, make smart use of trust indicators and point visitors toward your call-to-action (CTA).
About Us
Your About Us page is where you can go into more detail about your landscaping team, as well as share the story behind your landscaping company. This is an important page because it helps to humanize your landscaping company, which makes your brand more relatable and memorable, and helps you stand out.
Landscaping Services
Your Landscaping Services page is where your visitors can go to learn more about the landscaping services you offer. In addition to a Landscaping Services page, consider creating dedicated pages for each of the services you offer. This will give you a chance to go into more detail about individual services, and can also help with landscaping SEO.
Landscaping Reviews
People need to trust that you're the right landscaping company for the job before they'll step out on a limb and do business with you. One of the best ways to start building trust right on your website is to display your landscaping reviews on a Landscaping Reviews page.
FAQs
If you hear the same questions over and over again from your leads and customers, then you need an FAQ page on your landscaping website. This is a great way to address the most common questions you hear, while also educating your prospective leads and customers about the process of working with your landscaping company.
Contact
The last thing you want is for a website visitor not to be able to find your phone number when they want to schedule an appointment or book an estimate. Display your number in the footer of every page of your website, and also develop a dedicated Contact page. This page should have all of your contact information, as well as a contact form.
Blog
Every landscaping website needs a blog. Having a blog makes it easy to keep your website updated with new content on a regular basis, which is an important part of landscaping SEO. It can also help you educate and inform your visitors, demonstrate your expertise and build trust, and get found in local searches.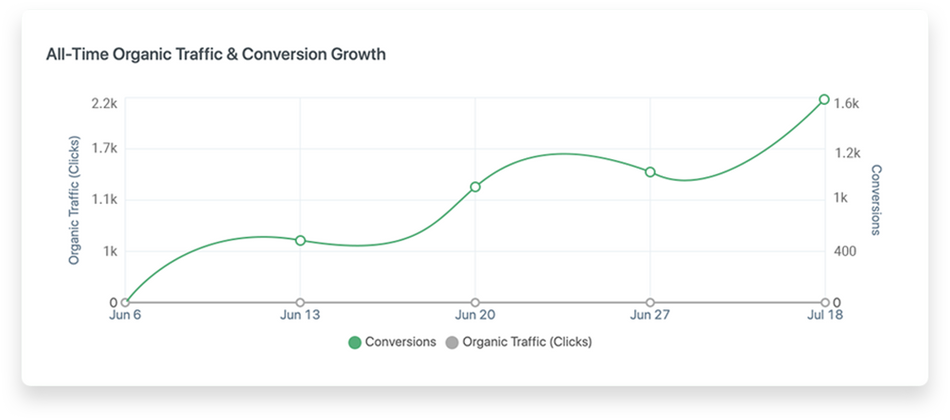 6 ways to drive traffic to your business website
1. Content marketing
Most of the time, the search for a landscaping company happens on a search engine, like Google or Bing. And unfortunately, most people won't look past the first page of search results. Content marketing and landscaping SEO strategies can help you rank at the top of page one for relevant keywords and get found.
2. Multi-channel advertising
From Google to Facebook and YouTube, there are many places your prospective leads and customers are spending their time online. With multi-channel advertising, you can make sure that you build a visible presence on the most popular channels with your customer base and drive the right kind of traffic to your website.
3. Social media management
Social media platforms are some of the most popular online destinations for modern consumers, and many social media users are looking for new brands, products and local businesses, like landscaping companies. By including links to your landscaping website on your social media profiles and in relevant social posts, you can boost your website traffic.
4. Email marketing
From nurturing leads throughout every step of the sales funnel to staying top of mind with existing customers, email marketing is a great way to grow your landscaping business. Plus, when you include links to your landscaping website in your emails, you can drive leads and customers back to your website.
5. Reputation management
Landscaping has a huge impact on curb appeal, and no one wants to hire the wrong landscaper for their home or business. By taking a proactive approach to reputation management, you can get more five-star reviews, which will not only help you build trust with prospective customers but can also increase your local visibility.
6. Listings management
From Top Rated Local® to Yelp and Angi, there are many places people can go online to look for local landscaping companies. Listings management helps you keep all of your listings across local directories, apps and websites up to date and accurate. This means more local visibility for your business and website traffic.
Landscaping website design FAQs
Why do you need a landscaping website?
Your landscaping website is your business's home online. It's where prospective leads and customers can go to learn more about your landscaping company, team and services — and it's often what forms people's first impression of your business. A highly convertible landscaping website can increase your visibility, build trust, drive landscaping leads and increase sales.
How do you build a business website?
Landscapers have the choice between working with a Website Designer or building their own website. Marketing 360® has a team of experienced Designers who can help you bring your vision to life, as well as an easy-to-use website builder. The Marketing 360® Websites app offers a library of beautiful landscaping design templates and a drag-and-drop editor.
What should a landscaping website have?
Every landscaping company is different, and no two landscaping websites should be exactly the same. However, there are a few things all landscaping websites need to have — a mobile-friendly design, an easy-to-use navigation system, clear CTAs, high-quality visuals and contact forms that are short and sweet.
How do you increase landscaping website conversions?
There are several things you can do to increase conversions on your landscaping website. First, design your website for lead generation with calls to action, forms and contact information, so potential clients can easily get in touch with you. You should also use effective landscaping SEO tactics to make sure your site appears in search results when people are looking for landscapers in your area.
Get everything you need to
manage and grow

your business.