#1 Marketing Platform® for
Doctors
Success starts with a better
physician website
Turn more visitors into patients with a modern doctor website that looks great on all devices — you deserve a medical practice website that drives results.
Why having a convertible doctor website is important
Whether a prospective patient finds you on Google, Facebook or from a personal recommendation, chances are, they'll visit your medical practice website before scheduling an appointment. It's critical that it makes the right first impression.
Website design for doctors is an essential part of your medical practice's success, both online and off. It's a place where current and potential patients can learn more about you, your team and the care you offer. And, it's where all of your other marketing materials will point back to.
Having just any physician website isn't good enough. For you to win in the market today, you need a highly convertible doctor website that will make you stand apart from your competitors.
Must-have physician website features
A clean, simple aesthetic
Your doctor website is often the first introduction most new patients get to your medical practice. To make the right first impression on your visitors and convert them into patients, you need a doctor web design that looks professional. That means that you need to choose a clean, simple aesthetic.
Easy-to-use website navigation
Very few of your website visitors will be visiting just for fun. Most people who visit your doctor website have a specific purpose in mind, whether it's to learn about your medical services or your team, or to schedule an appointment. Make it easy for your visitors to find what they need by choosing an easy-to-use website navigation system.
A mobile-friendly design
These days, most online traffic now comes from devices. It's reasonable to expect most of your visitors to be using smartphones or tablets. If your website isn't designed to provide a good mobile experience, they're going to click the back button. Make sure that you choose a responsive, mobile-friendly doctor web design.
Fast page speed
Modern internet users are used to web pages loading quickly, and they don't have much patience for pages that load slowly. Most people will decide within mere seconds whether they want to stick around or not. Don't lose them to slow-loading web pages. Prioritize page speed when building your medical practice website.
Professional photos and videos
As we mentioned, you only have a few seconds to convince your website visitors to stick around and learn more. If you rely too heavily on stock images and footage, you'll lose their interest. Using professional photos and videos of your real team and medical practice helps to make your doctor website more convertible.
Trust indicators
Prospective patients need to know that they can trust your medical practice before they'll schedule an appointment. You can start building that trust right on your doctor website by highlighting key trust indicators, like patient testimonials and reviews, a reviews widget and trust badges.
Contact forms
When one of your website visitors decides to schedule an appointment, it's important to make it as easy as possible for them. In addition to including clear contact information on every page of your website, you should also use simple contact forms that your visitors can fill out to be contacted by someone at your practice.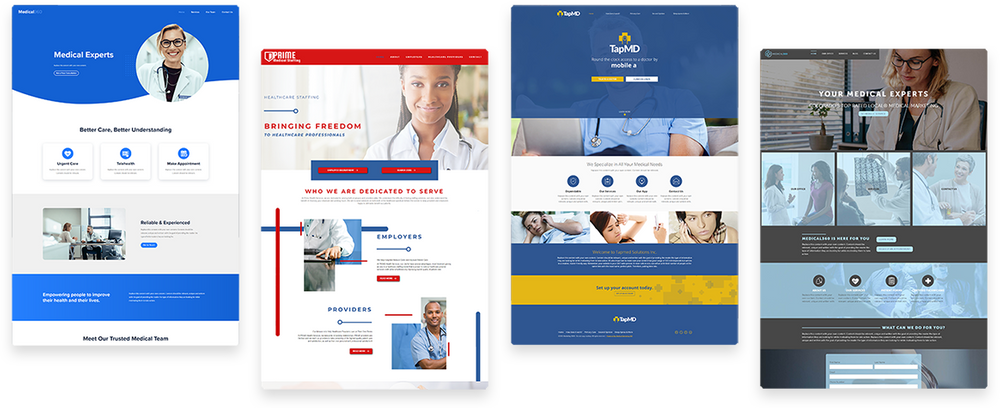 Web pages to include in your doctor website
Homepage
The homepage of your website is the first page most of your website visitors will see, which makes it incredibly important. You need to make sure that you get it right. Your homepage should give visitors a quick overview of your medical practice, highlight what makes your practice unique and include clear CTAs.
About Us
People who visit your medical practice website want to know more about you. Your About Us page is a fantastic place to share your story, including who you are, your educational history and background, the story of how you got into medicine and more. Done right, Your About Us page can help to separate you from your competitors.
Services
From pain management to diagnostics, people turn to doctors for so many different reasons. They need to know that you offer the medical services they're looking for before they'll book an appointment with your practice. Highlight your services on your Services page, and consider building individual pages for each service you offer.
Reviews
People need to know that you're the right doctor for the job. And, they're much more likely to trust it when your patients say you're the right physician than when you say it. Harness the power of social proof by highlighting your best patient reviews and testimonials on a Reviews page. Just make sure that you get their written authorization first.
Payment Methods
There's nothing more frustrating than doing research to find the right doctor, only to find out that they don't accept your insurance or don't offer a payment method that works for you. That's why it's a good idea to create a Payment Methods page for your doctor website that tells prospective patients exactly what your payment policy is.
FAQs
Chances are, you hear many questions from your leads and patients. If your leads and patients are asking the same questions again and again, other people in your community have those same questions, too. Creating an FAQs page for your doctor website provides the answers people are looking for and can help with your organic visibility.
Contact
When someone is a ready to book an appointment with your medical practice, it's important to make it easy. In addition to having clear contact information throughout your doctor website, you need a Contact page. This page should highlight your contact information and have a simple, quick contact form.
Blog
When combined with doctor SEO, blogging can help your medical practice website rank higher on search engines. Not only can blogs increase your organic visibility, but they can also help you build trust with visitors and prospective patients, educate your readers, demonstrate your expertise and more.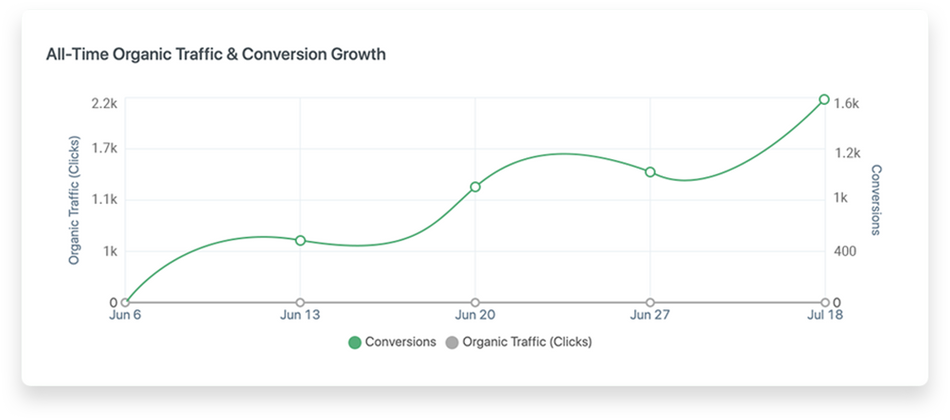 6 ways to drive traffic to your physician website
1. Content marketing
The search for a local doctor often happens on Google, Bing or another search engine. To rank on page one, you need the right doctor SEO and content marketing. By creating high-quality, keyword-rich content for your website, social media profiles and beyond, you can drive organic traffic to your website.
2. Multi-channel advertising
From hospital-run practices to private practices and clinics, most doctors face a lot of competition in their community. Medical practices that want to succeed need to be able to get in front of prospective patients, make themselves stand out and capture market share from their competitors. Multi-channel advertising can do just that.
3. Social media management
Smart marketing for doctors and medical practices is about building a visible presence wherever your prospective patients are spending their time online. These days, most people are spending the majority of their time on social media. Through social media management, you can connect with your community and drive traffic to your medical practice website.
4. Email marketing
From nurturing leads to staying top of mind with your existing patients, email marketing can help you grow your medical practice in many ways. And, when you make it a point to include links back to your website in every email, it can also be a powerful way to drive traffic to your doctor website.
5. Reputation management
Trust plays a big role in choosing any local business, and it's even more important when choosing a new doctor or medical practice. By getting five-star reviews and building a strong reputation for your medical practice, you can build that valuable trust with prospective patients and drive traffic to your website.
6. Listings management
From Top Rated Local® to Facebook and Google, there are many places people in your area may go to find a local doctor or medical practice. Through proactive listings management, you can make sure that your listings are accurate and up to date across the web. That means more website traffic and new patients.
Doctor website design FAQs
Why do you need a doctor website?
Most of your new patients will visit your physician website before they schedule an appointment with your medical practice. Your doctor website is your most important marketing asset, online or off, and your medical practice's home online. To win in today's competitive market, you need a web design for doctors that converts.
How do you build a physician website?
Doctors have a couple of options when it comes to developing a medical practice website. The first option is to build your own with the Marketing 360® Websites app. A library of doctor web design templates and a drag-and-drop editor make it easy. Or, you can work with a professional Designer who can build your website for you.
What should a doctor website have?
Every medical practice is unique, and every doctor website should be unique, too. However, there are certain things every physician website should have, including clear CTAs, patient testimonials and other trust indicators, keyword-rich content, an easy-to-use website navigation system and simple contact forms.
How do you increase physician website conversions?
There are many things you can do to make your doctor web design more convertible. First, you can build trust with your website visitors by including key trust indicators, like reviews and trust badges. Second, include clear CTAs throughout your website. Third, make sure your contact forms are short and sweet, so they're quick to fill out.
Get everything you need to
manage and grow

your business.