#1 Marketing Platform® for
Doctors
Generate high-quality exclusive
doctor leads
Only pay for qualified physician leads interested in working with your practice — stop competing against multiple doctors for the same patients.
Why doctors need multi-channel advertising
Doctor marketing isn't what it once was. Gone are the days when being listed in a medical directory or relying strictly on patient referrals would suffice. In our modern digital era, there are numerous avenues that doctors can and should utilize to connect with potential patients.
Intelligent doctor marketing is about establishing a prominent presence wherever prospective physician leads and patients in your area may be seeking medical help. Multi-channel advertising can assist you in achieving just that.
Engage with potential patients at every step of the marketing journey, transform doctor leads into reliable patients and seize a larger share of your local market with multi-channel advertising for your medical practice.
7 benefits of multi-channel advertising for physicians
1. Drive high-quality leads
Reach out to people in your area who are actively seeking the healthcare services you offer through digital advertising. This way, you can bring more quality doctor leads to your practice. By having a strong online presence across various platforms, you can engage with a larger audience and connect with more potential patients who need your services.
2. Increase your visibility
Having a solid online presence is essential for successful doctor marketing. However, with so many digital channels to choose from, it can be tough figuring out where to start. That's where multi-channel advertising comes in. It helps increase your online visibility and allows you to reach leads on the platforms they use most, be it Google, Facebook, Instagram or YouTube.
3. Get found
If you're a doctor and you want people to find you online, you need to make sure you're appearing in the search results of search engines, like Google and Bing. Search engine marketing (SEM) is a powerful way to promote your practice on search engines and get noticed by people searching for healthcare services in your area.
4. Capture market share
Multi-channel advertising can help doctors attract quality physician leads and claim a bigger share of the market from their competitors. By promoting your services on multiple channels popular with your target audience, you can reach more people than your competitors and distinguish yourself from the crowd.
5. Target the right audience
Not all doctor leads are the same, and not everyone is in need of medical services at any given time. Digital advertising allows doctors to tailor their ads to the right audience based on key factors, like location and demographics. This ensures your marketing budget is used wisely, and your ads are reaching those most likely to use your healthcare services.
6. Stay top of mind
Being visible online isn't enough — doctors also need to stay top of mind with their target audience. Multi-channel advertising helps doctors remain front and center with their audience, making sure that they're the first practice that comes to mind when someone is ready to book an appointment.
7. Monitor and maximize your performance
Digital advertising gives doctors access to valuable data and analytics that can be used to track and boost their performance. By monitoring key metrics, such as leads generated, website traffic and conversion rates, doctors can make meaningful adjustments to their advertising campaigns for the best results.

The best digital advertising campaigns for doctors
Local advertising
Local advertising, such as Google's Local Service Ads, is an excellent way for doctors to connect with leads in their area. These ads show up in local search results, allowing doctors to target their promotions based on the searcher's location. And, you only pay for qualified physician leads, allowing you to make the most of your budget.
Search and maps advertising
Most of the time, people's search for local medical services begins on Google or Bing. Search advertising enables doctors to be at the top of these search results. These ads appear above or adjacent to the organic search results, giving physicians the chance to present their practices to searchers exactly when they're seeking medical services.
Retargeting
Retargeting allows you to remain top-of-mind with your target audience. These ads are displayed to people who have previously interacted with your practice online, such as visiting your website. Retargeting ads assist physicians in remaining on the minds of their potential patients and reminding them about their medical services.
Social media advertising
Browsing through social media is one of the most common online activities, making social media advertising an excellent avenue for doctors to connect with their target audience. Medical practices can utilize social media advertising to elevate brand awareness, drive website traffic and generate physician leads on popular platforms, like Facebook, Instagram and Twitter.
Display advertising
Display advertising allows doctors to reach their target audience with pertinent ads on the websites, apps and social media platforms they frequent daily. These ads can boost brand awareness for your medical practice, and can also be used to generate leads and drive website traffic.
Digital TV advertising
Digital TV advertising, also known as over-the-top (OTT) advertising, enables doctors to target their ads to a specific audience. With an increasing number of people opting for streaming services over traditional cable, physicians can reach their target audience on the platforms they already use. The best part? OTT ads are non-skippable, ensuring your message is seen.
Digital radio advertising
With the rise of digital radio streaming, physicians can utilize this channel to reach their target audience with ads. Digital radio advertising can be targeted, which allows doctors to fine-tune their ads by location, time of day, day of the week and even listening habits.
Digital billboards
Make your presence felt to people commuting around your local area with digital billboard advertising. These billboards, located on bustling highways and roads, enable physicians to target their ads to drivers in specific areas, increasing local visibility.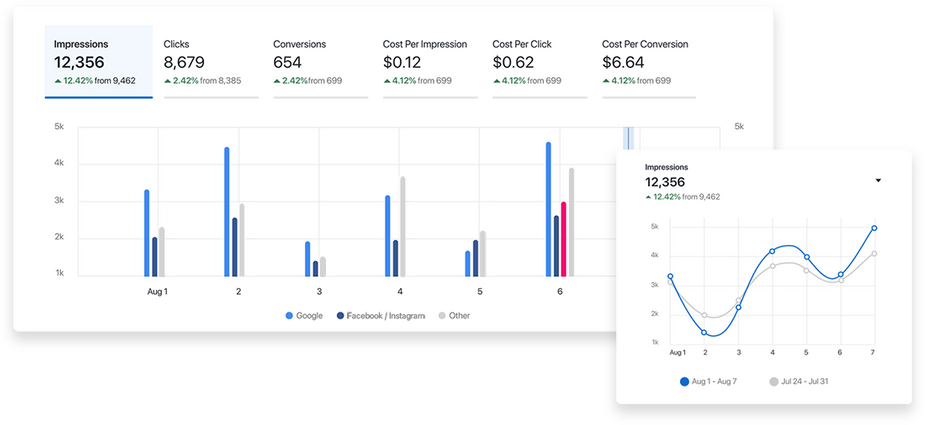 Multi-channel advertising tips for physicians
Define your audience
Any successful advertising campaign begins by identifying your target audience. Who are you aiming to reach with your ads? By defining your audience, you can craft ads that have a higher chance of resonating and generating conversions, thereby optimizing your advertising strategy and budget.
Set your goals
What are you aiming to achieve with your physician advertising campaign? Is your objective to boost brand awareness, generate doctor leads or increase website traffic? Setting clear objectives allows you to create a more effective advertising strategy that drives the results you desire.
Use targeting to get in front of the right people
Not everyone in your area needs your medical services all the time. That's why targeting is crucial in physician advertising. By focusing your ads on people who are most likely to be interested in your services, you can attract high-quality leads and make the most of your advertising budget.
Budget for success
Multi-channel advertising is vital for contemporary doctor marketing, but it can be costly. Ensure you have a sufficient budget to sustain a multi-channel advertising campaign before you begin. Also, continuously monitor your performance to guarantee every dollar spent on advertising yields its worth.
Maximize your visibility across the most popular channels
Different individuals use different channels, hence having a presence on as many as possible is important. However, it's equally crucial to advertise on the right channels. By promoting your services on channels your target audience frequents, you can connect with more people and generate more leads for your medical practice.
Build exact-match landing pages
When people click on your ads, they should be directed to a landing page that corresponds to the ad they interacted with. For instance, if you're running a display ad campaign, you should create a landing page explicitly for that campaign. This enhances your conversion rate and ensures that the visitors get the precise information they were looking for.
Bid on branded keywords
Bidding on your own branded keywords ensures your ads are seen by people already familiar with your medical practice. People searching for your medical practice by name are highly likely to convert into patients. Don't risk a competitor scooping them up by outranking you for your own keywords.
Measure your results
Monitoring your physician advertising campaign performance is crucial to ensure maximum returns on your investment. By measuring leads, website traffic, conversions and other key performance indicators (KPIs), you can fine-tune your campaign as needed to maximize your results and return on investment (ROI).
Work with a dedicated Ad Specialist
If you're unsure about where to begin with your physician advertising campaign or if you're not achieving the desired results, consider partnering with a dedicated Ad Specialist. At Marketing 360®, our Ad Specialists assist doctors in creating and managing successful multi-channel advertising campaigns, helping them reach their goals and maximize their investment.
Multi-channel advertising FAQs for doctors
What is multi-channel advertising?
Multi-channel advertising is a strategic approach that uses several platforms to reach potential patients. It incorporates paid ads on various channels, like Google, Bing, Facebook, Instagram and others frequented by individuals seeking medical services in your area. Multi-channel advertising ensures a visible presence wherever your prospective patients spend their time online.
What are the best advertising channels for physicians?
Not all multi-channel advertising strategies are created equal, and not all platforms are suitable for every doctor. The optimal advertising channels for doctors may vary depending on your target audience and where they spend their time online. Some of the most prevalent channels for physicians include Google, Bing, Facebook and Instagram.
How much should you budget for multi-channel advertising?
There isn't a universal answer to this question since the budget you should allocate for your physician advertising campaign relies on several factors, including your goals, target audience and the platforms you're employing. However, it's crucial to ensure you have an adequate budget to sustain a successful multi-channel advertising campaign.
How do you know if multi-channel advertising is working for your practice?
The best method to determine if your physician advertising campaign is yielding results is by tracking your metrics. By observing your leads, website traffic, conversions and other essential Key Performance Indicators (KPIs), you can modify your campaign as needed to enhance your results and maximize your return on investment.
Get everything you need to
manage and grow

your business.