#1 Marketing Platform® for
Doctors
Boost organic leads with content marketing and
doctor SEO
Build an organic lead machine with our doctor SEO content marketing program — rank higher on Google, post more on social and stay top of mind on email.
Why doctors need content marketing
When someone needs medical care, their search for a local doctor or medical practice often starts on a search engine, like Google or Bing. Most people don't look past the first few results, which means that you need to rank on top to get in front of prospective new patients.
Combined with doctor SEO, content marketing through blogs, social media posts, emails and beyond can help you get to the top of the SERPs (search engine results pages) and get found by people actively searching for the care you provide.
Done correctly, content marketing for medical practices has been shown to build trust with prospective patients, drive low-cost, high-quality leads and more.
6 benefits of content marketing for doctor
1. Get found on search engines
People rarely ask for personal recommendations or turn to the Yellow Pages when they need medical care. Instead, they turn to a search engine, like Google or Bing. If you want to ensure that they choose your practice, you need to increase your rankings with the right doctor SEO and content marketing.
2. Drive low-cost, high-quality leads
Some leads will be ready to book appointments right away, while others may never convert into patients. Leads actively searching for the medical care you offer on search engines are highly likely to convert, and best of all, every organic click is totally free. Content marketing and SEO get more patients in the door for less.
3. Become a thought leader
There are many doctors and medical practices out there that claim to be the right option for patients, but not all of them are made equal. By creating regular content for your website, social media profiles, YouTube channel and beyond, you can become a thought leader in your industry and set yourself apart from other doctors and medical practices.
4. Build trust and credibility
People need to know that they can trust you before they'll feel comfortable turning to you for medical care. When you create informative, high-quality content for your blog, social media posts and emails, you demonstrate your expertise and experience, helping to build trust and credibility with new patients.
5. Educate and inform your patients
There is a lot of conflicting advice and information out there, particularly when it comes to our health. It's not always easy for people to tell what's valuable and what's not. When you create helpful, high-quality content for your prospective and existing patients, you can educate, inform and keep them healthy.
6. Control the conversation
When you search for your name or medical practice's name on Google or Bing, what comes up at the top of the page? While you will never be able to totally control the search results, content marketing and doctor SEO gives you a lot more influence over the conversation about your medical practice online.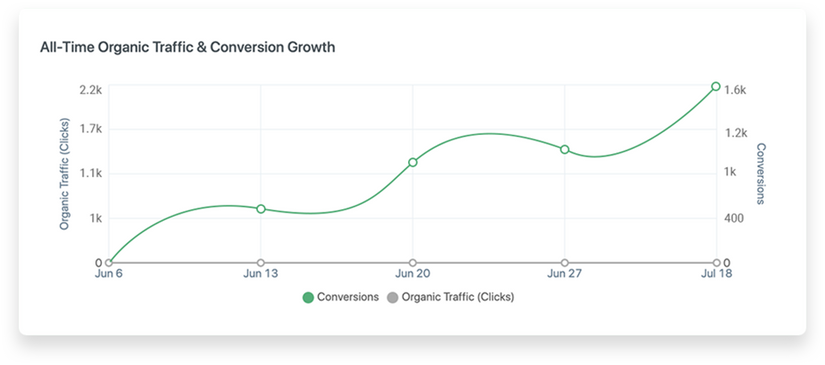 How to find the right keywords for your medical practice
When it comes to doctor SEO and content marketing, there's almost nothing more important than keyword research. Keyword research is the bedrock of your organic success because it tells you what prospective patients are searching for online and how you can best reach them.
Finding the right keywords for your medical practice starts by putting yourself in a prospective patient's shoes. If you were looking for a local doctor, what keyword would you search for on Google or Bing?
Once you've identified the best keywords to target for your medical practice, start creating content centered around them and optimizing your existing website content with them.
Best content marketing types for doctors
Blog articles and website content
The best place for content marketing for doctors and medical practices should start on their website. Rank higher with professional, high-quality and keyword-rich website content. And, build trust and win over prospective patients by creating educational and informative content for your blog.
Social media posts
Social media is where most people are spending their majority of their time online these days. And, many people use social media to find new brands and local businesses, like doctors and medical practices. Posting valuable content on your social media profiles is a great way to build strong connections in your community.
Email campaigns
To succeed, medical practices not only need to be able to attract new patients but also keep existing patients coming back for future care. One of the best ways to nurture leads into patients — and to keep your patients coming back — is through email marketing. Through strategic email campaigns, you can stay top of mind with leads and patients.
Videos
Too often, when doctors think of content marketing, they only think about text-based forms of content. But, visual content, like videos, can be incredibly powerful. Videos are engaging and memorable, which makes it ideal for doctors and medical practices looking to stand out from their competition.
Infographics
Topics relating to health and medical care can be complicated and difficult to understand. Infographics are a great way to break down complex topics in a way that makes them more digestible and easier to understand. The best part is that you can use infographics in your blog, on social media, emails and beyond.
Press releases
Have you hired a new physician to join your practice? Have you expanded your medical care or moved your practice to a new location? Did you win a Top Rated Local® award for outranking other doctors and medical practices in your state? Whenever you have something newsworthy to share, a press release is a wonderful way to get the word out.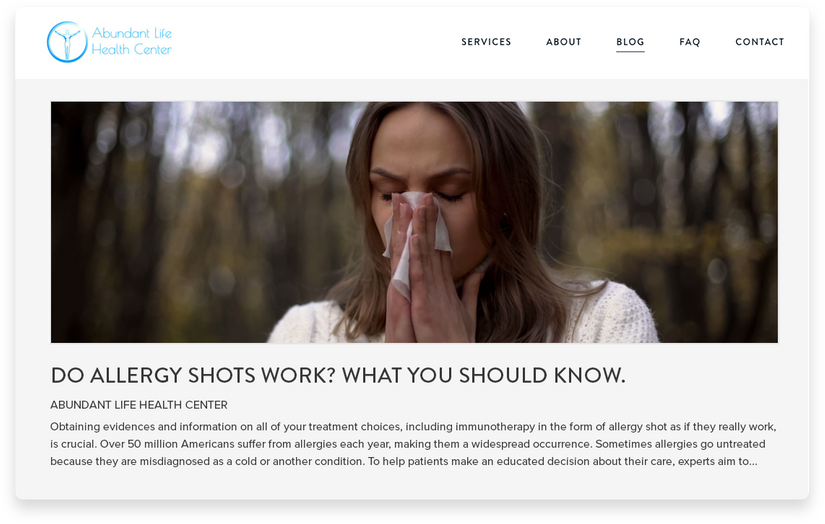 How to write blogs for your doctor website
Pick a catchy headline
When someone visits one of your blogs, the first thing they'll see is the headline. If it fails to catch their attention and draw them in, they're not going to stick around for long. To get your visitors to actually read your blog, you need a headline that's short, sweet and catchy enough to catch their attention.
Use short, easy-to-digest sentences
It's important to remember that most internet traffic these days comes from mobile devices. If your blog is full of long, wordy sentences, it's going to look like a wall of text to your mobile readers. Provide a better experience to all of your readers by keeping your sentences short and easy to digest.
Include images, videos or infographics
Your blogs should not just be limited to text. Make them interesting by including high-quality visual content, like images, videos and infographics. By adding visual elements to your blog, you can make your blogs more eye-catching and engaging for your readers. That entices them to stick around and actually read your blog.
Use keyword-rich phrases
Blogging can be an effective doctor SEO and content marketing strategy for ranking higher on search engines and increasing your organic visibility. But in order to do that, you need to make sure that you're including keyword-rich phrases throughout your blog. Just make sure that you're doing so naturally.
End with a call-to-action (CTA)
Let's say that a prospective patient finds and reads one of your blogs. They like what you have to say, trust your practice and are ready to schedule an appointment. By including a clear call to action in your blogs, you can tell them exactly what to do next. This can help to make your blogs more convertible and effective.
Blog topic ideas for doctors
Answers to FAQs
People have many questions about health and medical care, and you probably hear the same questions over and over again from your leads and patients. One of the best ways to provide valuable blog content to your readers is to answer the questions they're already asking in your posts.
Patient testimonials
When someone needs medical care, they want to turn to a physician they can trust. One of the best ways to build that trust is by posting success stories from real patients. Just make sure that you make it a point to get written authorization from the patient before sharing their testimonial on your blog or anywhere else.
How-to guides
You should always aim to provide value with your blogs, and one great way to do that is by creating how-to guides. Whether it's a guide on how to prepare for the cold and flu season or how to manage chronic pain, how-to guides are a wonderful way to educate and inform your readers about health and medical care.
Commentary on spa news
From the spread of new viruses in your area to the release of new vaccines and boosters, there are many things on the news that are relevant to medical care. By sharing professional commentary on health-related news, you can demonstrate that you're knowledgeable and engaged about what's going on.
Team highlights and updates
Team highlights, like new members joining your team, make fantastic blog topics. The people behind your medical practice are what make it so special. And, by highlighting your team in your blog, you can set your medical practice apart from others in your community, while also helping you recognize your team.
Your medical practice's story
People who read your medical practice's blog likely want to know more about you and your practice. Your blog is a wonderful place to share your story — who you are, your background, why you got into medicine, how you founded your practice, what your mission is and anything else that could help you set yourself apart.
Content marketing FAQs for doctors
Why is content marketing important for doctors?
Content marketing is important for doctors for many reasons. First, when combined with doctor SEO, content marketing can help your medical practice rank higher on Google and Bing. It can also help you demonstrate your expertise, build trust with potential patients, educate and inform your patients and so much more.
How often should you be blogging?
How often you should blog depends on many different factors, including what your content marketing goals are and who your audience is. However, regardless of these factors, consistency is an important part of success, so you should aim to publish blogs regularly — at least once a week.
How do you optimize your doctor website for search engines?
The first step toward optimizing your medical practice website for search engines is to do keyword research to identify the right keywords. From there, you should include the keywords you identified naturally in your page titles, headings, web page content, title tags, meta descriptions and anywhere else you can do so naturally.
How do you monitor your content marketing performance?
Monitoring your doctor SEO and content marketing performance is critical because it tells you whether or not you're on the right track. With the Marketing 360® Content app, you can keep a close eye on important KPIs (key performance indicators), like keyword rankings, website traffic, time on website and more.
Get everything you need to
manage and grow

your business.