Chiropractor Social Media
#1 Marketing Platform® for
Chiropractors
Build local trust and awareness with social marketing for
chiropractors
Get more patients by building local trust and awareness with our social media marketing program for chiropractors — stand out in your community.
Why chiropractors need social media management
Smart chiropractor marketing is about building a visible presence wherever your prospective patients are spending their time online. These days, that's most likely to happen on Facebook, Instagram or another social media platform.
Social media management for chiropractors involves creating an optimized profile on the right channels, publishing high-quality social media content on a regular basis, engaging with followers and patients on social media, and more.
Although it may be time-consuming, social media management has become a critical marketing channel for modern chiropractors. With the right social media strategy, you can build brand awareness, connect with your community, drive traffic to your chiropractor website and more.
7 benefits of social media management for chiropractors
1. Increase brand recognition
When someone is dealing with back pain or needs an adjustment, you want your chiropractic practice to be the first one that comes to mind. To do that, you need brand recognition in your community. Luckily, social media is the perfect place to build a more recognizable brand for your chiropractic practice.
2. Build community connections
For a local business, like a chiropractic practice, local visibility is essential for success. By creating an active presence on social media for your practice, you can connect with prospective patients in your community, as well as other local businesses you could partner with to grow your practice.
3. Showcase your expertise
Not all chiropractors are made equal, and when someone needs relief from chronic pain, they need to know that they can trust you. One great way to set yourself apart from your competition is by sharing high-quality content on social media that showcases your expertise. This can help you build trust and win new patients.
4. Humanize your business
People are much more likely to remember other people than they are to remember a logo or a tagline. By sharing images and videos of your real team at work and behind-the-scenes glimpses into your practice, you can humanize your practice and build a more memorable brand.
5. Drive traffic to your chiropractor website
You can spend an arm and a leg on a custom website for your chiropractic practice, but even the best website won't drive results for your business if no one visits it. By including links to your chiropractor website on your social media profiles and in social posts, you can turn social media users into website traffic.
6. Get to know your patient base
Getting to know your patient base is an important part of effective chiropractor marketing. Knowing your patients tells you which channels to market on, what their pain points are and what kind of marketing message they'll respond to. Asking questions, posting surveys and taking polls on social media are great ways to get to know your patients.
7. Win leads and patients
From building patient awareness in your community to demonstrating your expertise, social media management can be beneficial for chiropractors in many ways. Whether social media users convert right away or it takes time, everything you do on social media is all about winning new leads and patients for your practice.
The best social media platforms for chiropractors
Google Business Profile
When someone needs a chiropractor, they often start with a near-me search on Google. And, the chiropractic practice they end up choosing will most likely be the first result that comes up in the maps rankings. To rank higher in maps, you need an active, optimized Google Business Profile for your practice.
Facebook
Facebook is the most popular social media platform, and what's more is that it's popular with people of all ages, making it a great platform for chiropractors. In addition to having a Facebook business page that stands out, driving success on Facebook requires posting regularly, engaging with your followers and supporting your organic efforts with Facebook advertising.
LinkedIn
LinkedIn is a great social media platform for chiropractors looking to build valuable business relationships. With LinkedIn, chiropractic practices can network with other local businesses in their area and create partnerships that can expand their reach within their community and drive patient awareness.
Instagram
Instagram is a visual social media platform that's popular with young people, which makes it a fantastic option for chiropractors who work with younger patients. Share photos and videos of your chiropractors, and give your followers a behind-the-scenes look at your practice. Be sure to use the right hashtags on Instagram to ensure your posts get found by the right people.
YouTube
Not only is YouTube a popular social media and video streaming platform, but it's also the second-largest search engine behind Google. That makes it a critical channel for chiropractor marketing. Create a YouTube channel for your practice, and publish fresh video content on a regular basis to get ahead on YouTube.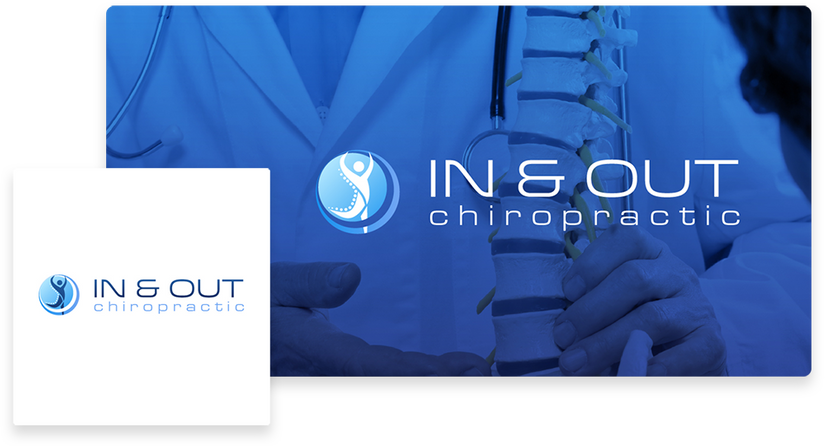 How to make your chiropractor's social media profiles stand out
Choose the right profile picture
If you want social media users to become chiropractic patients, you need to make the right first impression. And, since your profile picture is the first thing someone will see when they visit your social media profile, you need to get it right. Choose a picture that represents your business, like your logo, team or practice.
Write an engaging bio
Your bio is your chance to tell social media users all about your chiropractic practice. Your bio should be short and professionally written, give a clear overview of your practice and care, and contain relevant keywords to help you get found by the right people on social media.
Ensure brand consistency
Regardless of whether a prospective patient finds your chiropractic practice on Facebook, Instagram or any other social media platform, it should be clear that it's your practice. Make it a point to keep your branding consistent across all of your social media profiles, including your logo, colors, tone of voice and more.
Use relevant keywords
Not only do people use social media for entertainment and personal connections, but they also use social media to find new brands and local businesses, like chiropractic practices. To get found on social media, you need to ensure you're using the relevant keywords naturally on your profiles and posts.
Establish a voice for your chiropractic practice
If you want social media users to follow your chiropractic practice, they need to know what to expect from your social content. That's exactly why it's important to establish a consistent voice for your practice on social media. This keeps your branding cohesive and guides your social media management strategy.
Post high-quality content
People follow brands on social media for many reasons — entertainment, information and beyond. But, regardless of the type of content a brand publishes on social media, if you want users to follow your practice and engage with your content, your content needs to be valuable. Always post high-quality content on social media.
Engage with your audience
Social media is a two-way street. That's part of what makes it such a valuable marketing channel for chiropractors. But, in order to get the most out of social media for your chiropractic practice, you need to make it a point to engage with your audience. That means responding to comments, sharing posts and more.
Use social media management software
Having a great social media profile is just the first step toward effective social media management. You also need to post high-quality social media content on a regular basis, which can take a lot of time out of your schedule. Save time and stay consistent by using social media management software to schedule out your social media content ahead of time.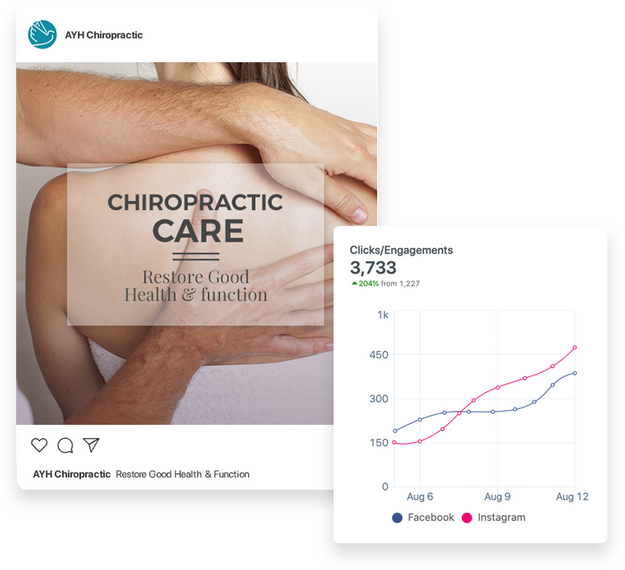 What to post on social media for chiropractors
Chiropractic practice updates
Whether you've recently won a Top Rated Local® award for ranking among the top five chiropractors in your state, a new chiropractor has joined your practice or your practice has moved to a new location, share practice news on social media. This is a wonderful way to keep your followers in the know about your practice.
Educational content
From back pain prevention to the benefits of chiropractic care, there are many things you can educate your followers about on social media. By posting educational content on social media, you can demonstrate your expertise, inform your patients about chiropractic care and set yourself apart from other chiropractors in your area.
Promotions
No one wants to follow a chiropractor who only posts promotional content about their practice. That gets boring quickly, and there's a lot of other social media content people would rather see in their timelines. But, that doesn't mean you should never post promotional content. Social media is an excellent way to get the word out about new patient specials and other promotions.
Answers to FAQs
How often should you see a chiropractor? What happens when a chiropractor cracks your back? What are the side effects of chiropractic adjustments? These are just a few examples of common questions chiropractors hear from their patients. Answering them on social media demonstrates your expertise and educates your followers.
Patient feedback and reviews
Prospective patients are much more likely to trust what your existing patients have to say about your practice than what you say about yourself. Sharing positive patient feedback and reviews (with your patients' permission, of course) helps you harness the power of social proof for your chiropractic practice.
Relevant news stories
When things happen in the news that are relevant to the chiropractic industry, like infant chiropractic care trending on TikTok or the instance of "text neck," it's a good idea to post about them on social media. This shows that you're actively engaged in your industry and allows you to share your professional opinion.
Chiropractic memes and humor
If you can connect with your audience on an emotional level, you'll create a much more memorable brand for your chiropractic practice. One great way to do that is by sharing chiropractic memes and other humorous content that's relevant to your industry. Just make sure that you keep your content clean and professional.
Social media management FAQs for chiropractors
Why is social media management important for chiropractors?
Chiropractors can benefit from effective social media management in many different ways. For one, it can help you build patient awareness and become the go-to chiropractic practice in your community. Social media management can also help chiropractors build trust, educate their patients and more.
How do you create an effective chiropractic social media strategy?
In order to create an effective social media marketing strategy for chiropractic practice, you need to know who your target audience is, which social media platforms they're using and what your goals are. Once you know these things, you can create a social media strategy for your chiropractic practice that drives the kind of results you want.
What are the rules chiropractors need to follow on social media?
Chiropractors need to keep HIPAA in mind when posting on social media. This means avoiding sharing any PHI (protected health information) without patient consent. You should also avoid making any medical claims or giving medical advice on social media.
How often should a chiropractor post on social media?
There are many factors that go into determining how often a chiropractic practice should post on social media. These include your target audience, the social media platforms you're using and your social media marketing goals. However, regardless of these things, you need to post regularly, at least a few times per week.
Get everything you need to
manage and grow

your business.