#1 Marketing Platform® for
Chiropractors
Boost organic leads with content marketing and
chiropractor SEO
Build an organic lead machine with our chiropractor SEO content marketing program — rank higher on Google, post more on social and stay top of mind on email.
Why chiropractors need content marketing
When someone needs an adjustment, the first place they'll go is a search engine, like Google or Bing. People actively searching for chiropractic care are highly likely to convert, and to get their attention, you need to get to the top of the SERPs (search engine results pages).
Chiropractor SEO (search engine optimization) and content marketing can help you build a visible organic presence and score low-cost, high-quality chiropractor leads. And, the best part is that every organic click is free.
Plus, content marketing can help you establish yourself as a trusted expert in your field, educate your leads and patients about chiropractic care, become the go-to chiropractor in your area and so much more.
6 benefits of content marketing for chiropractors
1. Get found on search engines
People who need chiropractic care often start their search on Google or Bing. Since most people don't look past the first few results — let alone the first page — you need to make sure you rank as high as possible. Chiropractor SEO and content marketing are critical to organic visibility on search engines.
2. Drive low-cost, high-quality leads
Almost no other type of lead is more likely to convert into a patient than one actively searching for your chiropractic care on a search engine. The right chiropractor SEO and content marketing strategy can help you outrank your competitors on Google and Bing, which can help you win these valuable organic leads.
3. Become a thought leader
As a chiropractor, you hold your patients' health in your hands. Before a lead will schedule an appointment with your practice, they need to know that you're the right chiropractor for the job. With the right content marketing strategy, you can become a thought leader in your industry and set yourself apart from other chiropractors in your area.
4. Build trust and credibility
In most places, patients have many different chiropractic practices to choose from. If you want them to choose you, it's important to demonstrate that you're credible and trustworthy. The good news is that creating professional, high-quality content can help you do just that. This gives people in your community a great reason to choose your practice.
5. Educate and inform your patients
There are many common myths and misconceptions about chiropractic care out there, and it's a mystery to lots of people. By creating content for your blog and social media profiles that educates and informs your patients, you can set the record straight about chiropractic care and demonstrate your knowledge.
6. Control the conversation
From reviews to social media comments, most of what's said about your chiropractic practice online is out of your control. Luckily, content marketing gives you much more control over the conversation. By producing your own content, you gain the power to direct the conversation about your landscaping company.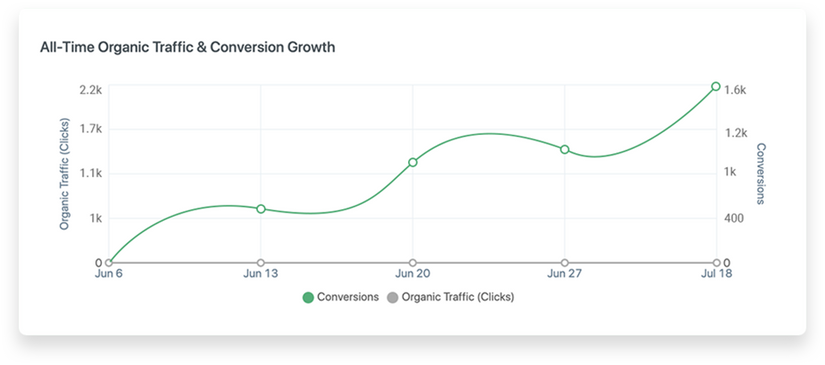 How to find the right keywords for your chiropractor
Keyword research is, arguably, the most important part of successful chiropractor SEO and content marketing. It's the foundation of your strategy, and can impact everything from your organic visibility to the quality of your leads.
Not sure how to find the right keywords for your chiropractic practice's content marketing strategy? Start by putting yourself in your patients' shoes and thinking about the search terms you would use to find your chiropractic practice or care online.
Once you've identified a few potential keywords, it's time to start creating content around those keywords and using them to optimize your chiropractor website.
Best content marketing types for chiropractors
Blog articles and website content
For chiropractors, the best place to start your content marketing strategy is your website itself. Not only is it important to create high-quality website content for your homepage, services pages and beyond, but you should keep your website refreshed with new content by blogging. Blog articles can help you rank higher in searches and win over new patients.
Social media posts
Most chiropractors understand the importance of social media marketing, but fail to do much more than create a Facebook business page. In order to be successful on social media, you need to build an active presence for your chiropractic practice. That means posting high-quality social media content on a regular basis.
Email campaigns
Not all content marketing strategies are designed to attract new patients to your chiropractic practice. Through email marketing campaigns, you can nurture leads into new patients, as well as stay top of mind with existing patients. Well-crafted emails and a smart email marketing strategy can have big results for your chiropractic practice.
Videos
Your chiropractic practice's content marketing strategy shouldn't be limited to just text-based content types. A well-rounded content marketing strategy includes visual content, like videos. Videos are a powerful form of content for chiropractors because they're memorable and engaging, and they can be used in blogs, on social media and beyond.
Infographics
There are many relevant topics to chiropractic care that are complex and difficult to explain. One of the best ways to break down these types of topics is with an infographic. Infographics are perfect for simplifying complicated content and explaining it in a way that your patients can understand. And, like videos, infographics can be used over and over again.
Press releases
Has a new chiropractor recently joined your practice? Have you recently expanded your services to offer massage therapy or weight loss support? Did you win a Top Rated Local® award in your state? When you have something newsworthy to share about your chiropractic practice, a press release is a great way to get the word out.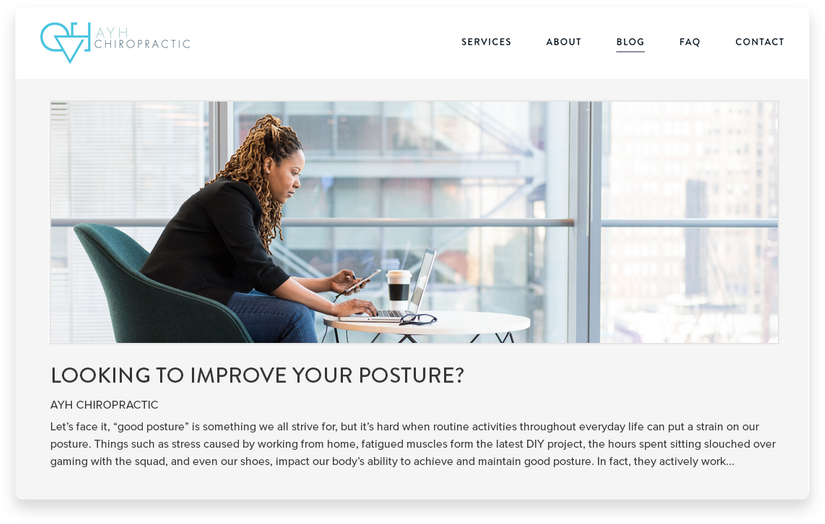 How to write blogs for your chiropractor website
Pick a catchy headline
When a reader comes to one of your chiropractor blogs, the first thing they'll see is the headline. If it succeeds at drawing them in, there's a much higher chance that they'll stick around and keep reading your blog. If it fails to draw them in, they'll click the back button. Choose a headline that's short, to the point and catchy.
Use short, easy-to-digest sentences
It's important to remember that most people who read your chiropractor blogs will be using a smartphone or another mobile device. If you use long, complex sentences and fail to format your blogs properly, it's going to make blogs look like a wall of text. Make your blogs mobile friendly and easy to read by using short, easy-to-digest sentences.
Include images, videos or infographics
Just like any other web page, your blogs need to entice visitors to stick around and read. That's why it's important to use high-quality visual content, like images, videos and infographics. Visual elements also make your blogs more engaging and memorable to your readers. This also makes your blogs more convertible.
Use keyword-rich phrases
Ranking higher on search engines is one of the main reasons why chiropractor SEO and content marketing is so critical. And, if you want your blogs to help with your organic visibility, you need to make sure that you're using relevant keywords. Keep in mind that you should also use keywords naturally, and you should never force them into your content.
End with a call-to-action (CTA)
Not only is blogging a wonderful way to increase your organic visibility on search engines and build trust with potential patients, but it can also help you drive conversions. To do that, you need to make sure that you include a CTA in every blog post, which tells your reader exactly what to do next to schedule an appointment or learn more.
Blog topic ideas for chiropractors
Answers to FAQs
People have a lot of questions about chiropractic care, and you probably hear many of the same questions again and again from your patients. In addition to answering your FAQs on a dedicated page of your website, your blog is a great place to go into detail when answering your most common patient questions.
Case studies and patient testimonials
Whether it's relieving migraines that have plagued someone for years or easing long-term back pain, chiropractors have helped many people find relief from pain. These life-changing stories are perfect for your blog, and they can help you build trust with your leaders and prospective patients. Just make sure that you get permission from the patient before sharing!
How-to guides
As a chiropractor, you have a lot of knowledge that many people don't, and sharing your wisdom with the world can benefit many different people. Creating how-to guides, like how to prevent back pain or how to keep your spine healthy, is a great way to educate your audience, set yourself apart from other chiropractors and win patients.
Commentary on chiropractor news
From infant chiropractic care trending on TikTok to smartphones causing "text neck," there are many news stories that relate to the chiropractic industry. Sharing your professional commentary of relevant news shows that you're in the know about what's going on, and helps to set the record straight about misinformation.
Team highlights and updates
Has a new chiropractor joined your team recently? Did you win a Top Rated Local® award for being ranked among the top five chiropractors in your state? Have you moved to a new practice location? When you have team highlights and practice updates, your blog is the perfect place to share them.
Your chiropractic practice's story
People who are interested enough in your practice to read your blogs likely want to know more about your business. Your blog is a fantastic place to share your story — who you are, how you got started and what your mission is. Telling your story in a blog can help you build a more memorable brand for your practice.
Content marketing FAQs for chiropractors
Why is content marketing important for chiropractors?
There are so many reasons why content marketing is important for chiropractors. For one, when combined with chiropractor SEO, content marketing can help chiropractic practices rank higher in relevant searches on Google or Bing. Content marketing can also help chiropractors demonstrate their expertise, build trust with prospective patients and more.
How often should you be blogging?
Every chiropractor has a different goal and target audience, and often how you should be blogging will depend on yours. However, blogging only works when it happens on a regular basis. So, regardless of what your goals are and who your audience is, you need to make sure you publish blogs regularly — at least once a week.
How do you optimize your chiropractor website for search engines?
Before you can optimize your chiropractor website, you need to do keyword research. That will help you identify the best keywords to use. From there, it's important to use your keywords naturally throughout your website. This includes page titles, headings, alt image tags, title tags, meta descriptions, content and beyond.
How do you monitor your content marketing performance?
There are several key performance indicators (KPIs) to monitor that can help you gauge the performance of your chiropractor SEO and content marketing strategy, and make necessary adjustments. These include keyword rankings, organic clicks, impressions and conversions, website traffic, time on website and more.
Get everything you need to
manage and grow

your business.