Child Care Website Design
#1 Marketing Platform® for
Child Care Businesses
Success starts with a better
child care website
Turn more visitors into leads with a modern child care website that looks great on all devices — you deserve a child care website that drives results.
Why having a convertible child care website is important
When a parent needs a reliable child care solution, more often than not, their search starts online. Having a child care website is no guarantee that you'll get in front of them, but it's an essential first step.
Your website is your child care business's home online. It's a place where parents can learn more about you, your team and the services you offer. And, it's where all of your other marketing materials will point back to, online and off.
Having just any child care website isn't good enough. For you to win in the market today, you need a highly convertible child care website that will make you stand apart from your competitors.
Must-have child care website features
A clean, simple aesthetic
The more messy and cluttered a child care center is, the poorer the first impression it will make on new visitors. The same is true of a child care website. Make the right first impression on parents and convert child care leads with a website that has a clean, simple and professional design.
Easy-to-use website navigation
Not only should your website look great, but it also needs to be easy to use. When someone visits your website, they should be able to find exactly what they're looking for. Whether they want to contact you to schedule a tour or learn more about your day care program, having a simple, menu-style website navigation will make it easy for them to do so.
A mobile-friendly design
Most people visiting your child care website will be using a mobile device, like a smartphone or a tablet. That's why it's important to design your website with mobile users in mind. Not only will this make for a better mobile experience, but it will also help to improve your organic rankings on search engines.
Fast page speed
These days, people are used to websites loading quickly, and they don't like to wait around. If your web pages take too long to load, you're going to lose visitors and child care leads. When building your child care website, it's important to prioritize page speed. This makes for a better user experience and a more convertible website.
Professional photos and videos
The first things that people will see when they visit your child care website are the visual design elements, like photos and videos. These are the parts of your website that will stand out the most and entice visitors to stick around. Don't rely too heavily on stock footage and photos. Instead use professional, high-quality photos and videos of your real team at work.
Trust indicators
Parents need to be able to trust that you are the right child care provider for the job. Luckily, you can build trust right on your website by including key trust indicators. These include testimonials and reviews from real parents, as well as any certifications, licenses or awards you've earned as a child care provider.
Contact forms
When a parent is ready to book a tour or contact you to learn more about your child care services, it's important to make it as easy as possible for them to do so. Including short, simple contact forms throughout your child care website makes it easy for your visitors to convert into enrollments.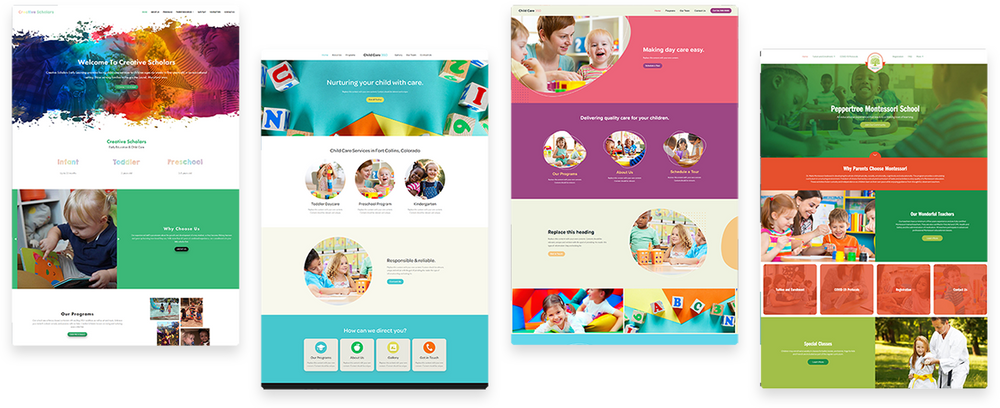 Web pages to include in your child care website
Homepage
The homepage of your child care website is like your virtual storefront. It is often what forms the first impression new visitors will get of your child care center. Your homepage needs to quickly communicate who you are, what you do and what makes you unique. It should also include a clear call to action that tells visitors what to do next.
About Us
Your About Us page is your chance to tell your story, share your passion and let the world know what you're all about. People want to know who you are, what your background is and why you do what you do. Your About Us page is a great opportunity to humanize your child care business and set yourself apart from your competition.
Child Care Services
Your Child Care Services page is your chance to explain all of the services and amenities you have to offer. In addition to having a Child Care Services page, it's also a good idea to have dedicated pages for each of the individual services you offer. These make great landing pages for your ads and can help you rank higher in relevant searches.
Child Care Reviews
Building trust is incredibly important for child care businesses that want to convert leads. One of the best ways to build trust directly on your child care website is to highlight reviews and testimonials from the parents you work with. This is a powerful form of social proof that can increase your conversion rate and generate more leads.
FAQs
Are you hearing the same questions over and over again from child care leads and parents? If so, a great place to answer these questions is an FAQs page on your website. Not only will this help you address common questions leads and parents have, but it will also help you rank higher in organic searches related to child care.
Contact
If a lead or parent has a question or concern, it's important to make it as easy as possible for them to contact you. Make your phone number and address available in the footer of your website, but also, create a Contact page. This page should have all of the information necessary to contact you, as well as an embedded map of your location and a contact form.
Blog
Blogging is an effective content marketing strategy child care providers can use to increase their organic visibility, build brand awareness, become a trusted resource and drive child care leads. Every child care website needs a blog. This will allow you to regularly add content to your website and rank higher in relevant searches.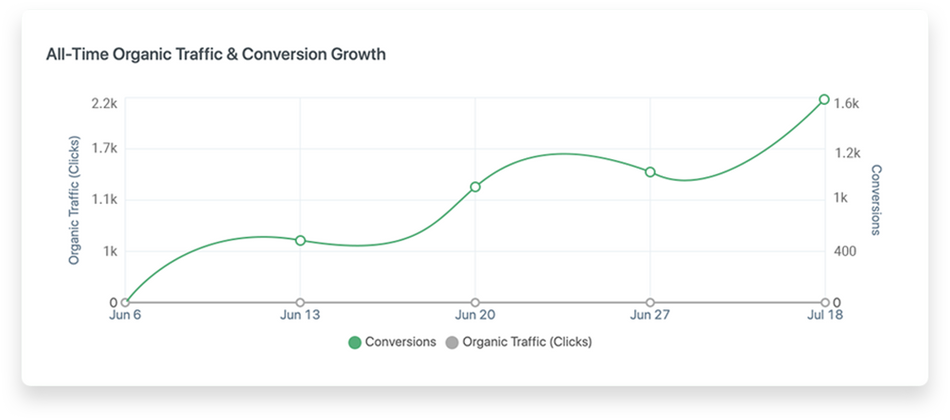 6 ways to drive traffic to your child care website
1. Content marketing
Most of the time, the search for a child care provider starts on a search engine, like Google or Bing. Child care SEO and content marketing are essential to helping you show up at the top of the search results and get found. This means more visibility with people actively looking for your child care services in your area and more website traffic.
2. Multi-channel advertising
Smart child care marketing is about building a visible presence wherever prospective leads are looking for child care services. One of the most effective ways to do that is with multi-channel advertising. With a cohesive multi-channel advertising strategy across the right channels, you can drive high-quality traffic to your child care website.
3. Social media management
Social media is one of the most popular online destinations for modern parents. This makes it a must-have marketing channel for child care centers. With the right social media strategy, you can build brand awareness, foster relationships in your community, earn trust and drive leads and traffic to your child care website.
4. Email marketing
Not all website traffic will be new visitors and leads. One of the best ways to stay connected with your existing child care leads and the parents you work with is through email marketing. Email marketing can help you communicate effectively and efficiently with parents, nurture child care leads and drive traffic to your website.
5. Reputation management
Building trust is a critical part of success for modern child care businesses. Parents have many child care options to choose from. In order to choose you, they need to be able to trust you. Building a strong reputation and getting five-star reviews can help you build trust, stand out from your competition and drive traffic to your website.
6. Listings management
From Top Rated Local® to Yelp, there are many places parents can go to find child care in their area. Not only is it important that you have listings on these local websites, directories and apps, but also that your listings are up to date and optimized. Actively managing your listings can help you get found, stand out and generate website traffic.
Child care website design FAQs
Why do you need a child care website?
Your child care website is your business's home online, it's your number one marketing asset and your biggest sales tool. Your website is a critical part of your success, it is important to get it right. It needs to be fast, mobile-friendly, professional, attractive, user-friendly and highly convertible.
How do you build a child care website?
You have two main options when it comes to building a child care website. The first is to work with Marketing 360® web designers to build a website for you. The second is to use the Marketing 360® Websites app to build your own. Our website builder makes it quick and easy to develop your own website, even if you have no previous design experience.
What should a child care website have?
Every child care business is unique, which means that no two child care websites should be exactly the same. However, there are a few things every great child care website needs. This includes a child care web design that's user-friendly, mobile-friendly, attractive and easy to navigate. You should also include clear CTAs and simple contact forms.
How do you increase child care website conversions?
There are a number of ways to make your child care website more convertible. The first is to make it user-friendly and attractive. The second is to use trust indicators, like child care reviews and testimonials, to build trust with visitors. The third is to make your contact information easy to find and include easy-to-fill-out contact forms throughout your website.
Get everything you need to
manage and grow

your business.