#1 Marketing Platform® for
Spas
Success starts with a better
spa website
Turn more visitors into clients with a modern spa website that looks great on all devices — you deserve a spa website that drives results.
Why having a convertible spa website is important
When someone needs a rejuvenating facial, massage or treatment, the first place they'll often go to find spa services in their area is online. And, having a website for your spa or med spa is the first step toward getting in front of them.
Your spa website is your most valuable marketing asset, your business's home online and your first introduction to prospective clients. It's where your clients will go to learn more about your team, services and more before booking a service.
Having just any spa website isn't good enough. For you to win in the market today, you need a highly convertible spa website that will make you stand apart from your competitors.
Must-have spa website features
A clean, simple aesthetic
Regardless of whether someone hears about you from a friend, Facebook or Top Rated Local®, they'll often visit your spa or med spa website before deciding about whether or not to book a service. It needs to make the right first impression on your visitors. To do that, you need a clean, simple spa website design.
Easy-to-use website navigation
Most people don't make a habit out of surfing spa websites for fun. It's a safe bet to assume that your website visitors have a specific purpose in mind, whether that's to check out your spa services, learn about your team or book a service. Make it easy for your visitors to find what they're looking for by choosing an easy-to-use website navigation system.
A mobile-friendly design
Did you know that most online traffic now comes from mobile devices? If your spa website fails to provide an adequate experience for mobile users, you're going to lose prospective clients to your competition. Provide a great experience to all of your visitors by choosing a responsive, mobile-friendly spa web design.
Fast page speed
These days, people are used to near-immediate page speeds and are, therefore, not accustomed to waiting around for a web page to load. If your web pages load too slowly, most of your visitors will simply move on to the next spa on the list rather than waiting around. Prioritize page speed when building your spa or med spa website.
Professional photos and videos
Most people who visit your spa website will decide whether or not to stick around within a few seconds. If you can't entice them to stay, they're going to click the back button. Since the visual elements of your website, like photos and videos, are the first thing most people see, it's important to always choose professional, high-quality options.
Trust indicators
From massage to waxing services, many spa services require a great deal of trust. If your prospective clients don't feel they can trust you, they're going to find a spa or med spa they can. One great way to start building trust with your website visitors is to include key trust indicators on your spa website, like reviews and trust badges.
Contact forms
When one of your website visitors is ready to book a spa service and become a paying client, it's important to make it easy for them — as easy as possible. In addition to including clear contact information throughout your spa website, you should also include simple contact forms your visitors can fill out.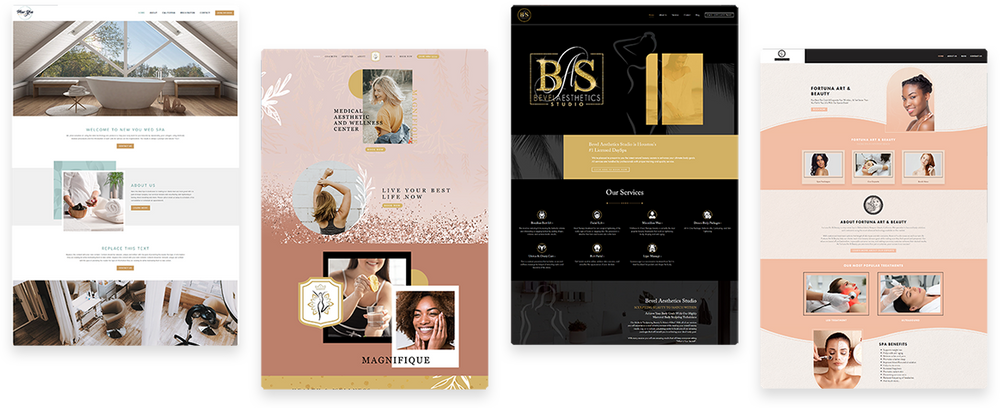 Web pages to include in your spa or med spa website
Homepage
It's the first place most of your visitors will land and arguably the most important page of your website. Suffice it to say, the stakes are high when it comes to your homepage. Make sure that you get it right by highlighting what makes your spa or med spa unique, including clear calls to action (CTAs) and choosing a simple design.
About Us
Your About Us page is your chance to introduce your website visitors to your spa or med spa. This is a wonderful place to share your story — who you are, how you got into the spa business, what sets you apart from other spas or med spas in your area, how you give back to your community and your spa's mission statement.
Spa Services
From day spas to med spas, there are many different types of spas out there. Many of your website visitors want to know if you offer the spa services they're looking for. Your Spa Services page should give an overview of all of your services. Additionally, consider creating individual pages for each spa service or service category (i.e. massage, facials or fillers).
Spa Reviews
Many spa services require a high level of trust from your clients. And, one of the best ways to start building that valuable trust on your spa website is to highlight your best spa reviews and testimonials on a Spa Reviews page. This makes your website more convertible and gives clients a reason to choose you.
FAQs
How often should you get facials? What should you wear for a massage? How do you prepare your skin for a bikini wax? These are just a few of the common questions you may hear from your clients. By addressing these questions in an FAQs page on your spa website, you can provide valuable information to your visitors.
Contact
It's important to make it as easy as possible for your website visitors to contact you when they decide to book a spa service or have a question. Make sure to include easy-to-find contact information throughout your website, as well as a dedicated Contact page that should include a simple contact form.
Blog
There are so many reasons to have a blog on your spa website. For one, blogging regularly can help with your organic visibility on search engines and keep your website content fresh. The right blogging strategy can also help you demonstrate your expertise, build trust with prospective clients and so much more.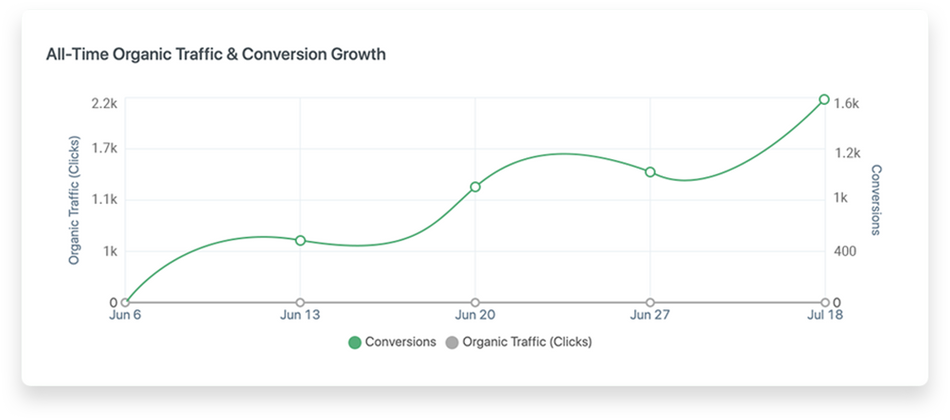 6 ways to drive traffic to your spa website
1. Content marketing
The search for spa service often starts on a search engine, like Google or Bing. Content marketing, when combined with spa SEO, can help your spa or med spa website rank higher in the SERPs (search engine results pages). That means more organic visibility, low-cost, high-quality leads and website traffic. .
2. Multi-channel advertising
Most spas and med spas have a lot of competition in their communities. With multi-channel advertising, you can drive traffic to your website by outranking your competitors on search, connecting with prospective clients while they're watching their favorite shows or listening to digital radio, boosting your visibility on social media and so much more.
3. Social media management
Smart spa marketing is about building a visible presence for your spa or med spa wherever they're already spending their time online. These days, that's on Facebook, Instagram and other social media platforms. By investing in social media management, you can build awareness in your community and drive traffic to your website.
4. Email marketing
Email marketing is something every spa should invest in. Not only can email marketing help you stay in contact with leads until they're ready to book an appointment, but it can also help you stay top of mind with your existing clients. With the right email marketing, you can convert leads, drive repeat business and increase website traffic.
5. Reputation management
From infections to injuries, there are many horror stories out there about spa and med spa services gone wrong. One of the best ways to build trust with potential clients and drive traffic to your spa website is to take a proactive approach to reputation management. This can help you build a strong reputation for your spa.
6. Listings management
From Top Rated Local® to Facebook, there are so many places people may go to find a spa in their area. To get found in these searches, you need to make sure that your listings are accurate and up to date across the web. Consistency across listings through proactive listings management helps you drive prospective clients to your spa website.
Why do you need a spa website?
There are so many reasons why spas and med spas need a website. For one, your spa website is your business's home online, and it's where most of your potential clients learn more about your business before booking a service. It's also your most important marketing asset and can be a lead-generation powerhouse for your spa.
How do you build a spa website?
Spas and med spas have two main options when it comes to developing a website. The first option is to build it yourself with the Marketing 360® Website app. This easy-to-use website builder gives you access to a library of customizable templates and an intuitive drag-and-drop editor. Or, you can work with a professional Designer to bring your vision to life.
What should a spa website have?
Every spa is different, which means that no two spa websites should be exactly the same. However, there are a few things every spa website should have. These include a responsive, mobile-friendly design, clear CTAs, easy-to-use website navigation, simple contact forms and key trust indicators.
How do you increase spa website conversions?
There are so many things you can do to make your spa website more convertible. First, build trust with your website visitors by showcasing your best spa reviews and client testimonials. Second, make it easy for visitors to convert by including clear CTAs and contact forms. Third, choose a simple, clean web design to make the right first impression on your visitors.
Get everything you need to
manage and grow

your business.