#1 Marketing Platform® for
Plumbers
Success starts with a better
plumber website
Turn more visitors into leads with a modern plumber website that looks great on all devices — you deserve a plumber website that drives results.
Why having a convertible plumber website is important
Most of the time, when someone needs a local plumber, the first place they'll go is online. There are many things you can do to get your plumbing business in front of them online, but it all starts with having a plumber website.
Your plumber website is your business's home online. It's where prospective plumbing leads and customers can go to learn more about your experience, services and technicians. It's also often what determines whether a lead will convert or not.
Having just any plumber website isn't good enough. For you to win in the market today, you need a highly convertible plumber web design that will make you stand apart from your competitors.
Must-have plumber web design features
A clean, simple aesthetic
Often, your website is what forms a potential customer's first impressions of your plumbing business. If it's busy and cluttered, it's going to look unprofessional — and make your business look unprofessional, too. Make the right first impression on your visitors with a clean, simple plumber web design.
Easy-to-use website navigation
No one browses plumber websites for laughs. People who are visiting your website usually have a specific purpose in mind, whether they want to learn about your services or team, book an estimate or check out your plumber reviews. By choosing an easy-to-use website navigation system, you can make it easy for your visitors to find what they need.
A mobile-friendly design
With the ability to access the internet from people's pockets, most website traffic now comes from smartphones and other mobile devices. With a mobile-friendly, responsive plumbing website design, you can ensure that you're providing a great experience to all of your visitors, no matter what device they're using.
Fast page speed
Did you know that the average internet user will only give a webpage a few seconds to load before they get impatient and move on? Ensuring that your web pages load quickly can help you enhance your website UX (user experience), avoid losing valuable plumber leads and increase your organic visibility.
Professional photos and videos
Your visitors will decide within a few seconds of arriving at your plumber website whether they want to stick around or click the back button. If you want them to stay, you need to give them a reason to. That's where professional photos and videos come in. By including high-quality photos and videos, you capture attention and entice visitors to stick around longer.
Trust indicators
Hiring a plumber is a big deal. After all, you work inside people's homes and businesses, and they need to know you're the right plumber for the job before they'll invite you in. Using key trust indicators on your plumber website, like the Top Rated Local® reviews widget and customer testimonials, can help you build trust and convert leads.
Contact forms
When a website visitor is ready to convert into a plumbing lead, it's important to make it as easy as possible for them to do so. Make sure that your contact information is visible and easy to find on every page, and include contact forms throughout your plumber website. This makes it quick and easy for prospective customers to reach out and get in touch with you.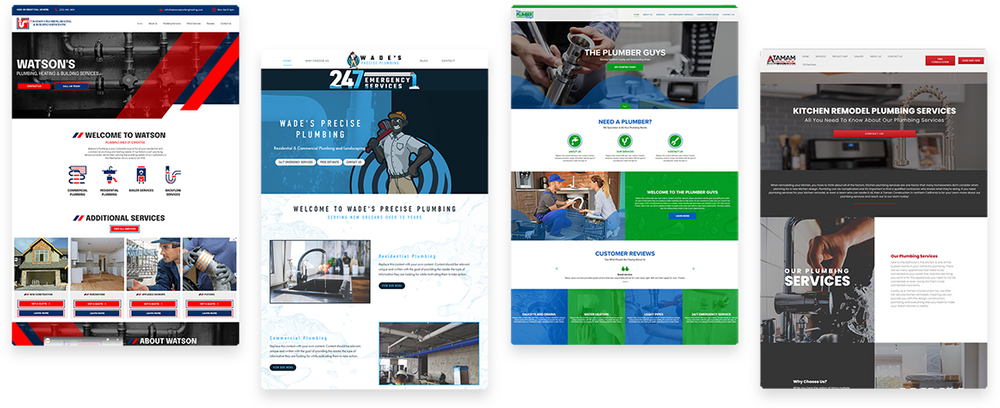 Web pages to include in your plumber website
Homepage
Most of the time, the homepage of your plumber website will be the first page new visitors come to. Make sure that your homepage is effective. It needs to have simple, keyword-rich website content that explains who you are and what you do, high-quality images and video, clear calls to action (CTAs), your unique value proposition and more.
About Us
People who are considering working with your plumbing business often want to know more about you before they'll be ready to schedule a service. Your About Us page is your chance to tell prospective plumber leads and customers all about who you are, what your mission is, why you got into the plumbing business and more.
Plumbing Services
From clogged drains to leaky pipes, there are many potential problems that prompt people to turn to their local plumber. But, not all plumbing businesses offer the same services. Make it clear exactly what you can help your customers with by creating a Plumbing Services page. Additionally, consider creating dedicated pages for all of the individual services you offer.
Plumber Reviews
The last thing anyone wants is to hire the wrong plumber and end up wasting time and money on a service that didn't fix the problem. People need to be able to trust you with their plumbing needs, and you can start building that trust right on your website. Include a Plumber Reviews page on your website to display your best reviews.
FAQs
If you're hearing the same questions again and again from your plumber leads and customers, there's a strong possibility that other people have those same questions, too. Provide visitors with the answers they need and demonstrate your knowledge with an FAQs page. Best of all, an FAQs page can also help with your organic rankings.
Contact
Whether an existing customer has a question or concern or a new lead wants to sign up for a free estimate, it's important to make it as easy as possible for website visitors to contact you. Include your contact information in the header or footer of every page of your website, and have a dedicated Contact page that contains your contact information and a simple contact form.
Blog
Effective plumber SEO (search engine optimization) and content marketing involve keeping your website refreshed with new content on a regular basis. One of the best ways to do this is through blog posts. By having a blog, you can increase your organic visibility and traffic, while also demonstrating your expertise and educating your visitors.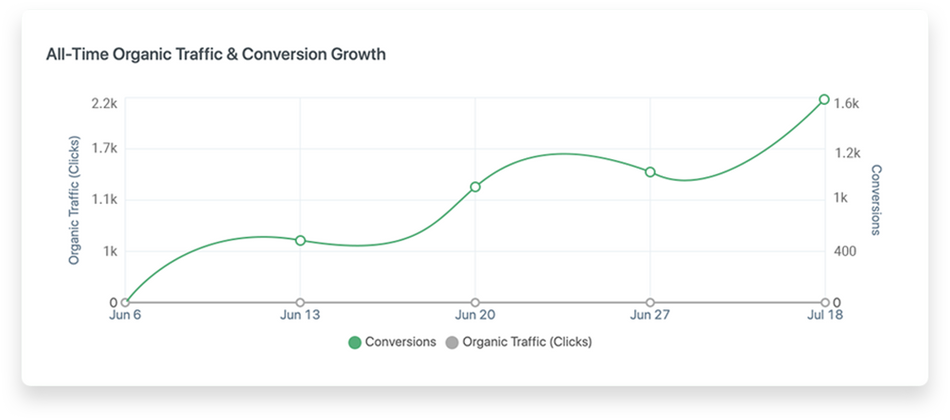 6 ways to drive traffic to your business website
1. Content marketing
More often than not, the search for drain cleaning, pipe repair and other plumbing services starts on a search engine, like Google or Bing. Having an effective plumber SEO and content marketing strategy can help you get found in these searches, helping you drive low-cost, high-quality plumber leads to your website.
2. Multi-channel advertising
Wherever your customers are spending their time online these days — whether it's scrolling through social media, browsing websites or watching YouTube — you can get in front of them with multi-channel advertising. With a strategic, targeted multi-channel advertising campaign, plumbers can capture market share and drive website traffic.
3. Social media management
Facebook, Instagram and other social media platforms are some of the most popular online destinations for modern consumers. Social media management allows you to build a visible presence for plumbing business where your customer base already spends their time online. This means more community connections, greater brand awareness and more website traffic.
4. Email marketing
Not all website traffic will be new visitors. With email marketing, you can drive your existing plumber leads and customers back to your plumber website. Since they are already familiar with your business and bought in, they're much more likely to convert. Email marketing is a great way to drive website traffic in order to nurture leads and increase repeat business.
5. Reputation management
Reading reviews has become a critical part of the research phase for people looking for a local plumber. The more reviews you have, the better your average star rating and the stronger your reputation, the more likely plumber leads are to choose your plumbing business. Plus, more positive reviews will also mean more visibly on local directories and review sites.
6. Listings management
From Top Rated Local® to Yelp, Angi and HomeAdvisor, there are so many different places people in your area may go to look for a local plumber. To get found, you need an active, up-to-date listing. Taking a proactive approach to listings management helps ensure that your listings are accurate and stand out from the crowd.
Plumber website design FAQs
Why do you need a plumber website?
Your plumber website is your plumbing business's home online. It's where potential leads and customers will go to learn about your plumbing business and services, read your reviews, check out your blogs and more. The best plumbing website design can be a powerful lead-generation tool for your business and your most important marketing asset.
How do you build a plumber website?
There are two main ways you can go about developing your plumber website. You could build your own with an easy-to-use website builder, like the Marketing 360® Websites app, or you could work with a professional Designer at Marketing 360® who can do it for you. The right option will depend on your unique needs and budget.
What should a plumber website have?
No two plumber web designs should be exactly alike because no two plumbing businesses are exactly the same. However, there are many things a plumber website needs to have in order to convert. These include a simple, professional layout, keyword-rich website content, clear CTAs, key trust indicators and short contact forms.
How do you increase plumber website conversions?
There are many different things you can do to make your plumber website more convertible. First, make the right first impression on visitors with a simple, professional aesthetic. Second, build trust by including customer testimonials and plumber reviews. Third, make it easy for your visitors to contact you with easy-to-find contact information and short, simple contact forms.
Get everything you need to
manage and grow

your business.