#1 Marketing Platform® for
Plumbers
Boost organic leads with content marketing and
plumber SEO
Build an organic lead machine with our plumber SEO content marketing program — rank higher on Google, post more on social and stay top of mind on email.
Why plumbers need content marketing
People who are actively searching for the plumbing services you offer on search engines, like Google or Bing, are the best plumber leads you could ask for and highly likely to convert. But, in order to get in front of them, you have to outrank your competition.
Most people don't often look past the first few search engine results, let alone the first page of results. Plumber SEO (search engine optimization) and content marketing are key to ranking higher on search engines and increasing your organic visibility.
Done correctly, content marketing for plumbing businesses has been shown to increase organic visibility on search engines, build trust with prospective customers, drive low-cost, high-quality leads and more.
6 benefits of content marketing for plumbers
1. Get found on search engines
The search for a local plumber often starts on a search engine, like Google or Bing. Being visible in these organic searches requires a combination of plumber SEO and consistent content marketing. By creating content that's valuable, professionally written and keyword rich on a regular basis, you can rank higher and get found.
2. Drive low-cost, high-quality leads
Organic plumber leads are some of the best possible leads your plumbing business could ask for. People who are actively searching for your plumbing services online are highly likely to convert into customers — and every organic click is totally free. With content marketing, you can drive low-cost, high-quality plumber leads.
3. Become a thought leader
When it comes to hiring a plumber, people don't just pull a name out of a hat. They want to know that they've found the right plumbing business for the job. By creating educational and informative content for your website and social media profiles, you can become a thought leader in your industry and demonstrate your expertise.
4. Build trust and credibility
If someone is hiring a plumber for a big project, like a bathroom remodel, they're going to take their time to find a plumber they can really trust. Content marketing is one of the best ways to build that trust. By showcasing your knowledge and experience, you'll show leads that you're the best plumber for their needs.
5. Educate and inform your client base
Most people only have a basic knowledge of plumbing and may not understand plumbing issues or why they need professional services rather than DIY solutions. As a plumber, you have a lot of knowledge to share with people in your area. By creating educational and informational content, you provide value to your customers while building a more credible brand.
6. Control the conversation
Between plumbing reviews and comments on social media, there's a lot said about your plumbing business that's out of your control. Content marketing is a valuable tool because it helps you gain more control over the conversation. With content marketing, you influence what is said about your business and what people see when they search for your brand online.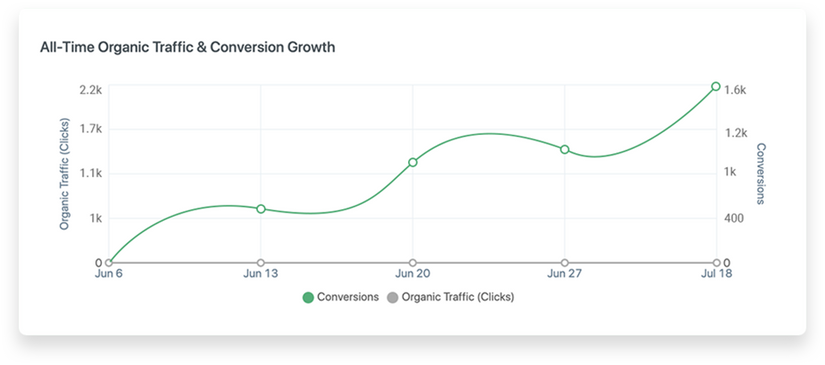 How to find the right keywords for your plumber
Effective plumber SEO (search engine optimization) and content marketing strategies are all built on one thing — keyword research. It's the foundation of your organic success because it tells you what your prospective customers are searching for online and how you can best reach them with your content.
Finding the right keywords for your plumbing business starts by putting yourself in a prospective customer's shoes. If you were looking for a local plumber, what keyword would you search for on Google or Bing?
Once you've identified the best keywords to target for your plumbing business, start creating content centered around them and optimizing your existing website content with them.
Best content marketing types for plumbers
Blog articles and website content
Your plumber SEO and content marketing strategy should start on your website. Make sure that your website content is clear, to the point, professionally written and contains relevant keywords. And, by publishing blog articles on a regular basis, you can keep your website fresh with new content. That can help your site rank higher in the SERPs (search engine results pages).
Social media posts
Most plumbers understand the importance of having a Facebook page or a Google Business Profile listing. But, here's the thing. Having profiles on key social media platforms is just the first step. You need to keep your social media profiles active by posting content on a regular basis. Make sure that you use the right hashtags to expand your reach on social media.
Email campaigns
Email marketing can be a powerful content marketing channel for plumbers. By creating email campaigns, plumbers can nurture leads into customers, gather valuable feedback, build loyalty and drive repeat business. Best of all, when you automate your email marketing, you can do all of this quickly and easily.
Videos
When most plumbers think about content, they think about text. But, it's important to note that content can be so much more than just text. By creating brand videos for your website, blog, social media profiles and beyond, you can increase engagement and make an impression on potential leads and customers.
Infographics
Infographics are a wonderful way to visually explain and break down complex ideas, making them much easier to understand. Infographics are a great way to enhance your blogs, webpages and social media profiles.
Press releases
When you have something newsworthy to share about your business, one of the best ways to get the word out is with a press release. Whether you want to announce the addition of a new plumber on your team, a partnership with another local business or a new plumbing service you're offering, a press release is a fantastic choice.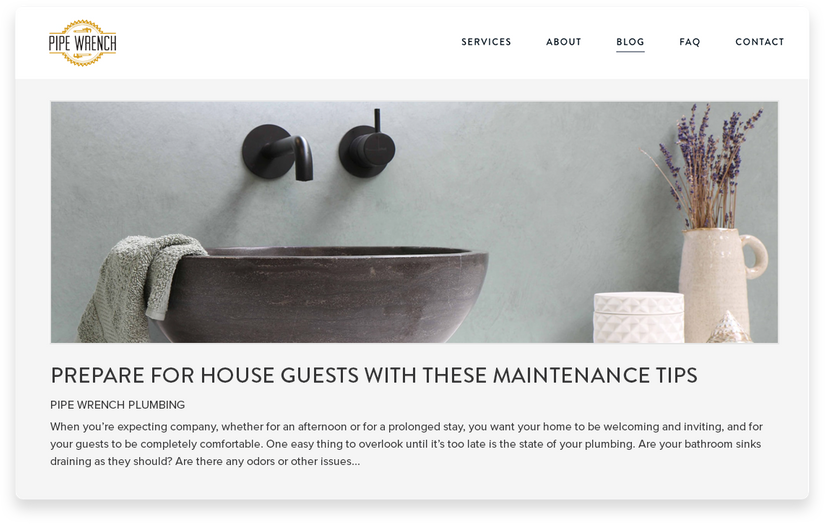 How to write blogs for your plumber website
Pick a catchy headline
Think of the headline of a blog as your attention-grabber. It needs to be short, to the point and catchy enough to reel your readers in. If you can do so naturally, try to include a relevant keyword in your headline. Your headline is very important. If you get it wrong, you're likely to lose readers.
Use short, easy-to-digest sentences
Plumbing can be a dry topic already. If you combine that with long, complex sentences and excessive wordiness, not many people will actually read your blog posts. The most effective plumbing blogs contain short, easy-to-digest sentences. You should also avoid using industry jargon an average consumer won't understand.
Include images, videos or infographics
When most plumbers think about creating blogs for their website, they mostly think of text-based content. Text-based content is important but can get boring if it's not broken up by interesting visual elements. Including images, videos and infographics in your blogs will make them more engaging, visually appealing and enticing for your visitors.
Use keyword-rich phrases
Blogging can be a fantastic way to improve your keyword rankings on search engines and organic visibly. However, blogs can only help with these things if you optimize them with keywords. Try to use keyword-rich phrases in your blogs as naturally as you can. If you've found relevant keywords and are writing about relevant blog topics, this shouldn't be a problem.
End with a call-to-action (CTA)
Your blog posts should not be overly promotional, as not many people want to read blog article after blog article about your plumbing services or maintenance plans. But, every blog, promotional or not, should end with a CTA. Your CTA tells your readers what they can do to learn more or take advantage of your expertise.
Blog topic ideas for plumbers
Answers to FAQs
If you hear the same questions again and again from your plumber leads and customers, there's a good chance that other people have those same questions. By dedicating blog posts to answer your most commonly asked questions, you can educate and inform your readers and rank higher in relevant searches.
Case studies and client testimonials
Sharing customer success stories is an incredibly powerful way for plumbers to use their blogs to build trust and convert leads. Case studies and testimonials can help you demonstrate the impact your plumbing services have on your customers' lives, generating valuable social proof for your business.
How-to guides
From solving minor toilet clogs to prevention and maintenance tips, there are many things plumbers can educate their readers on without compromising the need for professional plumbing services. By creating how-to guides and other educational content, you help to demonstrate your expertise.
Commentary on plumbing news
Have "flushable" wipes clogged the municipal sewer system in your area? Will an upcoming storm or temperature drop compromise your customers' pipes for drainage? Has new technology revolutionized pipe inspections? Your blog is the perfect place to share your take on plumbing-related news topics.
Team highlights and updates
Whether a new plumber recently joined your team, you've chosen a new employee of the month or you're celebrating an employee anniversary, make it a point to share team highlights and updates on your blog. This is a great way to show the human side of your business, make your team more memorable and win trust.
Your landscaping company's story
People looking for a local plumber want to know that you're the right plumbing business for the job. Often, they want to know more about you than just what plumbing services you offer. Your blog is a wonderful place to share your business's story, including educational background, business mission and more.
Content marketing FAQs for plumbers
Why is content marketing important for plumbers?
Content marketing can be valuable for plumbers in many different ways. First, content marketing and plumber SEO can help plumbing businesses rank higher and get found on search engines. Second, content marketing can help to build trust and demonstrate your expertise. Third, content marketing can help to drive low-cost, high-quality plumber leaders.
How often should you be blogging?
How often you should blog will depend on a number of factors — first and foremost — your goals. However, most plumbing businesses will benefit from publishing new blog articles at least once per week. This will allow you to consistently publish content and cover a range of topics related to plumbing.
How do you optimize your plumber website for search engines?
On-site plumber SEO starts with keyword research. Once you've identified relevant keywords for your plumbing business, make it a point to use them throughout your plumber website. Try to use keywords naturally in your page titles, title tags, meta descriptions, page content, alt image tags and beyond.
How do you monitor your content marketing performance?
There are a number of metrics you can use to monitor your content marketing performance, including website traffic, organic search traffic, organic impressions and keywords rankings. The Marketing 360® Content app can help you do it all from one place.
Get everything you need to
manage and grow

your business.