#1 Marketing Platform® for
HVAC Contractors
Boost organic leads with content marketing and
HVAC SEO
Build an organic lead machine with our HVAC SEO content marketing program — rank higher on Google, post more on social and stay top of mind on email.
Why HVAC contractors need content marketing
For most people, the search for AC repair and other HVAC services starts on a search engine, like Google or Bing, and the vast majority of them won't look past the first page of the search results. If your HVAC website isn't ranking on page one, you're missing out on valuable leads and customers.
Content marketing is the process of creating informative, engaging and valuable content with the goal of increasing your organic visibility, building relationships with potential leads and turning them into paying customers.
Effective content marketing can help HVAC contractors build trust and credibility, educate prospects about HVAC services, demonstrate expertise in the heating and cooling industry, generate leads, drive sales and more.
6 benefits of content marketing for HVAC companies
1. Get found on search engines
The first and most obvious benefit of HVAC SEO and content marketing is that it can help HVAC contractors get found on search engines. By creating keyword-optimized blog posts, articles, infographics and other types of content, HVAC companies can improve their organic visibility and attract more website visitors.
2. Drive low-cost, high-quality leads
People who are actively searching for the HVAC services you offer are some of the highest-quality leads an HVAC contractor could ever hope for. Content marketing can help you get in front of these leads, attract them to your HVAC website and turn them into customers. Best of all, content marketing leads are not only high quality, but they're also low cost.
3. Become a thought leader
If you want to be seen as an expert in the HVAC industry, content marketing can help. By regularly publishing blog posts, articles and other types of content, HVAC contractors can establish themselves as thought leaders in their field. This can help you demonstrate your knowledge, experience and expertise, and become the go-to HVAC contractor in your area.
4. Build trust and credibility
People place a high value on their comfort. Therefore, when people are looking for an HVAC contractor, they want to work with someone they can trust to get the job done right. Content marketing can help build trust and credibility by providing potential customers with valuable information that helps them make informed decisions about HVAC services.
5. Educate and inform your client base
Most people don't know much about HVAC systems, and even less about the services needed to maintain or repair them. As an HVAC contractor, you have a unique opportunity through content marketing to educate your customers about the importance of regular AC repair, furnace maintenance and other HVAC services.
6. Control the conversation
If you're not actively participating in the online conversation, you're missing out on a valuable opportunity to reach potential leads and customers. Content marketing gives HVAC contractors the ability to control the conversation by creating content that addresses common heating and cooling questions and concerns.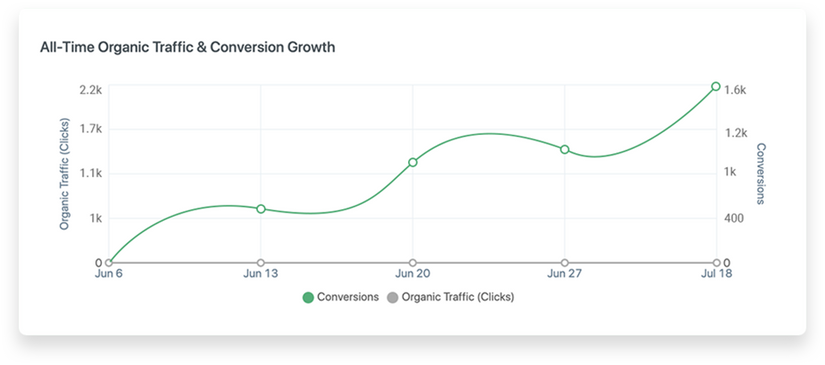 How to find the right keywords for your HVAC company
Effective HVAC SEO and content marketing start with identifying the right keywords to optimize your HVAC website for and center your content around. These are the terms and phrases people are searching for when they're looking for HVAC services.
Not sure how to find the right keywords for your HVAC company's SEO and content marketing strategy? Start by putting yourself in your customers' shoes and thinking about the search terms you would use to find your HVAC company or services online.
Once you've identified a few potential keywords, it's time to start creating content around those keywords and use them to optimize your HVAC contractor website.
Best content marketing types for HVAC contractors
Blog articles and website content
One of the simplest and most effective content marketing strategies for HVAC contractors is to create blog articles and website content that are optimized for the keywords you're targeting. Blog and website content can help to attract organic traffic from search engines, build trust and credibility with potential customers, answer common questions people have about HVAC services and more.
Social media posts
Another great way to reach potential customers is through social media. HVAC contractors can use social media posts to drive traffic to their website, build brand awareness and even generate leads and sales. When creating social media posts, it's important to remember to include a call to action that encourages people to click through to your HVAC website.
Email campaigns
Email campaigns are a great way to stay top-of-mind with your past, present and potential customers. HVAC contractors can use email newsletters, special offers and other types of emails to promote their services, build trust and credibility, generate leads and even make sales. Best of all, automated email campaigns allow you to do it all quickly and easily.
Videos
Video marketing is a wonderful way to stand out from the competition and connect with potential customers on a more personal level. HVAC contractors can use videos to show off their work, answer common questions, provide valuable tips and advice, and even give people a behind-the-scenes look at their business.
Infographics
Infographics can help you take complex topics and make them easy to understand. HVAC contractors can use infographics to explain how HVAC systems work, the benefits of regular maintenance, common myths about HVAC services and more. Plus, they're the perfect type of content to share on your social media profiles.
Press releases
Press releases are a fantastic way to promote your HVAC company, announce new services or products, share positive customer reviews and more. HVAC contractors can use professionally written press releases to generate media coverage, build brand awareness and even drive traffic back to their website.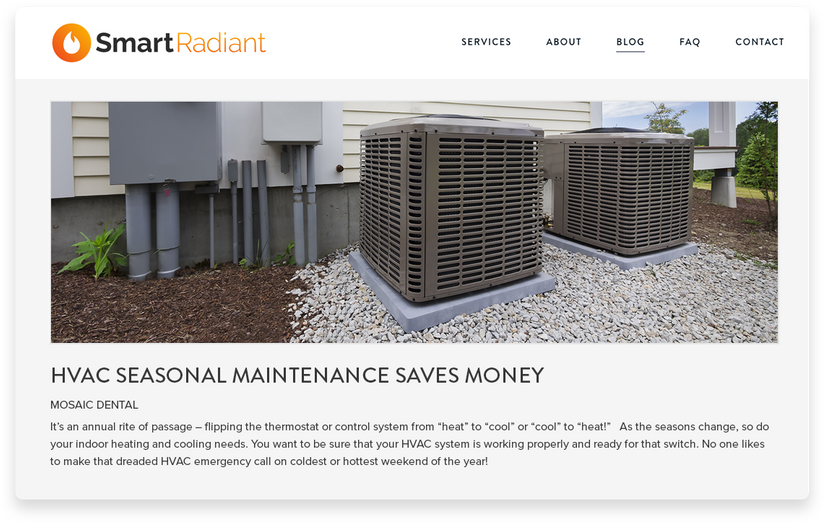 How to write blogs for your HVAC company website
Pick a catchy headline
The first step to writing a great blog post is to come up with a catchy headline that will grab people's attention and make them want to read more. Your headline should be clear, concise and make use of the keywords you're targeting. It should also be catchy and memorable enough to reel readers in and entice them to keep reading.
Use short, easy-to-digest sentences
When writing blog posts (or any type of content), it's important to keep your sentences short and easy to digest. No one wants to read a wall of text, so make sure you break up your paragraphs and use plenty of white space. This is especially important for your mobile readers, as they're reading your content on a much smaller screen.
Include images, videos or infographics
Blogs posts don't have to consist of just text-based information. Make your blog posts more visually appealing by including images, videos or infographics. People are more likely to read and share your content if it's easy on the eyes. Just make sure you're using high-quality visuals that are relevant to your topic.
Use keyword-rich phrases
In order to rank well in search engines, your blog post needs to be optimized for the keywords you're targeting. This means using keyword-rich phrases throughout your content, including in your headline, in your body copy and even in your alt text. But beware of keyword stuffing, as this can actually hurt your ranking. Use keywords thoughtfully and naturally.
End with a call-to-action (CTA)
Every blog post should end with a call-to-action that tells readers what you want them to do next. This could be something as simple as inviting them to visit your website, sign up for your email newsletter or give you a call. Whatever CTA you choose, make sure it's short, sweet and easy to follow.
Blog topic ideas for HVAC contractors
Answers to FAQs
Your potential customers likely have a lot of questions about HVAC systems, and your blog is the perfect place to answer them. Write a series of blog posts that address common questions, such as "How often should I have my HVAC system serviced?" or "What are the signs that I need a new HVAC system?".
Case studies and client testimonials
Case studies and testimonials are a great way to show off your work and build trust with potential customers. Write blog posts that showcase the HVAC services you've provided for past clients, complete with before-and-after photos, customer quotes and results. These types of blog posts will help show potential customers what you're capable of and build trust.
How-to guides
If you're looking to attract new customers, consider writing how-to guides that teach readers about topics related to your HVAC business. For example, you could write a guide on how to choose the right HVAC system for their home or business, how to properly maintain their HVAC system or how to troubleshoot common HVAC problems.
Commentary on industry news
Keep your finger on the pulse of the HVAC industry by writing commentary on the latest news or trends. This could be something like a new regulation affecting HVAC contractors or a new product that's hit the market. By writing about timely topics, you'll show that you're up-to-date on the latest industry news and trends.
Team highlights and updates
Your blog is also a great place to share updates on your team, such as new hires, employee milestones or company news. This helps to humanize your brand and show potential customers that there are real people behind your business. Not only can showing your human side help to build trust, but it will also help you build stronger relationships with your leads and customers.
Your HVAC company's story
People love a good origin story, so why not share yours on your blog? Write about how your HVAC company got started, what your mission is and what sets you apart from your competitors. This is a great way to introduce potential customers to your brand, build strong connections and make them more likely to do business with you.
Content marketing FAQs for HVAC contractors
Why is content marketing important for HVAC companies?
Content marketing is important for HVAC companies because it helps to attract new customers and build trust with potential clients. By creating helpful, keyword-rich content, you can rank higher and reach more people who are looking for HVAC services. Additionally, by providing valuable information, you can show potential customers that you're trustworthy and capable.
How often should you be blogging?
The frequency of your HVAC blog posts will depend on your specific goals and resources. However, a good rule of thumb is to aim for publishing two to three blog posts per week on your HVAC website. This will help you consistently create new content and reach more people with your message.
How do you optimize your HVAC company website for search engines?
There are many different things you can do to optimize your HVAC company website for search engines, including using keyword-rich titles and descriptions, creating high-quality content and optimizing your website for mobile devices, adding social media share buttons, using alt tags for images and more.
How do you monitor your content marketing performance?
There are a number of different metrics you can use to monitor your content marketing performance, including keyword ranking, website traffic, organic clicks and impressions, social media engagement and leads generated. By tracking these metrics, you can get a better idea of what's working well with your content marketing strategy and where you need to make improvements.
Get everything you need to
manage and grow

your business.