#1 Marketing Platform® for
HVAC Contractors
Success starts with a better
HVAC website
Turn more visitors into leads with a modern HVAC website that looks great on all devices — you deserve an HVAC contractor website that drives results.
Why having a convertible HVAC contractor website is important
More often than not, when someone needs AC repair or furnace replacement, the first place they'll go to find an HVAC contractor is online. Having an HVAC website is the first step toward getting your business in front of them.
Every HVAC contractor needs a website. It's your HVAC company's home online, where customers can learn about your business, see your HVAC services and contact you to schedule an appointment. It's your 24/7 salesperson and your best marketing asset.
Having just any HVAC contractor website isn't good enough. For you to win in the market today, you need a highly convertible HVAC website that will make you stand apart from your competitors.
Must-have HVAC company website features
A clean, simple aesthetic
Your HVAC website will often be the first impression leads and customers get of your HVAC company. Nothing looks more unprofessional than a cluttered, busy website. When potential customers land on your HVAC contractor website, you want to make a good first impression with a clean, simple design.
Easy-to-use website navigation
When visitors come to your site, they should be able to easily find what they're looking for. If they can't, they're going to move onto the next HVAC contractor on the list. Your website's navigation system should be intuitive and organized so that potential customers can find the information they need with ease.
A mobile-friendly design
It's essential that your HVAC contractor website is mobile friendly. If it isn't, you're going to lose out on a lot of potential business, as the majority of internet traffic now comes from mobile devices. Make sure your site can be easily viewed and navigated on all devices, from desktop computers to tablets and smartphones.
Fast page speed
No one wants to wait around for a slow website to load. If your HVAC contractor website takes more than a couple of seconds to load, you're going to lose leads. Make sure your site is optimized for speed and performance to keep potential customers from clicking away.
Professional photos and videos
Images and videos are a great way to show off your HVAC company's work and give potential customers an idea of what to expect when they work with you. But beware — low-quality, amateurish photos and videos will do more harm than good. Make sure the visuals on your site are high-quality and professional.
Trust indicators
If you want potential customers to contact you, you need to show them that your HVAC company is trustworthy. Add trust indicators to your website, such as testimonials, customer reviews, security badges and industry accreditations. These will help put leads at ease and encourage them to reach out to you.
Contact forms
The whole point of having an HVAC contractor website is to generate leads and get customers to contact you. Make it easy for them to do so by including prominently placed contact forms throughout your site. Keep in mind that your contact forms will convert better if they're quick and easy to fill out.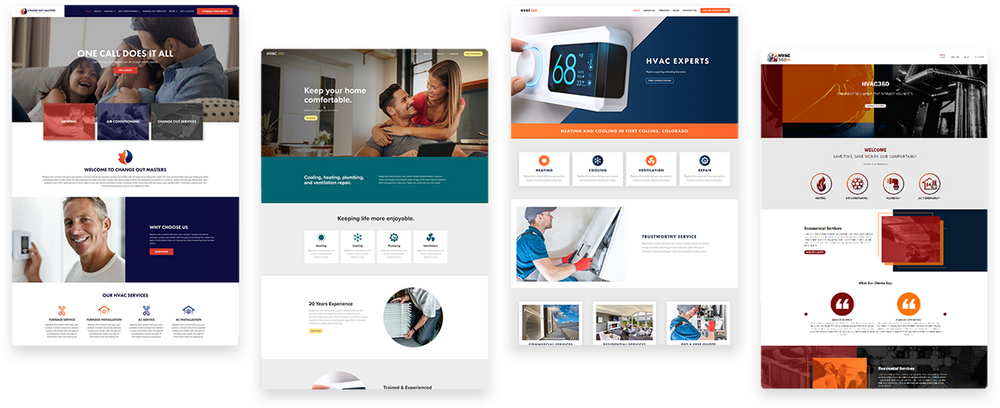 Web pages to include in your HVAC contractor website
Homepage
Your homepage is often the first page potential customers will see when they visit your HVAC contractor website, so it's important to make a good impression. Keep your homepage simple and clean, with a focus on your value proposition and call to action. And, make sure to use eye-catching visuals to grab attention and keep visitors engaged.
About Us
Your About Us page is a great opportunity to show off your HVAC company's personality and tell your brand story. Use this page to give potential customers a sense of who you are and what makes you different from other HVAC contractors in the area.
HVAC Services
Your HVAC Services page is where you'll list all of the services your company offers. Be sure to include detailed descriptions of each service, as well as photos and videos. You should also consider making a dedicated service page for each individual HVAC service you offer. This will help you rank higher for keywords related to your services.
HVAC Contractor Reviews
Customer reviews and testimonials are a great way to build trust and credibility with potential customers. Include a section on your HVAC contractor website where you showcase positive reviews from past clients. You can also include testimonials from satisfied customers on individual service pages.
FAQs
An FAQ page is a great way to address common questions and concerns potential customers might have about your HVAC company and services. This page can also help you improve your website's search engine optimization by giving you an opportunity to include additional keywords in your website content in a natural way.
Contact
Your Contact Us page should include all the ways potential customers can get in touch with your HVAC company, including your phone number, email address, mailing address and social media links. You should also include a contact form so visitors can easily send you a message, and so you can gather information about leads.
Blog
A blog is a great way to generate traffic to your HVAC contractor website and improve your organic visibility. Use your blog to write articles about topics related to your HVAC business, such as energy efficiency tips, common HVAC problems and how to choose the right contractor. You can also use your blog to announce new services and other company updates.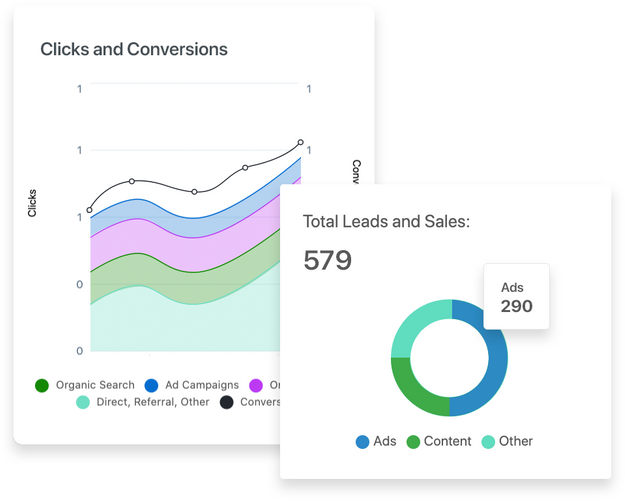 6 ways to drive traffic to your HVAC company website
1. Content marketing
Content marketing is the process of creating and distributing valuable content to attract and retain a clearly defined audience — and, ultimately, to drive conversions. When it comes to your HVAC contractor website, you can use content marketing to generate leads and sales by creating targeted content that speaks to the needs of your target customers.
2. Multi-channel advertising
Multi-channel advertising is a paid advertising strategy that uses a combination of popular channels to reach potential customers. You can use multi-channel advertising to capture market share and drive leads to your HVAC website through paid search ads, social media ads, display ads and more.
3. Social media management
Social media management for HVAC contractors involves creating and sharing content on social media to build relationships and interact with potential and current customers. You can use social media to drive traffic to your HVAC contractor website by sharing links to your blog articles, promoting special offers and more.
4. Email marketing
Email marketing is a must for modern HVAC companies. With email marketing, HVAC contractors can reach a large audience of potential and current customers with targeted, personalized messages. You can use email marketing to drive traffic to your HVAC website by sharing links to your latest blog articles, promoting special offers and more.
5. Reputation management
Your potential customers are likely to research your company before doing business with you. That's why it's important to actively manage your company's online presence and ensure that only positive information about your HVAC business is being shared. Plus, HVAC companies that have more five-star reviews earn more website visitors and generate more leads.
6. Listings management
To ensure potential customers can find your HVAC website, you need to claim and manage your business listings. This includes listing your HVAC company in directories, like Google Business Profile, Yelp and Top Rated Local®. You should also claim any industry-specific directories or listings.
HVAC contractor website design FAQs
Why do you need an HVAC contractor website?
An HVAC contractor website gives you an online presence that allows you to reach more potential customers. It allows you to control the conversation about your business, provide information about your HVAC services, educate your customers and build trust, highlight what makes you unique and more.
How do you build an HVAC company website?
You have two main options when it comes to building a website for your HVAC company. The first is hiring a web developer to build a site for you. The second is to use a DIY website builder, like the Marketing 360® Websites app, to build your own. The right option for your HVAC company will depend on your goals and budget.
What should an HVAC contractor website have?
Some key features to include on your HVAC contractor website are a modern design that is mobile-friendly and easy to navigate, high-quality content that is relevant to your target audience, a blog with articles about topics related to your HVAC business, trust indicators, simple contact forms and more.
How do you increase HVAC contractor website conversions?
There are a number of things you can do to increase conversions on your HVAC contractor website, including optimizing your site for search engines, using persuasive design techniques, creating targeted content, offering special deals and promotions, highlighting your CTAs and simplifying your contact forms.
Get everything you need to
manage and grow

your business.