#1 Marketing Platform® for
Dentists
Success starts with a better
dental website
Turn more visitors into leads with a modern dental office website that looks great on all devices — you deserve a dentist website that drives results.
Why having a convertible dentist website is important
When someone has a toothache or needs a dental cleaning, more often than not, their search starts online. Having a dentist website is no guarantee that you'll get in front of them, but it's an essential first step.
Your website is your dental practice's home online. It's a place where current and potential patients can learn more about you, your team and the services you offer. And, it's where all of your other marketing materials will point back to, online and off.
Having just any dental website isn't good enough. For you to win in the market today, you need a highly convertible dentist website that will make you stand apart from your competitors.
Must-have dental practice website features
A clean, simple aesthetic
Professionalism is of the utmost importance in dentist website design. In order to develop a more professional-looking website, you need to keep it clean and simple. This means using a consistent color palette, sticking to easy-to-read fonts and using plenty of white space.
Easy-to-use website navigation
If someone lands on your website and can't figure out how to get where they want to go within a few seconds, they're likely to leave and never come back. Make sure your navigation is easy to understand and use. The last thing you want is for potential patients to get frustrated and click off your site before they have a chance to learn more about your dental practice.
A mobile-friendly design
In this day and age, it's no longer enough to have a website that looks good on a desktop computer. In order to reach the widest possible audience, your dentist website needs to be optimized for mobile devices. This means having a responsive design that scales down seamlessly and is easy to use on a small screen.
Fast page speed
No one likes waiting around for a website to load, least of all those who are looking for dental care. If your web pages take too long to load, your visitors won't stick around for long. Not only does page speed affect the user experience of your website, but it also impacts your organic visibility.
Professional photos and videos
When it comes to your website, first impressions really do matter. That's why it's important to use high-quality, professional photos and videos throughout your site. These visual elements will help give your website a polished, professional look and feel, and entice your visitors to stick around and learn more about your dental practice.
Trust indicators
Lots of people suffer from dental fears and phobias, which makes building trust in your dental practice a must. Trust indicators, like testimonials, reviews and trust badges, can help put your website visitors at ease and encourage them to give your dental practice a try.
Contact forms
If you want people to contact your dental practice, you need to make it easy for them to do so. That's why every dentist website should have prominent contact forms throughout the site. Include a contact form on your contact page, as well as in key places, like your pricing page and service pages.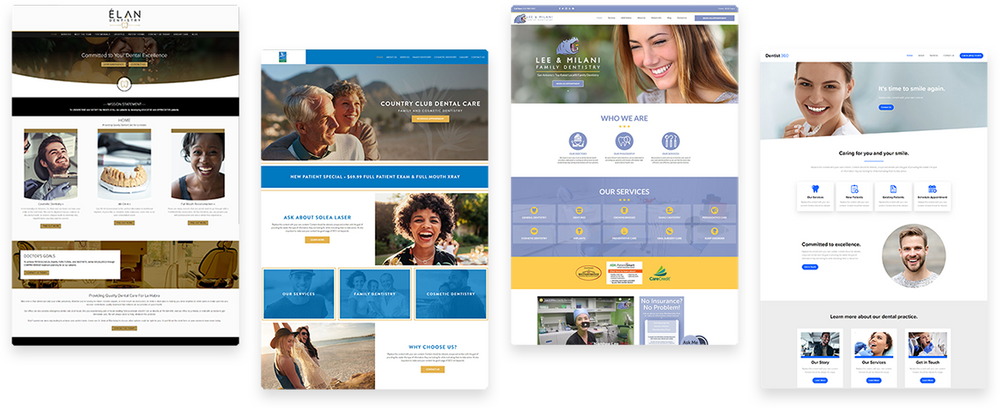 Web pages to include in your dentist website
Homepage
Your homepage is the most important page on your website. It's the first page most people will see when they land on your site, so it's important to get it right. Keep your homepage clean and simple, with a clear message about who you are and what you do. Include a brief introduction to your dental practice, as well as photos and videos, to help give visitors a taste of what you're all about.
About Us
Most of the time, prospective patients will want to know more about you before they schedule an appointment. Your About Us page is the perfect place to share your dental practice's story. Use this page to introduce your team, share your history and highlight your unique approach to dentistry.
Dental Services
Your Dental Services page is where you'll list all of the services your dental practice offers. Include a brief description of each service, and consider adding a dedicated service page for each dental service. This will give you the chance to cover your services more in-depth, and it will help you rank for more keywords in the search engine results pages (SERPs).
Dentist Reviews
Your potential patients will want to know what other people are saying about your dental practice before they commit to scheduling an appointment. That's why it's important to have a page on your dentist website where you can showcase your positive reviews and testimonials.
Payment Methods
There's nothing more frustrating than calling to schedule an appointment with a dentist, only to find out they don't accept your insurance. Your Payment Methods page should give your website visitors all the information they need to know about how they can pay for their dental care. Include a list of the payment methods and insurance plans you accept, as well as any relevant details.
FAQs
Are there certain questions you hear from your patients all the time? The perfect place to answer them is on your FAQ page. This page is also a great opportunity to share important information about your dental practice, like your office hours and appointment scheduling process.
Contact
Make it easy for prospective patients to get in touch with your dental practice by including a Contact Us page on your website. Include all of your contact information, as well as a map of your location. It's also a good idea to include contact forms throughout your website, so visitors can easily get in touch.
Blog
A blog is a great way to share timely and relevant information with your website visitors. Use your blog to write helpful articles related to dental care, and be sure to post new content on a regular basis. Not only will this help you attract new website visitors, but it will also give you the opportunity to show off your expertise and build trust with potential patients.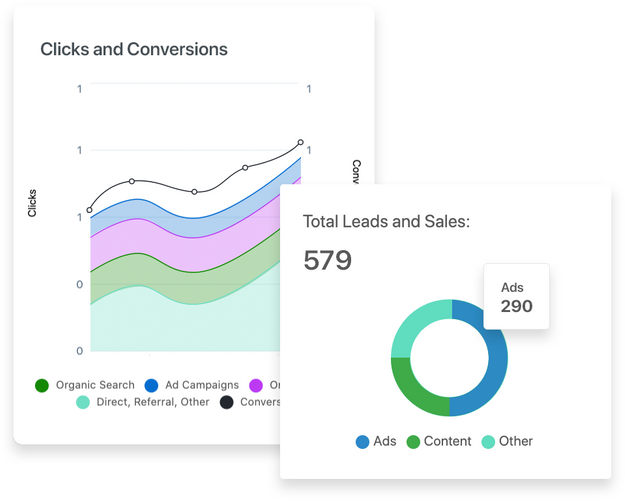 6 ways to drive traffic to your dental practice website
1. Content marketing
Content marketing is one of the most effective ways to drive organic traffic to your website. By creating and sharing high-quality blog posts, infographics, videos and more, you can increase your organic visibility, attract new visitors to your site and convert them into patients.
2. Multi-channel advertising
Advertising on multiple channels is a great way to reach a wider audience, capture market share and connect with your patient base wherever they spend their time online. Make the most of your multi-channel advertising budget by targeting the right audience and A/B testing your ads.
3. Social media management
Social media is a powerful platform for connecting with potential and current patients, building relationships and driving traffic to your website. By regularly sharing engaging content on social media, you can connect with your community, attract new visitors to your site and convert leads into patients.
4. Email marketing
Email marketing is one of the most effective ways to nurture your leads, stay in touch with your existing patients and drive traffic to your website. By sending regular email newsletters, you can keep your patients up-to-date on the latest news from your practice, promote dental services and specials, and encourage them to visit your website.
5. Reputation management
Your online reputation is one of the most important factors in driving traffic to your website. By monitoring and managing your online reviews, you can ensure that potential patients are seeing positive information about your dental practice. You can also encourage patients to leave reviews by asking them to rate their experience on your website or social media page.
6. Listings management
Listings management is the process of claiming, verifying and optimizing your dental practice's local listings online. These listings appear in directories, like Google, Top Rated Local® and Yelp, and they play a critical role in local SEO. By claiming and optimizing your listings, you can help potential patients find your practice when they're searching for a dentist online.
Dentist website design FAQs
Why do you need a dentist website?
Developing an effective dentist website is an important part of building your dental practice's online presence. It's your dental practice's home online, and it's a great place to share information about your dental practice, build trust with potential patients and drive conversions.
How do you build a dental practice website?
When building a dental practice website, it's important to focus on creating a user-friendly, informative and visually appealing site. Start by choosing a dentist website builder, like the Marketing 360® Websites app, that offers templates specifically designed for dental websites. Then, customize the template for your practice.
What should a dentist website have?
Every dentist website should have certain key elements, like a clean design, easy navigation, engaging content and strong calls to action. Additionally, your dental website should be optimized for SEO to ensure that potential patients can find your site when they're searching for a dentist online.
How do you increase dentist website conversions?
There are a few key things you can do to increase conversions on your dentist website. First, have clear calls to action and simple, easy-to-fill-out contact forms. Second, focus on creating high-quality content that educates and informs your potential patients. Finally, ensure that your website is mobile-friendly so that potential patients can easily access your site from their smartphones and tablets.
Get everything you need to
manage and grow

your business.