#1 Marketing Platform® for
Contractors
Boost organic leads with content marketing and
contractor SEO
Build an organic lead machine with our contractor SEO content marketing program — rank higher on Google, post more on social and stay top of mind on email.
Why contractors need content marketing
Successful contractors have one very important thing in common — they have an active, visible presence on the channels most popular with their customer base, like Google, Facebook and LinkedIn. Content marketing is a critical part of that.
Content marketing is the process of creating high-quality content that is relevant to your target audience and serves to attract, engage and convert prospects into customers. Effective content marketing can help you increase your visibility, build relationships with potential leads and turn them into paying customers.
Build trust and credibility, educate prospects on your contracting services, demonstrate expertise in your field, generate leads and drive sales — do it all with contractor SEO and content marketing.
6 benefits of content marketing for contractors
1. Get found on search engines
Most of the time, the first place people go to look for contracting services is a search engine, like Google or Bing. Since most people don't look past the first page of search results, it's important to get to the top of page one. Contractor SEO, which involves optimizing your website for search engines, and content marketing can help you get there.
2. Drive low-cost, high-quality leads
Not all contracting leads are made equal. Fortunately, content marketing and contractor SEO help you connect with people actively searching for keywords relevant to your business. These leads are highly likely to convert, and the best part is that every organic click you get is free. Drive low-cost, high-quality contractor leads with SEO and content marketing.
3. Become a thought leader
Chances are, your customers have many contractors to choose from. They're going to choose a contractor who has the experience and the expertise to get the job done right. You can demonstrate that you're that contractor by using content marketing to share your knowledge and become a thought leader in your industry.
4. Build trust and credibility
Before someone takes a chance on an unfamiliar contractor, they need to know they can trust you. With content marketing, you can build trust by creating content that provides value to your readers. Demonstrate your expertise and show your prospective customers that you really care and want to provide real value, rather than just making a buck.
5. Educate and inform your client base
You're the expert for a reason. You have knowledge and experience that your leads and customers don't. Use your content to educate and inform them about your services and anything else related to your business. Content marketing can help to reinforce why your contracting services are necessary, while also highlighting your expertise.
6. Control the conversation
Content marketing gives you the tools to control the conversation about your contracting business. When you create helpful, relevant content, you can shape the way potential leads and customers see your business and influence their decision-making process. This can help you build trust and turn your contracting leads into paying customers.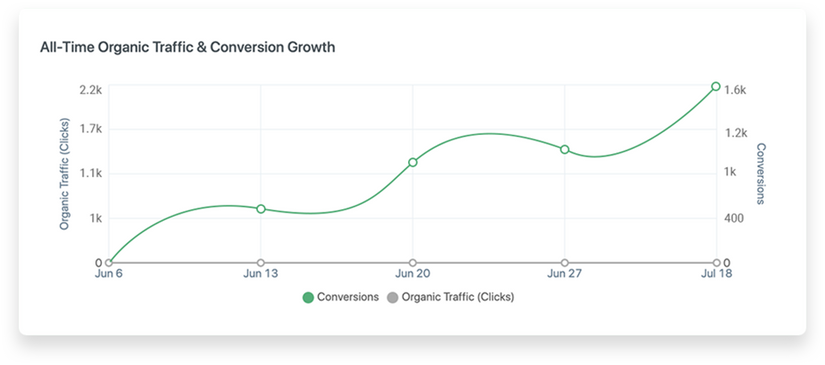 How to find the right keywords for your contractor
The first step to any successful contractor SEO strategy is keyword research. In fact, it's the foundation of SEO and content marketing for your business. The keywords you choose can have an impact on everything from your organic visibility to the quality of your leads.
Keyword research doesn't have to be complicated. A great place to start is to simply put yourself in your customers' shoes. If you were a consumer looking for your contracting services, what would you put in the Google search bar?
Once you've identified your best keywords, use them to optimize your contractor website and create content for your website and social media profiles that centers around them.
Best content marketing types for contractors
Blog articles and website content
The number one content marketing type contractors should be taking advantage of is blogging and website content. Well-written blogs and website content that feature your best keywords will help your contractor website rank higher in the SERPs (search engine results pages), while also making your website more convertible and trustworthy.
Social media posts
If you want to build a successful social media presence for your contracting business, you need to build an active presence. This means publishing social media posts on each of your profiles on a consistent basis — daily or at least a few times per week. Save time and schedule out your social media posts with the Marketing 360® Social app.
Email campaigns
Email marketing is a must for modern contractors. A well-executed email campaign can help you nurture leads throughout every stage of the sales funnels, while also staying top of mind with your existing customers. Best of all, email marketing software, like the Marketing 360® Nurture app, allows you to save time and automate your campaigns.
Videos
Content can — and should — come in many different forms. One of the most engaging content marketing forms is video. Creating videos for your website, YouTube channel, social media profiles or ads is an excellent way to tell a story, catch your audience's attention and make your brand more memorable.
Infographics
When you have complex topics to explain, infographics can be a great way to break up the information and present it in an easy-to-understand way. Best of all, infographics are super versatile. You can add infographics to blogs, send them out via email, publish them to your social media profiles and more.
Press releases
Have you recently expanded your service or product offerings? Did you win an award or otherwise get recognized for excellence in your industry? Have you partnered with another contractor or business? Whatever you need to announce to the world, a press release is the perfect way to do it.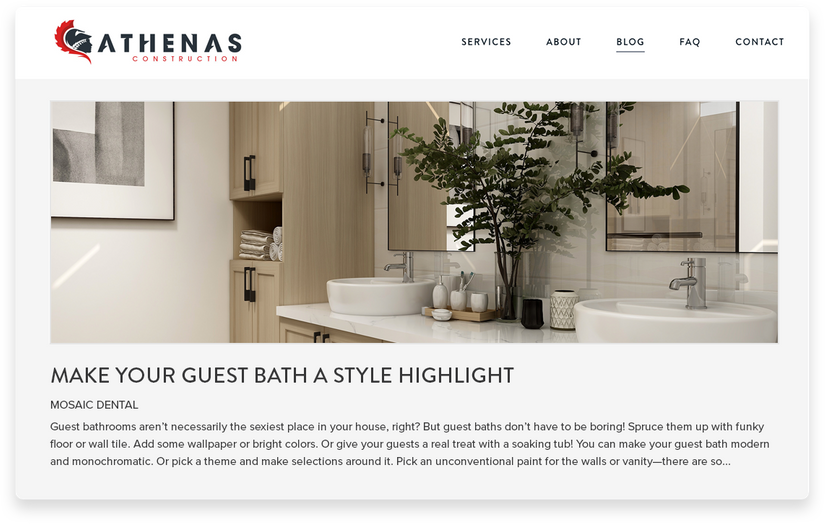 How to write blogs for your contractor website
Pick a catchy headline
When someone comes to your blog, your headline is one of the very first things they are going to read. If you want them to stick around and keep reading, your headline needs to catch their attention. Choose a headline that's short, sweet and to the point, but also catchy enough to get your readers to stop and take notice.
Use short, easy-to-digest sentences
Your blog needs to be easy to read and understand. If you use a lot of long, complex sentences, your readers will get bored and stop reading. Keep your sentences short and simple. And, avoid using any industry jargon your readers may not understand. A prospective lead or customer with very little industry knowledge should be able to read and understand your blog.
Include images, videos or infographics
Too often, when people think of blogs, they think of text-based articles. But, the truth is that your blog shouldn't be limited to just text. You can and should use visual types of content, like images, videos and infographics. This will help to make your blogs more engaging and interesting to your readers.
Use keyword-rich phrases
The keywords you identify in your keyword research should be the foundation of your content marketing strategy, and that includes your blogs. Think about blog topics that allow you to use your keywords naturally and without force. This will make it easier for you to use keywords in your blogs without making your blogs spammy.
End with a call-to-action (CTA)
Make it a point to end every contractor blog you write with a CTA of some sort. Your CTA is what tells your readers what to do next, whether it's to sign up for your monthly newsletter, get an estimate or shop your online store. Including a CTA in all of your blogs will help them to be more convertible and effective.
Blog topic ideas for contractors
Answers to FAQs
Most contractors hear the same questions over and over again from leads and customers. These questions are a great place to start when it comes to blog topics. Pick some of your most common questions, and create blog articles to provide your readers with in-depth questions. This is a great way to educate your readers.
Case studies and client testimonials
Social proof is one of the most popular tools a contractor can use to build trust and increase conversions. Share your success stories in the form of case studies, where you can give an analysis of how your products or services helped to solve a problem or benefit your customers. You can also share your best client testimonials in blogs and social posts.
How-to guides
As an expert, you have a lot of knowledge about your industry that you can share with your readers. Create detailed how-to guides that your leads and customers can use to solve a problem or simplify their lives. How-to guides are wonderful because they provide value to your readers while allowing you to demonstrate your knowledge and experience.
Commentary on industry news
Has a new product come out in your industry that will be a game-changer for your customers? Has there been a recent weather or news event that is relevant to your industry? Use your blog to provide commentary on any recent news relevant to your contracting business. This will show that you're up to date about what's going on.
Team highlights and updates
Your blog is a great place to humanize your contracting business. If you've recently had changes to your staff or you want to highlight your incredible team, you can do so with your blog. People want to know what's going on with your business, and your blog is the perfect place to keep them up to date.
Your business's story
People who visit your blog want to know more about your business — who you are, why you do what you do and how you got started. Stories are what connect us, and if you want your brand to stand out from the crowd, sharing your story can help. Plus, this gives you a chance to showcase your educational background and experience.
Content marketing FAQs for contractors
Why is content marketing important for contractors?
Contractors can benefit from content marketing in many ways. First, content marketing can help contractors rank high in the SERPs. Second, content marketing can help contractors build trust with prospects and leads. Finally, content marketing can help to educate your leads and customers about your industry.
How often should you be blogging?
You can't just blog one time and expect to see results. Blogging is an ongoing content marketing strategy that needs to be done on a consistent basis in order to succeed. Aim to publish new blogs on your contractor website two to three times per week. Consider working with a Content Marketing Specialist from Marketing 360® to save time and stay consistent.
How do you optimize your contractor website for search engines?
After you've done keyword research and identified the right keywords, you need to optimize your contractor website. Use your keywords naturally in your page titles, headlines, website content and metadata. This will help your contractor website rank higher for these keywords in the search results and increase your organic visibility.
How do you monitor your content marketing performance?
Like any small business marketing channel, you need to continually monitor the performance of your contractor SEO and content marketing strategy, and make any necessary adjustments. Some of the key performance indicators (KPIs) you should be monitoring include keyword rankings, impressions, clicks, conversions, bounce rate and website traffic.
Get everything you need to
manage and grow

your business.