Auto Repair Website Design
#1 Marketing Platform® for
Auto Repair Shops
Success starts with a better
auto repair website
Turn more visitors into leads with a modern auto repair website that looks great on all devices — you deserve an auto shop website that drives results.
Why having a convertible auto repair website is important
More often than not, when someone needs an oil change or brake pad replacement, they'll look for local auto repair services online. Having an auto shop website is no guarantee that you'll get in front of them, but it's a critical first step.
Your website is like your auto shop's online storefront. It's where your prospective customers will go to learn more about your shop and services. Often, it will also be the determining factor in the decision to either schedule an auto repair service or find another shop.
Having just any auto shop website isn't good enough. For you to win in the market today, you need a highly convertible auto repair website that will make you stand apart from your competitors.
Must-have auto repair website features
A clean, simple aesthetic
Did you know that most internet users decide whether to stick around or not on a website within the first few seconds? If your website looks cluttered and busy, it's going to make your auto shop look unprofessional. Make the right first impression by choosing a clean, simple auto repair web design.
Easy-to-use website navigation
Very few people spend their time surfing auto repair websites for fun. Most people who come to your website have a specific purpose in mind, whether it's to learn about your services, read your reviews or schedule an appointment. Make it easy for your visitors to find what they need by choosing an easy-to-use website navigation system.
A mobile-friendly design
Most people looking for auto repair services will be using their smartphones or other mobile devices. If your website isn't up to par as far as mobile usability is concerned, you're going to lose leads and customers. Ensure the best possible experience on every device by choosing a responsive, mobile-friendly website design.
Fast page speed
To be effective, your auto repair website needs to be able to entice your visitors to stick around in just a few quick seconds. If those precious seconds are wasted on a slow load time, your visitors will click the back button. The average internet user is impatient. Ensuring that your web pages load quickly is a must.
Professional photos and videos
The visual elements, like photos and videos, are the first thing most people see when they come to your auto repair website. Instead of relying too heavily on stock photos and footage — which often look cheesy — try to use professional, high-quality photos and videos of your real team and auto shop.
Trust indicators
Trust is huge for the auto repair industry. No one wants to be swindled, and prospective customers need to know they can trust you with the thing they rely on every single day to get around. Start building trust right on your website by including key trust indicators, like auto repair reviews and testimonials, trust badges and the Top Rated Local® reviews widget.
Contact forms
When a website visitor wants to schedule an auto repair appointment, you need to make it as easy as possible for them to do so. Not everyone wants to call to schedule a service. Including short, simple contact forms in the right places gives your visitors a quick and easy way to get in touch with you and schedule a service.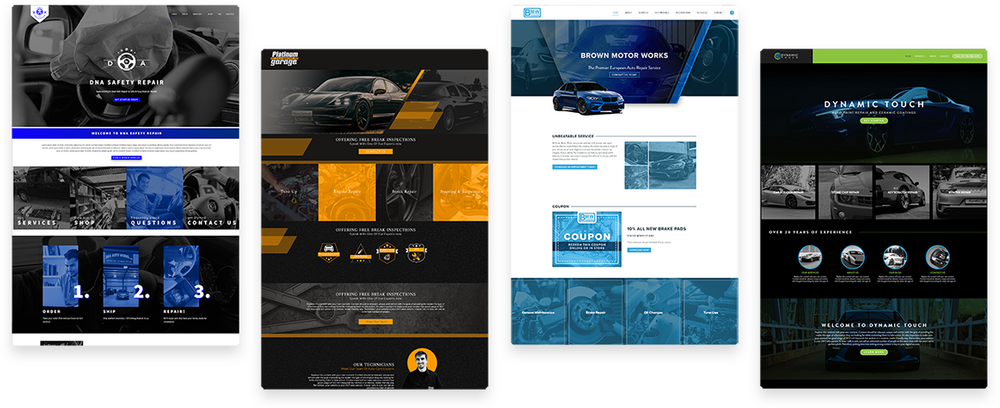 Web pages to include in your auto repair website
Homepage
The homepage of your auto repair website is the first page most of your visitors will see, so it's important to get it right. It should give a clear, concise overview of your auto repair shop and services, and it should have a clean, professional design. Make sure to highlight your unique value proposition and include clear CTAs (calls to action).
About Us
Your About Us page is your place to tell the world more about who you are and what you do. Why did you get started in the auto repair industry? What kind of education or training do you have? What is your auto shop's mission and how do you make your community a better place? People connect with stories. Take the time to tell yours.
Auto Repair Services
Whether you specialize in luxury vehicles, collision repair or you do a little bit of everything, give your visitors a rundown of your services on your Auto Repair Services page. Also, consider creating individual service pages for each of your services or service categories (e.g., preventative maintenance, climate control systems).
Auto Repair Reviews
From going to the grocery store to getting their kids to school, people rely on their vehicles every day. Instead of telling them that you're the right auto shop for the job, show them with an Auto Repair Reviews page. This allows you to gain trust and win customers by highlighting your best reviews.
FAQs
How often should you rotate your tires? What should you do if your car starts to overheat? These are just a couple of examples of common questions you may hear from your customers. Create an FAQs page where your visitors can find quick answers to their most frequently asked questions. You'll demonstrate your expertise and rank higher on search engines.
Contact
When a website visitor wants to schedule an appointment, it's important to make it easy for them. Make sure that you include your contact information throughout your website. However, it's also a good idea to have a dedicated Contact page. This should have your contact information, as well as a simple contact form your visitors can fill out.
Blog
If you want your auto repair website to rank in searches on Google and Bing, you need to optimize it for relevant keywords. You also need a blog. Creating a blog allows you to share valuable information with your visitors, which can not only help to increase your organic visibility but also builds trust and demonstrates your expertise.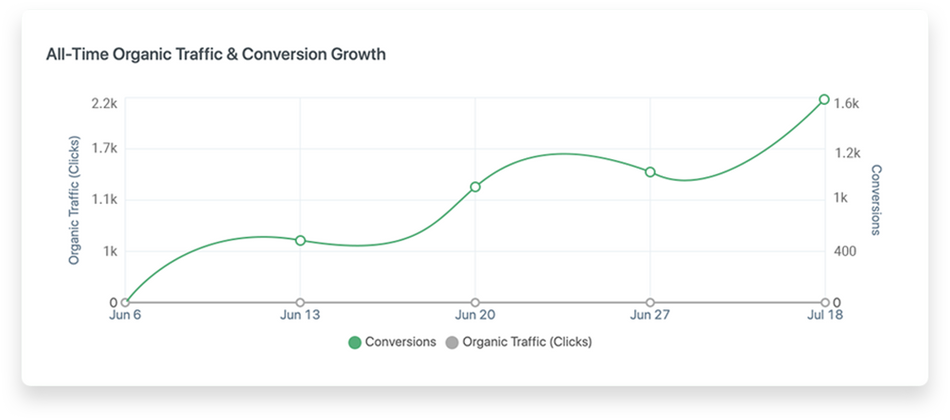 6 ways to drive traffic to your moving company website
1. Content marketing
People who are actively searching for the auto repair services you offer have a higher chance of converting than most website visitors. In order to get in front of them, you need an effective auto repair SEO and content marketing strategy. To do that, you need to optimize your website for the right keywords and create content on a regular basis.
2. Multi-channel advertising
Whether your prospective customers are watching a video on YouTube, streaming their favorite TV show or scrolling through their social media feed, you can get in front of them with multi-channel advertising. With the right multi-channel advertising strategy, you can capture market share from your competition and grow your shop.
3. Social media management
From Facebook to Instagram, social media platforms are where most people are spending the majority of their time online these days. Not only that, but many social media users are actively looking for new brands and local businesses, like auto shops. Building an active social media presence can help you forge valuable community connections.
4. Email marketing
Not all website traffic has to come from new customers. Getting your existing customers back in the door is often easier and more cost effective, and email marketing is a great way to do that. With email marketing, you can stay top of mind with your customers by sending out maintenance and appointment reminders, feedback requests, shop updates and more.
5. Reputation management
Reading reviews has become an important part of the decision-making process for modern consumers. If you don't have a high average star rating — or, worse, you don't have any reviews — many people won't give your auto shop the time of day. Build trust, win customers and drive traffic to your auto repair website with reputation management.
6. Listings management
There are dozens of local sites, directories and apps where people may go to look for auto repair services. To win these leads, you need to ensure that every listing is accurate and up to date. By taking a proactive approach to listings management, you can ensure consistency across your listings, get found in local searches and drive traffic to your website.
Auto repair shop website design FAQs
Why do you need an auto repair website?
Your auto repair website is your auto shop's home online. It's the first impression most people will get of your auto shop and your most important marketing asset. By building your auto repair website with conversions in mind, it can be a lead-generating powerhouse for your business. Best of all, it never sleeps.
How do you build an auto repair shop website?
You have a couple of main options to choose from when building your auto repair website. You could build it yourself with the Marketing 360® Websites app. A library of auto shop web design templates and a drag-and-drop editor make it easy to do it yourself. Or, you could work with one of our talented designers who can bring your vision to life.
What should an auto repair website have?
Every auto shop is different, which is why no two auto repair websites should be the same. However, there are a few things every auto repair website should have. These include mobile friendliness, fast page speed, an easy-to-use navigation system, key trust indicators, simple contact forms and clear CTAs.
How do you increase auto shop website conversions?
There are many things you can do to increase your auto repair website conversion rate. First, make use of white space to keep your website professional and uncluttered, and to highlight your CTAs. You should also prioritize page speed and mobile friendliness, showcase reviews and other key trust indicators, include simple contact forms and use high-quality images.
Get everything you need to
manage and grow

your business.