#1 Marketing Platform® for
Law Firms
Success starts with a better
law firm website
Turn more visitors into leads with a modern attorney website that looks great on all devices — you deserve a law firm website that drives results.
Why having a convertible attorney website is important
When someone needs to hire a lawyer, they don't just pull a name out of a hat. They do lots of research, most of which happens online. Having a law firm website is the first step toward getting in front of them.
Your law firm should have a presence across the internet, from social media to legal directories, but it should all point back to the same place — your law firm website. It's the hub of your law firm's presence online and the central part of your marketing campaign.
Your lawyer website is often the first introduction prospective clients get to your law firm. It's where they go to learn about your attorneys, practice areas and services. That's why it's critical to get your attorney website right.
Must-have law firm website features
A clean, simple aesthetic
The key to designing an attorney website that looks professional is to keep the design clean and simple. Too much clutter can be overwhelming and distracting for visitors. Stick to a simple color scheme, and keep your law firm website design consistent across every page.
Easy-to-use website navigation
When people visit your attorney website, they often do so with a specific purpose in mind. Whether visitors want to learn about your practice areas or read your lawyers' bios, make it easy to find what they're looking for by choosing a familiar menu-style website navigation system.
A mobile-friendly design
More and more people are visiting law firm websites on their smartphones and tablets. If your website isn't designed for mobile devices, you're missing out on a huge chunk of potential visitors and leads. Make sure your website is responsive and looks great no matter what device it's being viewed on.
Fast page speed
It's important to make sure every page of your attorney website loads quickly. People are impatient. If your website takes too long to load, they'll move on to the next law firm. Not only will having a fast website mean a better user experience for your visitors, but it will also mean more organic visibility for your law firm.
Professional photos and videos
People want to see who they'll be working with, and photos and videos are a great way to show off your law firm's attorneys and staff. Make sure all your photos and videos are high quality, and add them to your attorney website's homepage, attorney bios pages and practice area pages.
Trust indicators
People don't take hiring a lawyer lightly. They want to make sure they're making the right decision. That's why it's important to have trust indicators on your attorney website. Things like client testimonials, attorney bios and attorney rankings can build trust and help put prospective clients at ease
Contact forms
Make it easy for potential clients to contact you by adding contact forms to your attorney website. This will allow visitors to easily get in touch with you to ask any questions or schedule a consultation. Contact forms are also a great way to collect valuable information about your leads.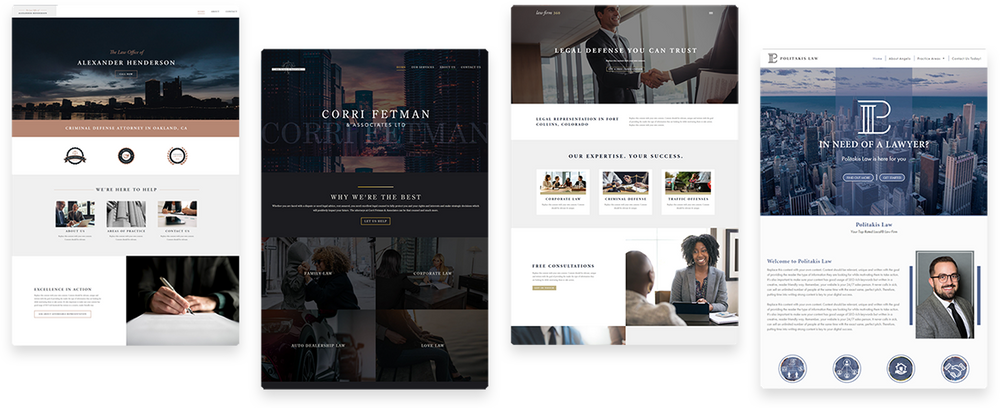 Web pages to include in your lawyer website
Homepage
Your homepage is often the first page people will see when they visit your attorney website. It needs to make the right first impression and accomplish a number of things, including communicating who you are, what your practice areas are and why visitors should choose you.
About Us
The About Us page is your opportunity to introduce your law firm to prospective clients and tell your story. It's where you can share your story, highlight your mission and explain why you do what you do. It adds personality to your website and humanizes your law firm.
Attorney Biographies
Hiring an attorney is a big deal. Before a visitor will schedule a consultation, they are going to want to know who your attorneys are, including their educational background, qualifications, certifications, etc. Your Attorney Bios introduce visitors to your attorneys and put faces to names.
Practice Areas
People often want to know what kind of legal services you offer before they decide to contact you. Your Practice Areas page is the perfect place to list the types of legal services you offer and give potential clients a better idea of what you can do for them.
Attorney Reviews
It takes a lot of trust to hire an attorney. Reviews are a fantastic trust indicator for a law firm website because they give prospective leads a glimpse into what it's like to work with your firm and your past clients' experiences. Having an Attorney Reviews page makes it easy for visitors to find your reviews.
FAQs
It's common for people to have questions when hiring a lawyer. After all, it's a big decision. Your FAQ page is the perfect place to answer the most common questions you get from leads and clients. Plus, having an FAQ page will help your website rank when people search for questions related to your practice area on search engines.
FAQs
It's common for people to have questions when hiring a lawyer. After all, it's a big decision. Your FAQ page is the perfect place to answer the most common questions you get from leads and clients. Plus, having an FAQ page will help your website rank when people search for questions related to your practice area on search engines.
Contact
When a new lead visits your law firm website and decides to schedule an appointment with you, it's important to make it as easy as possible for them. Having a Contact Us page allows visitors to easily find your phone number, address and email address — everything they need to contact your law firm.
Blog
Having a Blog on your law firm website is important for many reasons. Blogs can help to educate and inform your visitors, highlight your expertise and experience, build trust with prospect leads and increase your organic rankings on the SERPs (search engines results pages).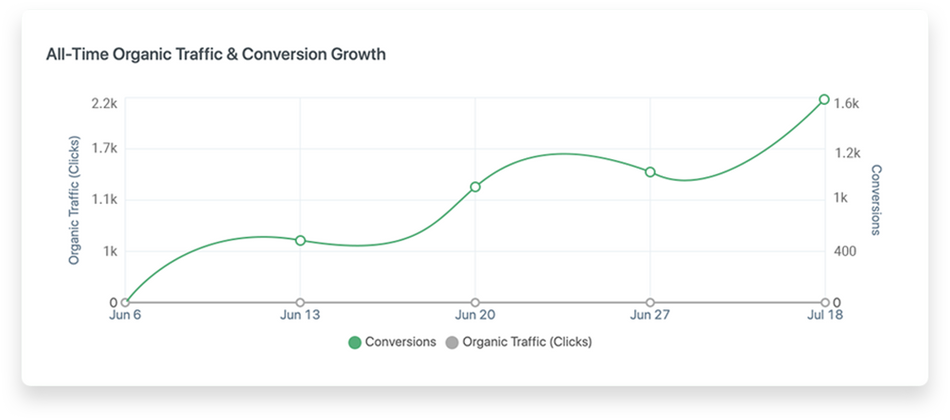 6 ways to drive traffic to your law firm website
1. Content marketing
Most of the time, people start their search for a local attorney on a search engine, like Google or Bing. Content marketing and law firm SEO are key parts of ranking high on search engines, increasing your organic visibility and driving low-cost, high-quality leads to your law firm website.
2. Multi-channel advertising
Multi-channel advertising can help your law firm get in front of prospective clients anywhere they spend their time online, including Google, Facebook, Instagram and beyond. With online advertising, you can drive traffic to your website and capture market share.
3. Social media management
Social media management is a powerful tool for law firms. It's a place where you can connect with potential clients, build relationships and share your expert insights. A well-managed social media strategy can help increase website traffic, improve SEO and drive more leads to your law firm.
4. Email marketing
Email marketing is a great way to stay top-of-mind with your past, present and potential clients. When done correctly, email marketing can help you cultivate relationships with leads and increase traffic to your attorney website.
5. Reputation management
Before scheduling a consultation or even visiting your website, many of your prospective leads will read your reviews. Getting reviews and managing your online reputation are essential to attracting new leads and driving more traffic to your law firm website.
6. Listings management
Whether someone finds your law firm on Google Maps, Top Rated Local® or Yellow Pages, the last thing you want is for them to find the wrong phone number or address. Listings management is the process of ensuring that your law firm's information is accurate and up-to-date across all of the major online directories.
Lawyer website design FAQs
Why do you need an attorney website?
An attorney website is an essential part of any law firm's marketing strategy, online and off. It's the place where you can showcase your experience and expertise, tell your story and introduce your attorneys, connect with potential clients and drive leads to your law firm.
How do you build a law firm website?
You have two main options when it comes to building a website for your law firm. The first is hiring a web developer to build a site for you. The second is to use a DIY website builder, like the Marketing 360® Websites app, to build your own. The right option for your firm will depend on your goals and budget.
What should a lawyer website have?
There are a few essential elements that all attorney websites should have, including an attorney bio page, practice area pages, case studies, blog and contact information, just to name a few. Make sure that you keep your website up to date with the latest information about your firm.
How do you increase attorney website conversions?
There are a number of ways to increase attorney website conversions, including adding lead capture forms to your website, using targeted keywords and phrases in your content, and optimizing your site for the search engines. You can also build trust with visitors by including trust indicators, like testimonials and reviews.
Get everything you need to
manage and grow

your business.