E-commerce Website Design
#1 Marketing Platform® for
E-Commerce
Success starts with a better
e-commerce website
Turn more visitors into customers with a modern online store website that looks great on all devices — you deserve an e-commerce website that drives results.
Why having a convertible e-commerce website is important
From large online retailers to small online stores and even local retailers, modern-e-commerce businesses have a lot of competition. And, the first thing you need to make your brand stand out online is a convertible e-commerce website.
Although you may sell products on Facebook, Amazon and many other online marketplaces, your e-commerce website is your home online — your online storefront. The right online store web design can not only help you attract visitors, but also turn them into paying customers.
Having just any e-commerce website isn't good enough. To win in the market today, you need a highly convertible online shop website that will make you stand apart from your competitors.
Must-have e-commerce website features
A clean, simple aesthetic
When a new visitor lands on your online store, they'll decide within the first few seconds whether or not they want to stick around and shop. If your website looks cluttered and busy, you're going to make the wrong impression on your visitors. Make sure that you choose a clean, simple, online shop web design.
Easy-to-use website navigation
While some of your website visitors may just be browsing, the ones most likely to convert are probably looking for something specific. If they can't find it, they're going to click the back button. Make it easy for your visitors to find whatever they're looking for by choosing an easy-to-use website navigation system.
A mobile-friendly design
These days, most online traffic now comes from smartphones and other mobile devices. If your e-commerce website isn't designed with mobile users in mind, you're going to miss out on potential customers. Choose a responsive, mobile-friendly e-commerce website design to ensure a good experience for all of your visitors.
Fast page speed
Patience isn't something most online users are known for. In fact, if your online shop website takes too long to load, most people won't stick around. Not only does slow page speed negatively impact the user experience of your website, but it can also hurt your visibility on search engines.
Professional photos and videos
Like we mentioned, your visits will decide within a few seconds of landing on a web page whether or not they want to stick around. And, the visual elements on your e-commerce website, like photos and videos, are the first thing people see. Make sure to use professional, high-quality photos and videos of your real products and team.
Trust indicators
Before a visitor is ready to make a purchase and give you their payment information, they need to know that they can trust your online store. Including key trust indicators, like product reviews and testimonials, easy-to-find contact information and social media icons with links to your profiles, build trust and make your store more convertible.
A quick checkout experience
When a customer is ready to make a purchase on your online store, it's important to make it as easy as possible. The more steps you make your customers take or hoops you make them jump through, the more likely you are to lose them along the way. Make it a point to provide your customers with a quick, easy checkout experience.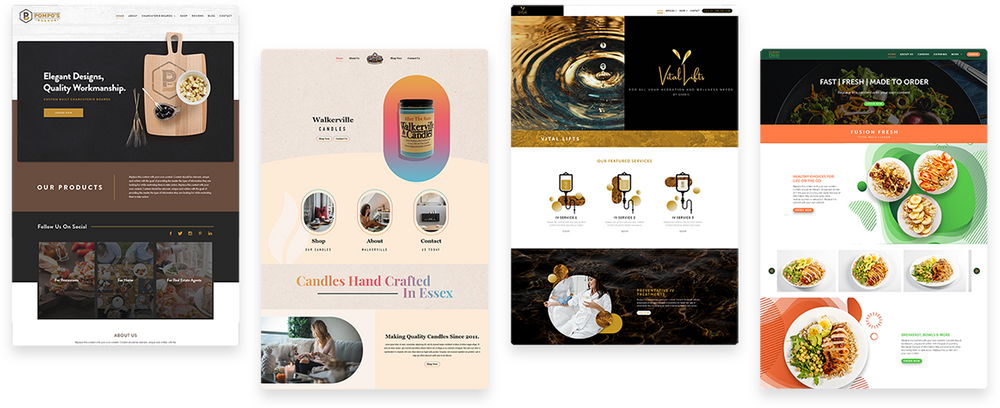 Web pages to include in your e-commerce website
Homepage
For many of your e-commerce customers, the homepage of your website is the first page they'll visit — and sometimes, their first introduction to your business. Get it right by using eye-catching visuals, making it scannable and mobile-friendly, creating high-quality content and including clear CTAs (calls-to-action).
About Us
Many of your visitors will want to know more about your business before they'll be willing to make a purchase on your online store. Your About Us page is the perfect place to share your story with your visitors — who you are, what you do, what your mission is, etc. This can help to set you apart from your competitors and build trust with visitors.
Product
For an e-commerce website, almost no other page is more important than your product pages. Your product pages should feature high-quality photos of your products, a professional, keyword-rich product description, customer reviews, shipping information, recommended products and a clear Add to Cart button.
Product Categories
Your Product Categories page is the step many of your visitors will take between your homepage and your product pages. The more effective your Product Categories page, the more likely your visitors are to find products they're interested in — and to make a purchase. Make sure to choose a convertible layout and include SEO-friendly content.
Shopping Cart
The last step between shopping and making a purchase for your customers is the Shopping Cart. If you want your e-commerce website to convert, you need to provide your users with a quick, easy checkout experience. That means choosing a clean, simple Shopping Cart that only requires the information from customers that you really need.
Returns and Exchanges
No one buys a product expecting to return or exchange it, but sometimes things happen. Every online store needs to have a policy in place for how to handle exchanges and returns, and you should make it easy to find by detailing that policy on your Returns and Exchanges page.
FAQs
Do you hear the same questions over and over again from your customers? If so, the perfect place to answer them is on an FAQs page on your website. This will help you take a proactive approach to customer service, while also helping you educate your customers about your online store policies, products and more.
Contact
If one of your customers needs to make an exchange or return, has a question about shipping or concerns about one of your products, they need to know they can reach you. Make sure that your contact information is easy for your visitors to find by creating a Contact page on your e-commerce website.
Blog
Blogging is not something many e-commerce businesses think about, but it can be beneficial in many ways. For one, creating blogs can help you rank higher in the SERPs (search engine results pages). Blogging can also help you educate visitors about your products and industry, build trust, drive organic sales and more.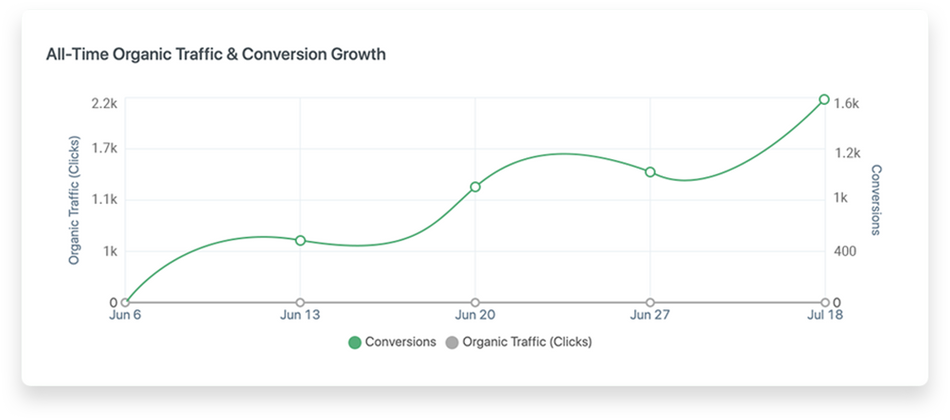 6 ways to drive traffic to your e-commerce website
1. Content marketing
People actively searching for the products you offer on a search engine, like Google or Bing, are highly likely to convert. In order to get in front of these potential customers, you need an effective e-commerce SEO and content marketing strategy. This can help you drive traffic and organic sales.
2. Multi-channel advertising
To compete in today's competitive market, e-commerce businesses need to build a visible presence wherever their prospective customers are spending their time online. With multi-channel advertising, you can do just that, helping you drive traffic to your website from Google, Facebook, YouTube and beyond.
3. Social media management
Facebook, Instagram and other social media platforms are where most of your existing and prospective customers are spending their time online these days. And, many social media users are looking for new brands and products. Social media can help you get in front of them and drive them to your online store.
4. Email marketing
Email marketing is something every e-commerce business should be taking advantage of. With email marketing, you can turn abandoned carts into sales, recommend additional products to customers, request feedback from your customers, spread the word about discounts and offers, drive traffic to your online store and more.
5. Text message marketing
Text message marketing is a wonderful way to stay in contact with your e-commerce customers. One big advantage of text messages is that they're usually read right away and almost always opened. That makes text message marketing a great way to promote special offers and drive traffic to your website.
6. Reputation management
Reading product reviews has become so commonplace for online shoppers that many people read reviews for even low-stakes items they would have never researched before. By taking a proactive approach to reputation management, you can get more five-star product reviews and build trust with prospective customers.
E-commerce website design FAQs
Why do you need a convertible e-commerce website?
Your online store is your e-commerce business's home online. An effective online shop website design can help you rank higher in the SERPs (search engine results pages), highlight your best products, showcase your five-star reviews, convert visitors into paying customers and so much more.
How do you build an e-commerce website?
E-commerce businesses have a couple of options when it comes to creating an online shop. Build your own with the Marketing 360® Websites app and Shop App. A library of e-commerce web design templates and a drag-and-drop editor make it easy, even if you have no prior design experience. Or, work with a professional Designer to bring your vision to life.
What should an e-commerce website have?
While every online store is different, there are a number of features that all online stores need. These include a clean, mobile-friendly design that looks great and loads quickly, as well as an easy-to-use website navigation system, customer testimonials and reviews, a fast checkout experience and more.
How do you increase e-commerce website conversions?
There are many things you can do to make your e-commerce website more convertible. First, you should highlight product reviews to build trust with your visitors. You should also have keyword-rich website content, a smooth user experience, clear CTAs, easy-to-find contact information and visible Add to Cart buttons.
Get everything you need to
manage and grow

your business.