Voice search is on the rise.
Did you know?
Suffice it to say, voice search is not something that can be ignored. And, as more and more people buy smartphones and smart speakers, it will only continue to grow.
Voice search isn't going away any time soon; it's only getting bigger. Optimizing your online presence for voice search is a critical part of your success, but it's vastly different than your traditional search engine optimization.
One of the main differences between voice search and the SERP (search engine results pages) is that, instead of 10 results on page one, there are only three for mobile users and just one when the search is conducted on a smart speaker.
Appearing in the top one (or three) results on a voice search is an important part of your ability to succeed in the world of voice search, which means that you need to know how to optimize your business for voice search. Today, I hope to help you get it right.
7 Tips for Optimizing Your Business for Voice Search
#1. Change the way you think about keyword research.
People use different keywords for the same searches depending on whether they're doing a traditional text search or a voice search. For instance, let's say someone is looking for a nail salon in Denver.
When they pull up Google Maps and type in their search, they're likely to just type in "nail salon," However, when they use Siri to search for local nail salons, they might say, "What's the closest nail salon?"
One popular tool that you can use to find questions related to the organic keywords you're targeting is Answer the Public. To use this tool, all you have to do is type in the root keywords, and it will provide you with popular what, when, where, why, who questions.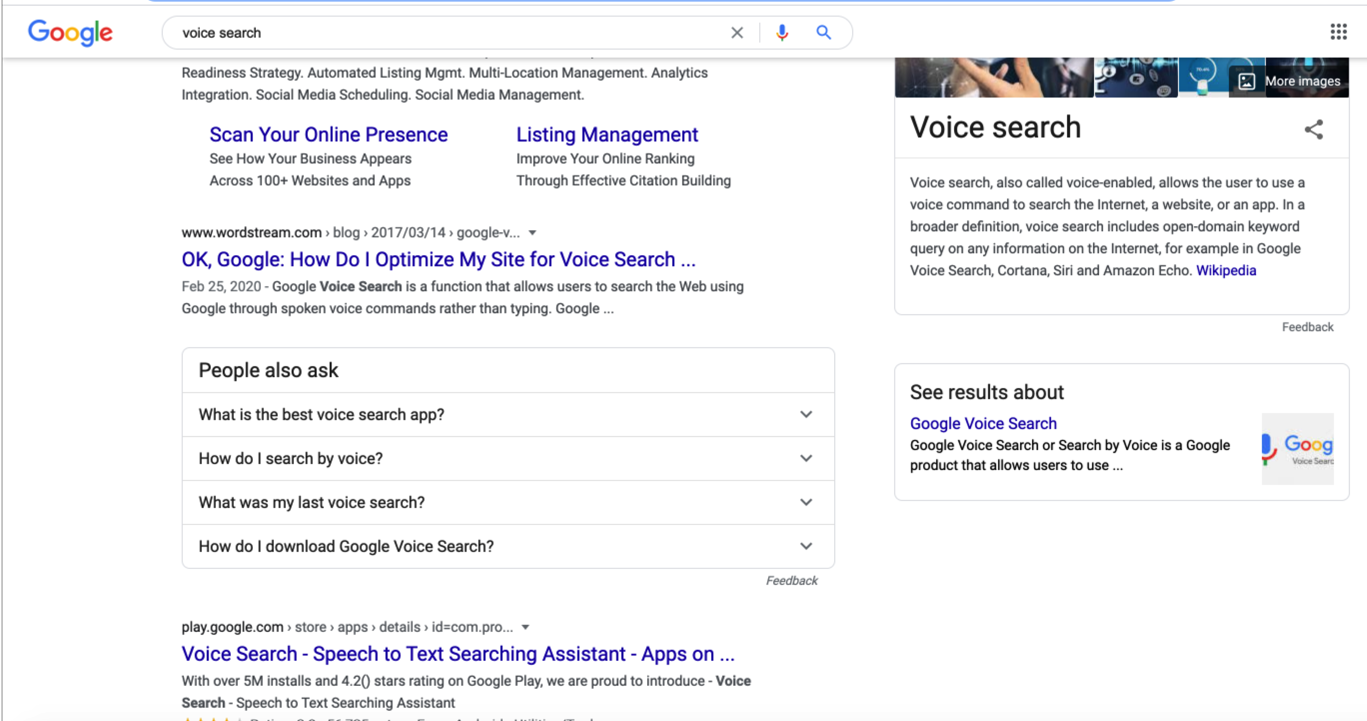 You can also use the "People Also Ask" tool, which gives you frequently searched questions relating to your keyword.
#2. Build an FAQ page.
In traditional SEO, using keywords naturally is generally pretty simple. The longer the keyword, the more difficult it usually is to fit naturally on your website. And, since voice search keywords are usually questions, it can be exceedingly difficult to use them naturally on your website. That's where an FAQ (frequently asked questions) page comes in.
Your FAQ page is the perfect place to use voice search queries naturally without any risk of your content sounding spammy.
In addition to having an FAQ page on your website, make sure to include a section of your product and/or service pages with any relevant FAQs. You can also answer common relevant questions in blogs and/or social media posts.
#3. Optimize your Google My Business listing.
If you're a local business, voice search is critical. A 2018 BrightLocal survey found that 58 percent of consumers in the U.S. have found a local business search, 74 percent of whom do a local business search at least weekly.
"Near me" searches are popular in voice searches, and what really matters in ranking for those searches is your Google My Business listing. In order to make the most of it, you need to claim and optimize your Google My Business listing.
At the very least, you should make sure to include your business's basic contact information (name, physical address, and phone number. Also, make sure that this information is listed consistently on your website and all local business directories.
#4. Make your site as fast as possible.
Google's 2018 "Speed Update" made it clear that Google was taking site speed clearly, and that it had become an important ranking factor. Site speed is an important aspect of SEO in every possible sense, including organic voice search.
When users ask their Google Assistant or Siri a question, they're looking for an immediate result. If you have site speed issues, particularly mobile site speed issues, it could affect your ability to rank for voice searches, which are often conducted on mobile devices.
Test your site's speed with Google's PageSpeed Insights. In addition to testing your site for speed, PageSpeed Insights will also tell you what you can do to fix any site speed issues you're experiencing.
#5. Make your website mobile-friendly.
As I said, most voice searches happen on mobile devices, and in order for your website to rank in mobile searches, it has to be mobile-friendly. A mobile-friendly website is also a voice-search friendly website.
The name of the game in mobile-friendliness is responsive design. A website that utilizes responsive design will automatically reconfigure itself based on the device it's being viewed on. This ensures that functionality and aesthetics remain consistent across any device.
Responsive design is important, but it's just one aspect of mobile-friendliness. Luckily, Google has a Mobile-Friendly Test to help you determine if your website is well-suited for mobile, and what you can do to make it more mobile-friendly.
#6. Use schema markup.
Schema markup, otherwise known as structured data, is essentially metadata — data that gives search engines more information about your website — that is placed in the source code of your website. Schema markup helps Google understand and classify your content.
Structured data helps your website perform better in voice searches for relevant search terms by making your content even more relevant for search results. It also makes your content easier to consume and digest by featuring it in the search results.
#7. Make your content conversational.
Search keywords are often unnatural, and since exact match phrasing used to help websites rank, it became common to find robotic, unnatural language used on websites. Those days, however, are gone, and that is, in large part, due to voice search.
As I mentioned previously, people search differently when they're talking to Siri than when they're typing a keyword into Google. They talk to Siri, Alexa, and other voice assistants much more naturally than what they might type into Google, and the content on your website needs to reflect that.
---
Voice search is the future of search, which means that voice optimization is something every business should be thinking about. Learn how Marketing 360®'s content team can help you get it right today.