Did you know?
YouTube is the second-most-visited site, the second-largest search engine, and the second-most-popular social media platform?
At more than 1 billion hours per day, consumers spend more time watching videos on YouTube than on Netflix and Facebook combined.
Worldwide, YouTube has more than 2 billion users.
Every minute, 400 hours of video is uploaded to YouTube.
As you can see, YouTube is an incredibly powerful thing, and if your business isn't currently taking advantage of YouTube, it's time to get started.
Although YouTube is the second-most popular social media platform, it's a mistake to treat it like Facebook, Instagram, or anything social media platform, where your success largely depends on posting regularly. On YouTube, your success depends not on posting content, but on optimizing that content.
With hundreds of hours of videos being published by the minute on YouTube, the problem is not getting your content out there, but getting people to actually see it, and that's where optimization comes into play.
8 Tips for Optimizing YouTube
#1. Maximize your tags.
Tags, like any other metadata, are used by search engines to learn information about the content in question, and the tags you use on YouTube give your video content and tell YouTube about the topic, category, etc. of the video.

YouTube tags are an important ranking factor, and you shouldn't limit yourself to just one or two. However, YouTube pays the most attention to the first few tags, so make sure that your most valuable keywords are used first. From there, make sure that you use a mix of more broad and more focused tags, and don't overly stuff your videos with tags. If you publish a video using 25+ tags just so that you can get more keywords in the mix, there's a good chance that YouTube will have a difficult time determining exactly what your video is about.
#2. Edit your captions.
Captions play three key roles on YouTube — 1) they make your content accessible to all viewers, 2) they increase view times and engagement on videos, and 3) they give search engines a better understanding of the video content, which will help it to rank higher in organic search results. These days, adding captions to your YouTube videos is easier than ever; in fact, YouTube does it for you automatically!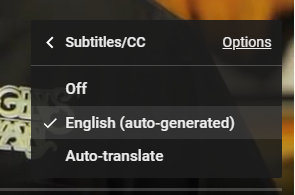 YouTube's automatic captioning is generated using speech recognition technology, and although it makes life much easier, it's not a perfect system. That's why it's always important that you take the time to edit the captions for your video to ensure that they're accurate.
#3. Include an end screen.
End screens are essentially clickable buttons that appear within the last five to 20 seconds of a video, and they can be used to encourage viewers to watch other videos, subscribe to the channel, to check out a different YouTube channel, or to visit a website. End screens help to extend the watch time on your videos, and they appear regardless of whether viewers are watching on a desktop computer or a smartphone.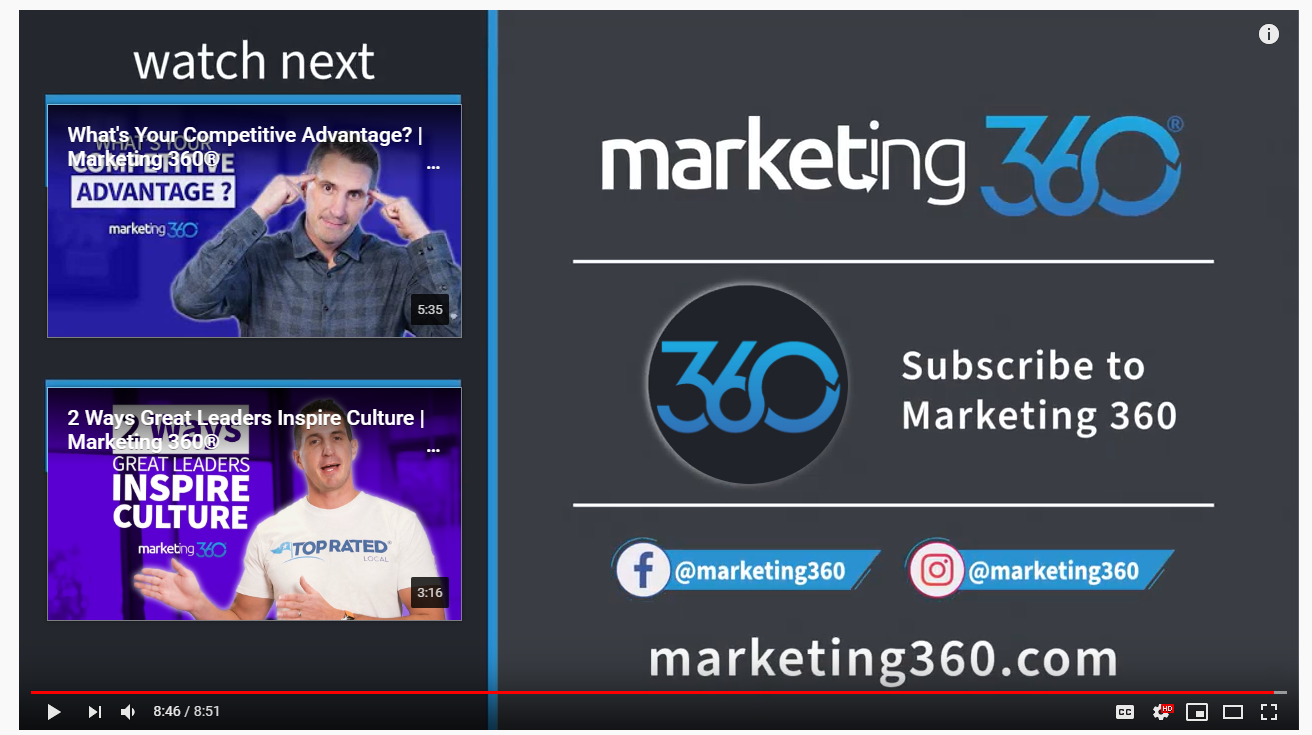 End screens can be added using the Creator Studio, and to make the most of your end screens, make sure to use a call to action (CTA) that's relevant to your video content. Also, make sure to test out different CTAs to find the most effective option for your needs.
#4. Add custom thumbnails to your video.
You've probably heard the old adage about not judging a book by its cover. In a perfect world, books would be judged by their content rather than their covers, but it's not a perfect world, and these days, a lot of people will choose to read a book based on the cover alone. Unfortunately, the same concept applies to YouTube video.

Fair or not, people will judge your videos based on the thumbnails, but luckily, by enabling custom thumbnails on your YouTube channel, you'll be able to upload your own images.
#5. Create playlists.
Creating playlists by grouping together any related videos is one of the easiest ways to make your YouTube channel easier to navigate. It also plays a role in defining your brand, organizing your videos, increasing the total amount of time people spend watching your videos, and more.
Another big reason to create video playlists is that it makes your brand more visible on YouTube. That's because, like individual videos, whole playlists show up in YouTube searches, giving you more chances to rank.

#6. Fill out the "About" section.
People come to your YouTube channel to watch your videos, not to learn about your brand, right? While that may be true, that doesn't mean that it's acceptable to leave the "About" section of your YouTube channel blank. In fact, this is a mistake that can make it difficult for people to find you on YouTube.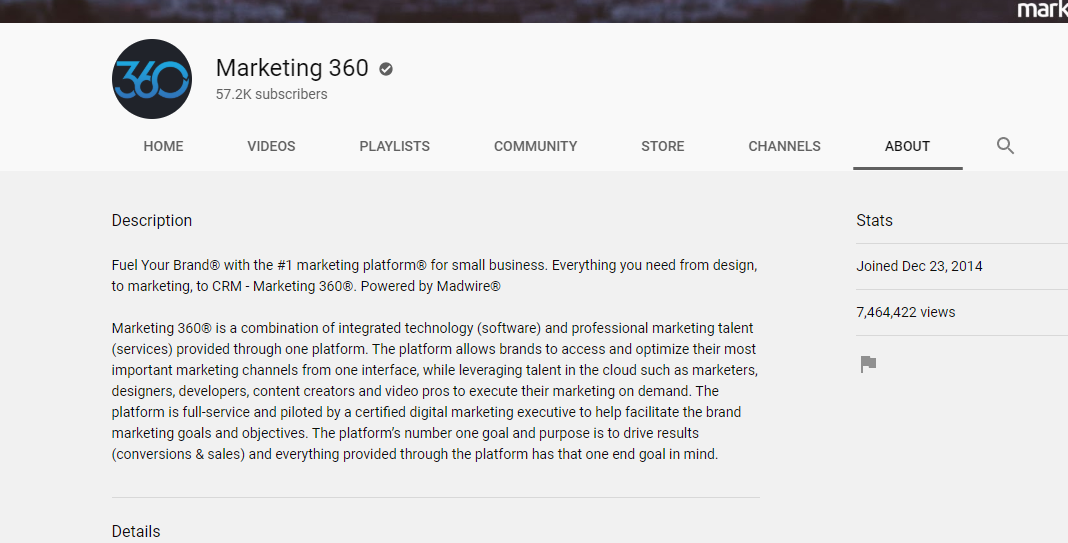 You don't have to be Walt Whitman in order to write a good YouTube Description. Simply tell your readers what your channel is about briefly and casually. End the description with a strong call to action and include a link to your website, social media platform, or anywhere else people can find more information.
#7. Make sure your channel is branded.
Consistent branding is important across all marketing channels and platforms, and your YouTube channel is no exception. And, while you may not have total control over exactly what your YouTube channel looks like, you can and should ensure that you always use a branded header image and include appropriate links.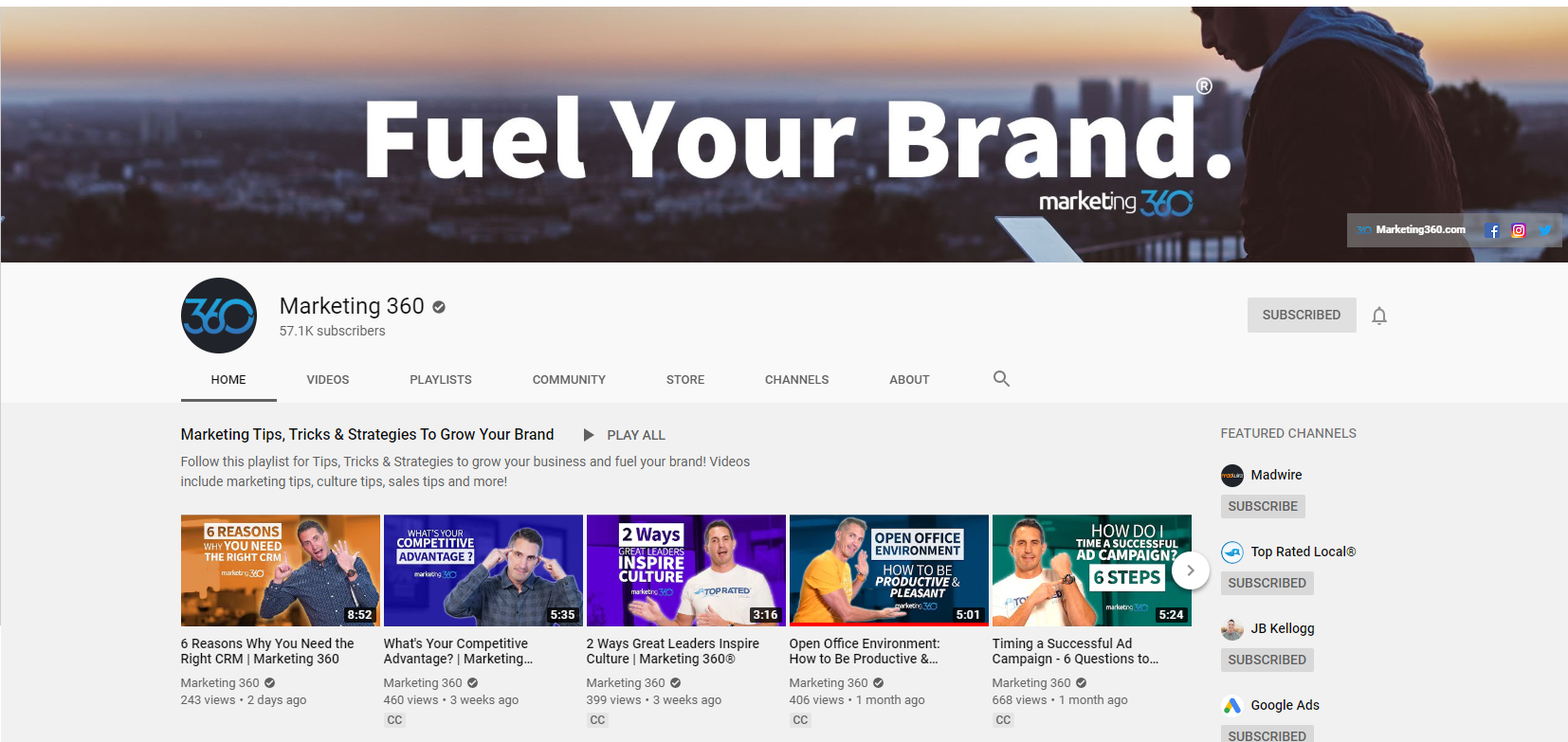 When someone finds your brand on YouTube, they usually do so through just one video. Regardless of what video someone finds themselves watching, the right branding will ensure that they will immediately recognize the fact that it's your video.
#8. Add a branding watermark to your videos.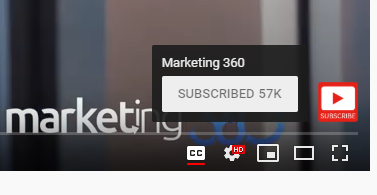 Encouraging people to subscribe to your channel doesn't have to be difficult or awkward; in fact, you can easily do so by simply including a branding watermark — also called a custom subscribe button — in your video. By simply hovering over the watermark, users can quickly subscribe to your channel.
---
The bottom line is that YouTube is a powerhouse, but in order to make the most of it, you need to learn how to optimize your channel and your videos appropriately. If you'd like to learn more about creating videos, video SEO, YouTube marketing, or anything else, visit our production team online today.