There was a time in the distant past when the future of eCommerce was still uncertain.  Way back around 2010, in the good old days before everyone had an Amazon account, marketing analysts still debated how much online shopping would displace physical retail.
The biggest differences had to do with assumptions about how consumer behavior would change.  In the old days, when flip-phones were still acceptable, many shoppers hesitated to put their credit card and personal information into the scary unknowns of the internet.  Consumers had privacy concerns about how their shopping habits were tracked.  They worried about hidden shipping costs, returns, poor packaging or the neighbor stealing deliveries off their front porch.
But in 2018, satisfaction with online shopping is soaring.  Led by the confidence inspiring consistency of Amazon, consumers today revel in the convenience and selection online shopping provides.   They love the ease with which they can research products and businesses to find just the right offer.  They appreciate and trust the reviews of other shoppers, and use those experiences to inform their purchases.
Let's face it.  Many of us are addicted to the wonderful feeling of having a package delivered to our doors.  It's like Christmas all year long.
Today, only 4% of people report not having shopped online.

Yep, you got that last fact right.  1 in 5 of us has bought something online while in the bathroom.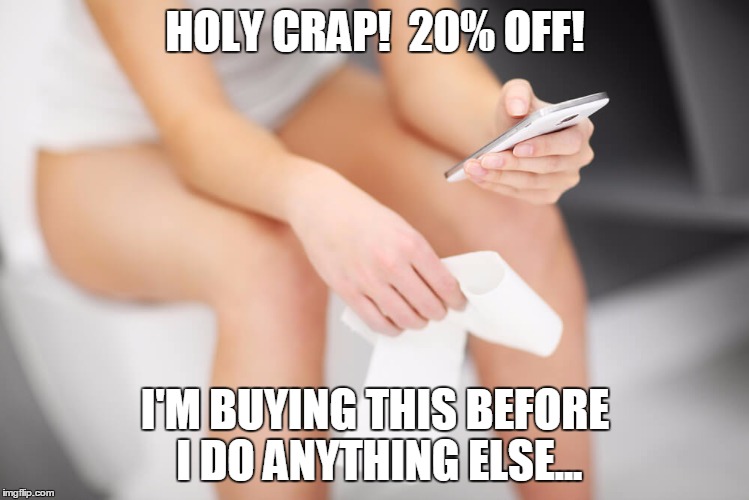 In 2018, we're buying everything online, from expensive watches to cheap shoes.  We love premade meal delivery services and find niche product lines that Walmart will never carry in-store.
Interesting – but not that surprising – is that men love online shopping.  It's the ultimate way to shop for the "get in and get it done" tactics of the male consumer.
Seniors, once wary of internet transactions, quickly learn how nice it is to shop in their PJ's instead of grabbing the car keys.
And last but not least, let's not overlook price.  E-commerce is efficient – which means it's cheaper.  Online shopping is a price shoppers paradise.
Now marketing analysts are wondering about the efficacy of many physical retail businesses.  We are "over-stored" with retail space at the same time the eCommerce model is winning out.  But at the same time, physical stores are creating new experiences – that online stores can't recreate – through concept stores.
In 2018, people shop on their phones in the relaxed privacy of home.  They expect to get to know a business online – to the point they trust it – before they ever speak to anyone in person.
Yet 46% of American small businesses don't have a website yet.  That is the most startling statistic of them all.
What's happening in 2018 and beyond, both nationally and internationally with eCommerce?  Here are some more interesting facts:
Global eCommerce will reach 4.5 trillion by 2021
China is now the largest eCommerce market in the world.  Here are the top 10:
Mobile eCommerce now accounts for more than 31% of total sales.
The omni-channel experience is growing, with shoppers moving between online and offline experiences, as well as shopping multiple eCommerce sites.
Brands need to adopt influencer marketing tactics and manage their online reputations as shoppers look for more user generated content to make buying decisions.
Personalization and localization are growing expectations with online consumers.  eCommerce sites need to use marketing software and free CRM software to manage these experiences.
Voice search and augmented reality continue to alter the online shopping experience.
Through it all, conversion rates for eCommerce continue to hover around 2%.  That's not very good.
Use these facts and trends to your advantage.  2% conversion rates are the bottom-end of acceptable.